3 things to watch for in the new Birmingham school board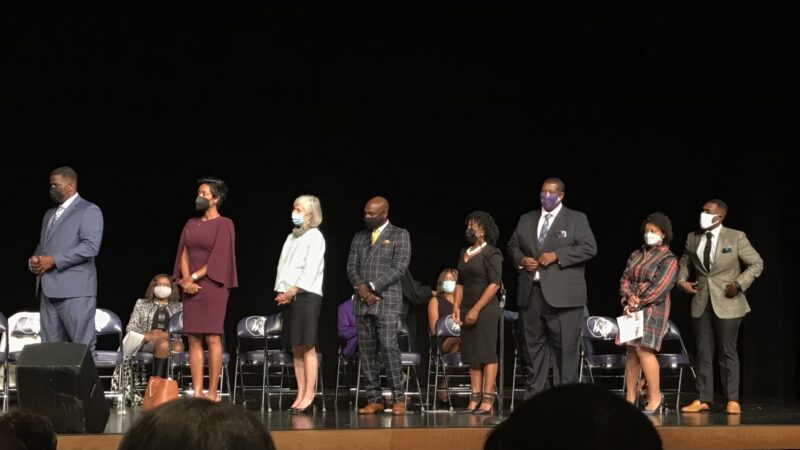 This week, the Birmingham City board of education welcomes six new members—a mix of former educators, business professionals, and education advocates. With over half the board new and an extra $185 million in federal pandemic relief funding, the new board will have a lot more money to address issues in Birmingham City Schools than previous boards. Those issues include still dealing with COVID-19 and learning loss in the classroom as well as student mental health.
The school board works with the superintendent and oversees the $160 million budget. Its members are often the first point of contact for parents, teachers and students with issues or concerns. Here's what incoming, returning, and outgoing board members told WBHM they're watching from the newly elected school board.
Fresh Perspectives
There are only three returning members to the school board, but outgoing member Mickey Millsap from District 5 said he thinks that's a good thing.
"I just think that there's a lot of baggage that gets carried from one administration to another," Millsap said. "To have such a big group be able to come in with a fresh start and to build a relationship with what's still a very new superintendent, I think that's a really good opportunity for the district."
Birmingham's current superintendent Mark Sullivan started as interim in May 2020. Millsap said when he asked Sullivan about the new board members, he only had good things to say.
"I just asked him, 'Have you had an opportunity to meet with the new group? And I'm wondering what your take is?' And he said, 'It's such a breath of fresh air.' He said, 'What a group that's ready to kind of roll up their sleeves, get to work,'" Millsap said.
One new board member anxious to get to work is Neonta Williams. She is the first Black woman to be elected to the school board in District 2, which includes Robinson Elementary School and Huffman Middle School. She said that it's bittersweet being the first in 2021, but representation is important.
"I'm here, and I'm excited for the students and families who will be able to see someone like myself," Williams said. "Ninety-seven percent of Birmingham City School students are African-Americans."
Part of Williams perspective comes from her work as founder of Black Alabamians for Education, a nonprofit that advocates for school choice among families of color. In recent years, the Birmingham school board has not been eager to approve charter schools, but Williams hopes the board can have more conversations.
"Most of our board members — as we should be — advocate for the traditional public school system," Williams said. "I think we should also be versed in everything else that is taking place in the other spaces in education or world, because that's what creates the innovation."
Another one of William's goals is to have more transparency between the board and the community.
"We have a lot of challenges in front of us. We are inheriting decisions that other board members made prior to us," Williams said. "But all of us, our faith is strong. And so we'll be able to come together collectively and work together and make the right decisions for students and families."
Monitor Board's Relationship With The Superintendent
Something both current and outgoing board members recommend is for the public to watch the way the board and the superintendent interact. Outgoing board member Millsap said he believes the biggest part of the board's job is to oversee the superintendent, so it's important that the relationship is in harmony.
"They have a real opportunity for the first time in a long time to build consistency and leadership and messaging and all of those things," Millsap said.
Birmingham has had six superintendents in seven years, which is why Millsap said it's important for the new board to maintain consistency.
"If you're a teacher in a classroom and every six months, there's a new curriculum … At some point you just give up and go, 'I'm just going to teach. I don't care about any of that,'" Millsap said. "But if you build consistency, you build that culture from the top."
Another thing to watch for is how board members treat each other. Sometimes board meetings can get heated, which is why Millsap said he will be watching the new board's behavior closely.
"Are people working professionally with each other? Are they treating each other with respect? When a member of the staff comes and sits before the board on something controversial, does the board treat them with dignity and respect and not yell at them and argue with them and potentially dress them down? I saw a lot of that in my four years, and it really was uncomfortable for me," Millsap said.
Returning board member Mary Boehm  from District 3 said she believes this new group will be adaptable.
"In general, the tone of this group feels very positive. The professionalism feels positive," Boehm said. "If there were times in the past when board members clashed with either each other or with staff, I don't see that happening as frequently, or maybe not at all. And I think that there is a commitment to work behind the scenes to iron out our differences to the extent possible and not air the dirty laundry in public."
Former neighborhood president James Sullivan will soon represent District 5 and said he is ready to collaborate and is committed to cordial board meetings.
"If there is a group of people, you run the risk of having people with different agendas," Sullivan said. "I think the most important thing that we have to do is we have to take a step back and realize what our role is. We're doing that for the kids. And even though we represent different districts overall is to make our school system better."
Things Won't Change Overnight
Boehm has already spent four years on the school board, and while she is excited to work with new members, she also knows this job is a lot of work.
"They are so excited, and I remember being exactly like they were and thinking that just because of me and my energy and all that I bring to the table that we're going to be able to fix the school system next year," Boehm said. "It will take longer and we need to know that as a community and as a group, that the work we do is not easy. The challenges that our students face are very significant."
After the end of his term, Millsap will join the board of education advocacy group Breakthrough Birmingham. He said his tenure on the school board taught him some hard truths.
"I think there are inherent structural issues in how we manage school public school districts that make bold change really hard," Millsap said.
Birmingham City Schools has historically been underfunded and under-resourced and even with the extra money from the federal pandemic relief program, the district is still facing big issues like the effects of COVID-19 on students, learning loss, student mental health, declining attendance and other systemic problems.
"If people would just give people patience — you're not going to change things overnight," Millsap said. "It's a complex set of things that have to happen, just make even small gains. And I just hope people give this board an opportunity to have time to learn and to let them see what they can do over a couple of years, not over a couple of months."
The new board will be sworn in on October 26.
Kyra Miles is a Report for America Corps Member reporting on education for WBHM.