UAB's Marrazzo Concerned About Rising COVID Numbers, But Hopeful About Vaccines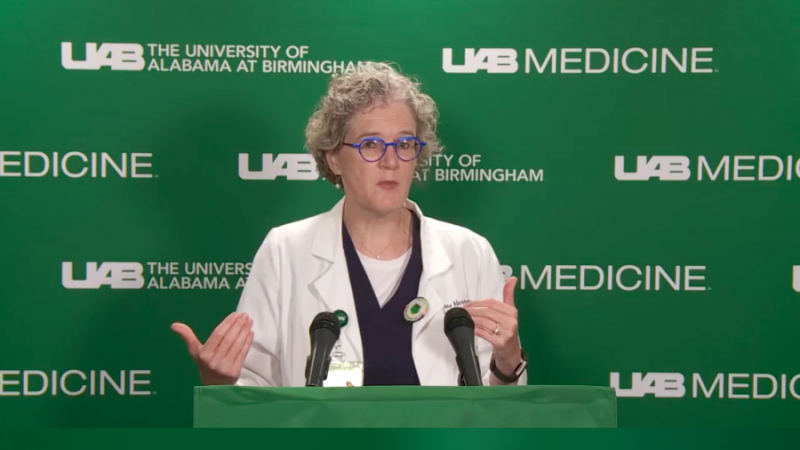 The top immunologist at UAB is still casting a wary eye on spikes in COVID-19 cases, deaths and hospitalizations, but she is also taking heart in the growing number of people being vaccinated for the virus.
Dr. Jeanne Marrazzo, the director of the Division of Infectious Diseases at UAB Hospital, said in a press conference Tuesday that Alabama is setting some "unenviable" records when it comes to COVID data.
"We are now number six in the nation, per capita, for COVID cases on average over the last seven days," Marrazzo said. "It's not a good place for us to be in the top 10. We had fallen out of that list for a long time."
Alabama is averaging about 3,300 new cases per day, but Marrazzo said that number is probably higher because of delays in reporting tests over the holidays.
"We may be seeing quite a surge in the reporting numbers over the next several days," she said, citing Sunday's total of just over 4,000 tests administered — less than half the 7-day moving average of daily tests at the time — but with more than half coming back positive.
COVID hospitalizations are also at record highs, with UAB alone having 207 COVID inpatients on Monday before falling to 186 the next day. Alabama as a whole is now third in the nation in hospitalized COVID patients per capita and had a record 2,802 inpatients on Monday.
Marrazzo noted that positivity rates were again high in the northern parts of Alabama, an area which has been hit hard in the past month.
"Personally, I think that probably reflects what's happening when you look at Tennessee, which is in really, really dire shape as well. I think it's probably just networks spilling over the border," she said.
Almost 1.3 million people traveled through airports across the country on Sunday, according to the Transportation Security Administration, the highest number since the pandemic began in mid-March.
"Unfortunately, this is probably going to portend a spike on top of a surge on top of a spike … because we really haven't recovered from the Thanksgiving reverberations yet," Marrazzo said. "If Christmas is any indication, we will probably be seeing more cases."
Hospitals Being Pushed to Limits
Though UAB Hospital is seeing record numbers of COVID inpatients, it's a situation seen as well by other hospitals across the state.
"Everybody is really being pushed to the limit. It's not to a point where we can't take care of people, and I want to emphasize that, but we are really being stretched," Marrazzo said, adding that the raw number in itself doesn't reflect an important fact that many patients end up being hospitalized over several weeks.
"I saw so many patients in the last week who were in the intensive care unit with pneumonias, with bacterial infections, with blood clots, with strokes — all these things that would not have happened if they had not gotten COVID," she said, adding that the human toll on such cases is "really, really devastating."
The influx of COVID inpatients is taking a toll on the UAB Hospital staff as well.
"We had to call in some of our infectious disease fellows to help run some of the teams in the intensive care units. I can tell you the young physicians are really feeling this pain. When you are taking care of so many people for whom we have so little to do, it's really just kind of exhausting," Marrazzo said, stopping short of calling the situation a crisis, which would trigger certain "official crisis mode activities" at the hospital.
"That plan is being evaluated. We have to be ready to do it. If we are anticipating a significant spike in the next couple of weeks; it's quite possible that we will be facing that," she said.
If crisis levels are reached, it could affect those who have issues not involving COVID, including some officially referred to as "elective" but in reality aren't, such as chemo treatments for cancer that may be put off for a day or two.
"Yes, that is 'elective' because you're not getting an emergency (IV) insertion, but do you really want to get that put off for a week if you find out you've got a new cancer diagnosis? No. Same thing with things like knee replacements, all that kind of stuff that people really need to have healthy lives," Marrazzo said.
Some Good News
There is good news as vaccine deliveries continue, and more possible vaccines are being tested in clinical trials.
UAB is part of one trial by Johnson & Johnson, which is in its Phase 3 stages and may have efficacy results announced in a couple of weeks. Unlike the current Pfizer and Moderna vaccines, which require two separate shots, the Johnson & Johnson test (also known as Janssen) is being tested for a one-dose treatment as well as two doses.
But there is still much unknown about the vaccines already in use, such as how long they are effective, whether someone can still catch COVID between the first and second doses, and whether they will protect against mutations of COVID-19 now popping up in England and elsewhere.
"We have data to say that (protection) is probably going to be at least nine months and maybe even longer. But remember this vaccine was just rolled out for testing last spring, so we have a natural limit on how long we have follow-up for," Marrazzo said. "This virus, like all viruses, is incredibly crafty. They're incredibly smart. Viruses mutate … they want to try to take advantage or every little crack in our armor that our immune system has."
Marrazzo said the current thinking is that the vaccines being administered now will also protect against the mutation in England.
"We think the vaccines is going to protect us against that strain. But is there a possibility that that could come into the picture and sow even more rapid transmission here in the U.S.? Absolutely there is," she said. "In the middle of a pandemic, don't take any chances."