Restaurants Are Hardest Hit As Businesses Try To Rebound From Pandemic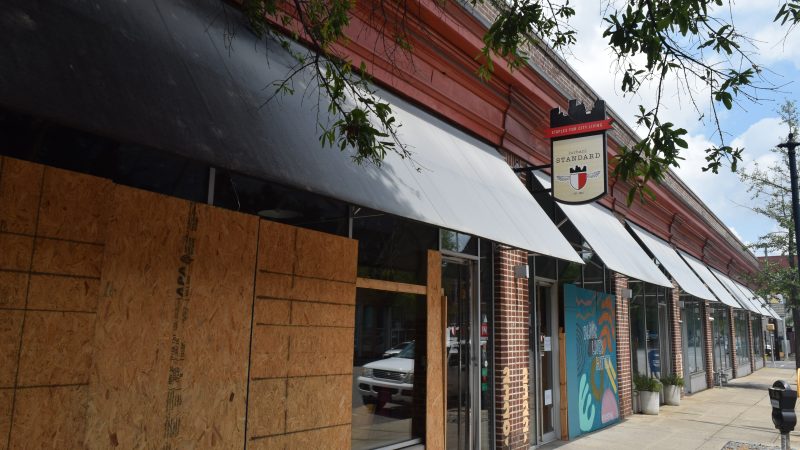 This past weekend, the city of Birmingham held its third "Eat in the Streets" event, cordoning off parts of downtown for outdoor restaurant seating.
The event was designed to give a revenue boost to restaurants affected by the COVID-19 pandemic, which has diminished customer turnout and placed many restaurants, which operate on razor-thin margins, in danger of closing.
But for many Birmingham businesses, it's already too late. Four months into the pandemic, many closures that owners hoped would be temporary are becoming permanent— consequences of an uncertain future and a tepid federal response.
One barometer of COVID-19's impact on local economies is the consumer website Yelp, which last month reported 132,580 business closures across the country since March 1. A steadily growing percentage of those closures — 55%, or 72,842, as of July 10 — are expected to be permanent.
Restaurants are the most affected, Yelp found, with 15,770 permanent closures nationwide. The shopping and retail sector has experienced 12,454 permanent closures, while the beauty industry has seen 4,897. More than 2,400 bars and nightclubs, meanwhile, have shuttered for good since March 1.
Representatives for Mayor Randall Woodfin's office say Birmingham likely won't have an official count of local business closures until the first quarter of next year, when annual business license renewals are due.
A study published last month by economic development nonprofit REV Birmingham provides a clearer idea of the economic impact on the city's downtown area. Overall, foot traffic and employment in downtown Birmingham dropped significantly during the pandemic, though both statistics have been rising steadily since their April nadir.
Even so, the report predicts more permanent store closures "and an overall shrinking retail footprint of our commercial districts." The report also cites national projections that between 20% and 80% of restaurants will permanently shut down. Those that have remained open and redesigned to accommodate social distancing measures will still find themselves with reduced profits, which could be a death sentence for many businesses operating on razor-thin profit margins.
Though a comprehensive view of COVID's impact is still months away, anecdotal evidence largely meshes with projections by Yelp and REV. Local eateries are most visibly the businesses affected by the pandemic.
Lakeview tapas restaurant Babalu was one of the first to permanently close in response to the coronavirus, while high-end chains such as Cantina Laredo and Cowfish Sushi Burger Bar have pulled out of Uptown and the Summit, respectively. California Pizza Kitchen's Summit location permanently closed last month, while Mile End, a delicatessen operated by the Pihakis Restaurant Group, shut down at the end of March — less than a year after opening. (Its Railroad Park location was subsequently taken over by Hero Doughnuts). Little Savannah, a Forest Park restaurant, announced it was closing earlier this month, saying that "uncertainty" about the future made the restaurant "no longer sustainable."
Longtime downtown coffee shop Urban Standard announced it would be permanently shutting down in June "due to the pandemic," while the five-year-old Woodlawn Cycle Café, which had attempted to shift to a curbside model, closed for good earlier this month.
"For me, the times ahead are too uncertain for me to wrap my head around financially, emotionally, and health-wise, as I have a bad case of asthma," wrote Lucy Bonds, owner of Lucy's Coffee and Tea, in an emotional Facebook post announcing her shop's closure. Lucy's had been located near the intersection of 20th Street South and University Boulevard for nearly three decades before closing permanently in May.
"I'm gonna take my 27 years of memories, before hand sanitizer, masks and thermometers, and tuck them away," Bonds wrote.
Other businesses have suffered temporary closures as a result of the pandemic — at various times, Chez Fonfon, Automatic Seafood, Good People Brewing Company, Trim Tab Brewing Company and Bottega, among many others, have temporarily shut down when employees tested positive. Sol's Sandwich Shop & Deli, a downtown fixture, has shut its doors indefinitely, though its owners have promised "some exciting news about what's next for Sol's very soon."
These business closures will have significant impact on Birmingham's budget negotiations, which are slated to begin this month. Those talks had been delayed to ascertain just how much sales tax revenue the city would lose as a result of coronavirus closures. City Finance Director Lester Smith projected in June that the city would see a $73 million loss for the FY 2021 budget, in addition to an $18.3 million shortfall for this fiscal year's budget.
"Since March, because businesses have had to close, we've seen a decrease in occupational taxes and sales taxes. In addition to that, some businesses have closed permanently such as Lucy's, Urban Standard and Babalu," Woodfin told the council in June.
"When all of these things happen, there is a ripple that affects the city of Birmingham. We don't receive business licenses anymore, we don't receive occupational and sales taxes, we don't have events in our city, we don't receive lodging taxes and that causes a decrease in the funding we bring in… I'm confident we will push through this, and I'm hoping things maybe change six months from now or even three months from now."
A Lack of Support
"We did everything we could," says Danny Winter, owner of Brennan's Irish Pub in Five Points South. "We removed tables from the restaurant, we operated at 50% capacity, we required masks, we did temperature checks, we had hand sanitizer stations. We did all the cleaning, all the testing, but it was not enough."
Winter announced the pub's closure in July after months of trying to weather the pandemic — though he says Brennan's could have remained open with adequate support from the federal government.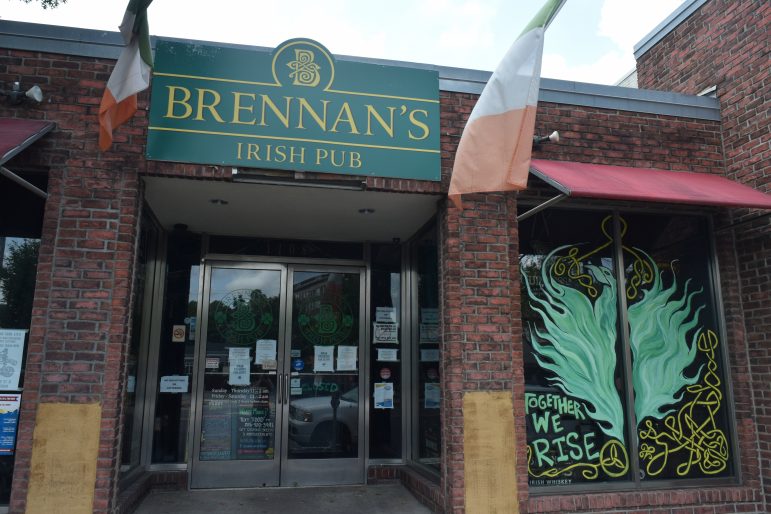 The Small Business Administration's Emergency Insurance Disaster Loan came three months late, Winter says. Brennan's received help from the SBA's Paycheck Protection Program, but that money initially came with an eight-week spending deadline — and for the first two weeks of that period, restaurants weren't allowed to open their interiors. With limited parking in Five Points, curbside service wasn't a viable option for Brennan's.
"When we were finally able to open, I had six weeks to spend 75% (of the PPP loan) on payroll and 25% on rent and utilities," Winter says. "We were required to bring all of our employees back and to give them the same number of hours they were working prior to the shutdown… But I was opening up at 50% capacity and making at that point probably 45% of what my pre-COVID sales were."
Then, near the end of that eight-week period, Congress and President Donald Trump extended the deadline to 24 weeks and reduced the percentage of the loan that had to be spent on payroll from 75% to 60%. "That would have been great to know six weeks earlier, because I could have made a lot of cost cuts, especially in the payroll, to extend this money and make it last longer," Winter says. "I could have made that money last four to five months. We'd still be open, working off that money, had I been allowed to make cuts. It's frustrating."
Worse, he says, there was no one available to field his questions or concerns about the federal loans.
"There was no one that you could actually speak to or ever get on the phone to figure out anything," he says. "I think a lot of it was (the federal government) being overwhelmed and just not being prepared to deal with that many people, that many businesses needing money. But at the same time, there were many government offices shut down. I was trying to get on the phone with the IRS at one point, and they told me there was no one in the office. Everyone was working from home. I couldn't even leave a message."
When COVID numbers spiked in Alabama in early July — knocking Brennan's sales down to 35% of their pre-pandemic numbers — Winter realized he had to make a decision. "There came a point where I realized I was going to lose $30,000 a month for every month I stayed open," he says.
Winter says Brennan's could potentially reopen in the future. Realizing that it would be difficult to attract new tenants during a pandemic, Brennan's landlord started waiving rent in June, giving Winter a few months of flexibility. But saving the business, Winter says, will depend "on further help, plus eventually this pandemic getting better."
"I've talked to quite a few people in the same situation, and some of them were lucky enough to be able to make changes — or because of their location, curbside (service) was actually sufficient for them to at least be able to break even," Winter says. "But most everyone is dealing with the same scenario…. There's talk about further help and further support, but now they're at a stalemate. (Congress) has gone almost another week now without passing anything, because the politicians can't agree on something to pass."
"I won't say it's a huge chance, but there is still a chance," Winter says. "It's not a hope we're giving up on just yet."
Retail
For the retail sector, at least, the long-term prognosis seems less dire.
The first months of COVID-19 saw several businesses — including some chain retailers at retail hotspots such as the Brookwood Mall — abruptly shut their doors. Apple announced last month that it would temporarily close 30 of its stores, including the one at the Summit, due to Alabama's July COVID spike.
Prior to that spike, though, retail had started to make a recovery. Roughly 90% of stores at Hoover's Galleria Mall had reopened by June, for example — though most of the Galleria's post-spike focus has been on preventing more shootings.
Recent state tax revenue figures, though, show that retail spending has increased, thanks in large part to online sales. A report from the Alabama Retail Association shows that sales and remote seller tax revenue increased in May in June, even topping the numbers from the same time last year.
Of course, not all of that increase is coming from local businesses; orders from online companies like Amazon and Overstock are included in that tally. But even non-online revenue has surpassed last year's rate — if not as dramatically as online revenue.
Those numbers are "encouraging," says Nancy Dennis, the Alabama Retail Association's director of public relations, but they don't mean that all businesses are doing well.
"Restaurants are still suffering, hotels are still suffering," she says. "It depends on what the business sells and if they're able to sell on all platforms. The businesses that are doing really well are the businesses that were geared up and ready — already selling online and in-store, already doing pickup and delivery… They were invoicing by email, they were selling to their consumers in whatever way those consumers wanted to shop. Those businesses are doing well."
Retail sales have gone up nationally as well, according to a recent report from the Wall Street Journal — though that report suggests that consumer spending might go down again in August due to federal indecision over extending unemployment benefits and passing another economic stimulus bill.