Protests Spread to Birmingham's Majority-White Suburbs
A large crowd of demonstrators filled Homewood Park Tuesday to protest the deaths of black people who died at the hands of police. The peaceful rally was one of several taking place this week in mostly-white suburbs of Birmingham.
The crowd was diverse, with a large number of white and young people in attendance. Some held signs that read "white silence is consent" and "white silence is violence."
Hoover-area resident Emma Wilson, 23, who is white, said she invited several of her friends to attend the Alabama Rally Against Injustice, but they declined over safety concerns.
"I did tell each of them the discomfort that you're feeling right now is something that people of color have to feel all the time," she said. "The issue is, again, other people have to fear for their safety all the time, and we as white people — I do feel that we do need to put ourselves in those positions of uncomfort and really sit with that for a minute."
Birmingham resident Toby Wanyeki said he's attended several rallies to protest the police killing of George Floyd, but this one had a different flavor.
"Pretty big turnout, very diverse, definitely a whiter crowd, allieship, which is always welcome," he said.
Organizers staged a powerful re-enactment of Floyd's death at the hands of a police officer. Those in attendance lied face down on the ground with their hands behind their backs for more than eight minutes, as Floyd did when he died. A speaker repeatedly cried Floyd's last words: "Mama – I can't breathe."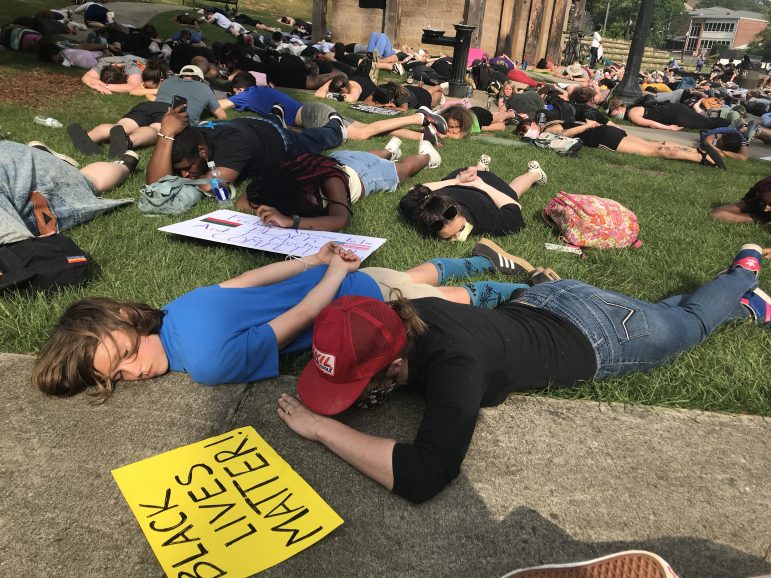 Many in the crowd sobbed. Lydia Walker of Birmingham was among them.
"As I lay there on the ground, I was in tears," she said. "I felt everybody's pain here."
She said being surrounded by white people as they experienced the same grief gave her a sense of unity. The location was significant, she said.
"The fact that we're in Homewood, the fact that we're organizing in white spaces, that's what needs to happen."
She said Birmingham is known to be a progressive city. People in the suburbs, she said, must also be attuned to injustices against African Americans.
Her friend, Becki Delgado, said the exercise was healing.
"We needed to just cry it out and empathize with one another and just cry together," she said. "I think that really solidified the direction that we're going in."
Onoyemi Williams, with the community organizing group Faith in Action Alabama, said the location was intentional.
"The importance of organizing in white spaces stems from the situation often times that injuries that are sustained by African Americans are taking place in white spaces," Williams said.
She said African Americans in Homewood complain that they're followed and ticketed more aggressively, and that young people are often apprehended by police with questionable justification. But young people, she said, co-mingle more with people of different racial and ethnic backgrounds than older generations. Parents, she said, are starting to follow their childrens' example.
"More and more communities that are white are starting to pay attention," she said.
After the rally, law enforcement officials detained two people who police said they believed to be "agitators." The FBI, the Birmingham Police Department, and the Jefferson County Sheriff's Department were involved. Both people were released. Homewood Police Chief Tim Ross said his office acted on intelligence that the rally could be infiltrated by people who could take over the peaceful demonstration and commit acts of violence.
"And I expressed to the organizer of this event at the very beginning that that's why we were here," he said. "We didn't want that to happen."
Also Tuesday, a group protested in Hoover near the city's municipal complex. Several people were arrested for violating Jefferson County's new 7 p.m. curfew.
Alabama Rally Against Injustice will hold protests in Vestavia Hills Wednesday and Mountain Brook Thursday.