Protesters Not Allowed Into Birmingham Council Meeting To Speak On Drastic Cuts To The Library Budget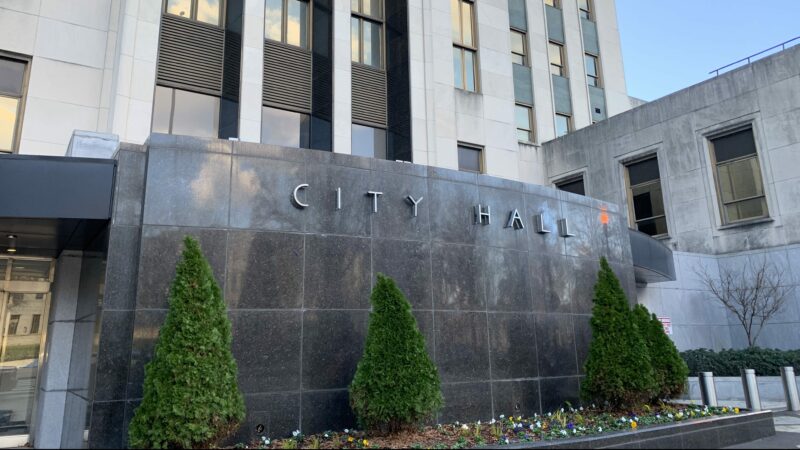 Protesters gathered outside Birmingham City Hall on Tuesday morning, but they weren't allowed to speak at the City Council meeting going on three stories above them.
The demonstrators held signs that read "Reject Woodfin's Budget," "Furlough Woodfin" and "Fund Books Not Brutality." One neon-yellow sign read: "Dear Randall Woodfin & City Council: Y'all have got to do a better job pretending to care …"
On Friday, the Birmingham Public Library's board of trustees made the decision to furlough 157 employees, the result of significant cuts in the budget recommended by Mayor Randall Woodfin's office.
The library originally had been allocated $12.83 million in Woodfin's proposed FY 2021 budget, which at the time marked a significant step down from the previous year's budget of $15.3 million. The cuts, Woodfin noted at the time, were because of a $63 million budget shortfall resulting from COVID-19's devastating impact on the city's business tax revenue. But in the weeks following Woodfin's initial budget proposal, that number kept changing. At first, Woodfin promised an additional "$2.5 million and some change" to the library system, which would have brought funding even with last year's allocation.
Last week, library board members said they'd been given a reduced figure of $7.039 million, adding that the "moving target" given to them by Woodfin's office had prevented them from making any operational or personnel decisions. In response to that meeting, Woodfin organized a conference call with board members and City Council leadership to tell them their budget for the year was actually $6.2 million, and, because the BPL had already spent $2.6 million since July, it had to stretch its remaining $3.6 million over the next nine months.
Woodfin already had sent out furlough letters to the majority of BPL employees, but the BPL board had argued that they had that authority, not him. Woodfin "yielded" that power to them, but last week he warned that if the board did not start making "tough decisions," the city would have to take actions such as removing worker's comp insurance. Two days later, the board announced it would be furloughing 91 full-time and 67 part-time employees effective Sept. 25.
Council President William Parker allowed a handful of those furloughed employees to speak at the end of Tuesday's council meeting, but he did not open the meeting for public comment, citing concerns over crowding the council chambers due to COVID-19. Several audience members interrupted the meeting. One attendee approached the podium to ask where the public speakers' sign-up sheet was; he was ejected from City Hall by security.
"I agree that the people should be heard, but there's an order and a process to that," said Council President Pro Tempore Wardine Alexander. "I want to work with Councilor Parker in how we can bring that process and make it available so that your words and your voice can be heard, but please understand that we also ask you to work with us. If you rush up to the podium, it makes it unsafe for all of us. … I want to hear your voice. I want to hear your concerns. I believe in the democratic process."
By the time the library employees were allowed to speak, Woodfin already had left the council chambers.
Tiffany West, an 18-year BPL employee who had been furloughed, criticized the "major inconsistencies" in the library's budget, noting that the library was bearing a outsized percentage of the cuts in the FY 2021 proposed budget, while other departments, such as the police department, received no cuts or recommended increases.
"This is unjust and these cuts should be shared more proportionately," West said. "There is no way that the library can offer quality services. I don't care what the director (Floyd Council) said; there is no way that the library can offer quality services with a remaining budget of $3.6 million and 158 employees furloughed. … Please, please, please do not support a budget that hurts libraries and neighborhoods and takes away the only source of income from citizens like myself."
Parker adjourned the meeting quickly afterward.