Polling Officials Say Alabama's July 14 Election Won't Mirror Georgia's Snafus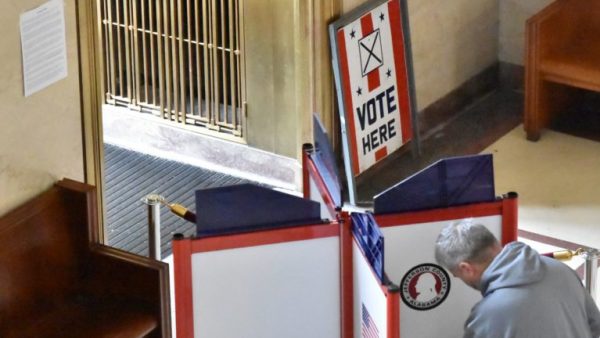 By Virginia MacDonald, BirminghamWatch
Alabama Secretary of State John Merrill said the state is prepared for the July 14 primary runoffs and he does not foresee problems here like the ones that happened during Georgia's voting Tuesday.
Merrill said all of the state's 1,980 poll sites will be open for next month's primary runoff elections. He said he knows of no shortage of poll workers, and he has asked all election officials in the state to let him know if there is a shortage.
The issue of whether enough poll workers would be available to work on this election arose because of the coronavirus pandemic. Most poll workers are retired, election officials say, and people over 65 are more susceptible to the virus.
If a county had a problem recruiting poll workers, one possible tactic would be to bring in students aged 16 years and up to work. A 2019 state law authorized teens to work at polls, but it prohibits them from handling ballots. More than 60 teens were first used in Etowah County's March primaries.
In Jefferson County, Probate Judge Sherri Friday said staffing polls has not become an issue.
"Poll worker-wise, we are fine," Friday said. There are 173 polling sites in the county.
One of the issues that arose in Georgia was that the polls were staffed by fewer workers because of the fear of coronavirus, and the reduced work force resulted in the consolidation of some polling places. That disproportionately affected neighborhoods with high concentrations of people of color, the Associated Press reported. But there also were long lines of voters in the state's predominantly white polling places, according to that report.
There were problems with Georgia's new voting machines, which combine touchscreens with scanned paper ballots. Voting touchscreens are not used in Alabama, where paper ballots are fed into voting machines to be scanned.
Some Georgia voters told the Associated their requested mail-in ballots never arrived.
Merrill said Wednesday that he had offered help to Brad Raffensperger, Georgia's new secretary of state. "Unfortunately, he chose to do some other things," Merrill said.
Turnout could have been another problem, as voters said they were determined to vote after the police killing of George Floyd in Minneapolis and the ensuing demonstrations that swept cities, including Atlanta.
Georgia had a much bigger election than Alabama's upcoming runoff. It was holding its first party primaries, not a runoff, so all of the races — from president, to U.S. Senate to local races — were on the ballot.
Alabama held its primary March 3. Then Alabama Gov. Kay Ivey postponed the runoff from its original March 31 date and moved it to July 14 in an effort to stem the spread of the coronavirus.
The most talked about race on the July 14 ballots is the Republican runoff for a U.S. Senate post between Jeff Sessions and Tommy Tuberville. The Republican Senate seat winner will face Democrat Doug Jones in the November general election.
Otherwise, there are only two races on the Jefferson County ballots.
Also on the Republican side is the runoff between Beth Kellum and Will Smith for the state Court of Criminal Appeals, Place 2.
The one Democratic runoff in Jefferson County is between Eyrika Parker and Roderick Scott for Jefferson County treasurer.
Coronavirus Measures
Because of the pandemic, Ivey also authorized the use of absentee ballots for those who fear contracting the virus at the polls.
The state has $7.7 million from the federal Cares Act and the matching money from Merrill's office to provide personal protection to poll workers, with masks, gloves, hand sanitizers, disinfectant wipes and sprays.
Poll workers in Jefferson County will be behind shields similar to those in store check-out lines, Friday said.
"A professional cleaning service will disinfect all polling sites after the election," Merrill said. "We have not spent a dime of the election money and won't until after the election."
Deadlines
The deadline to register to vote in the July 14 runoff is June 29. You can register or get information about registration here.
The deadline to submit an absentee ballot application is July 9, and the deadline to submit the absentee ballot is July 13. The absentee ballots are available here or at county election offices.