One Black Artist's Quest To Shake Up The Comics World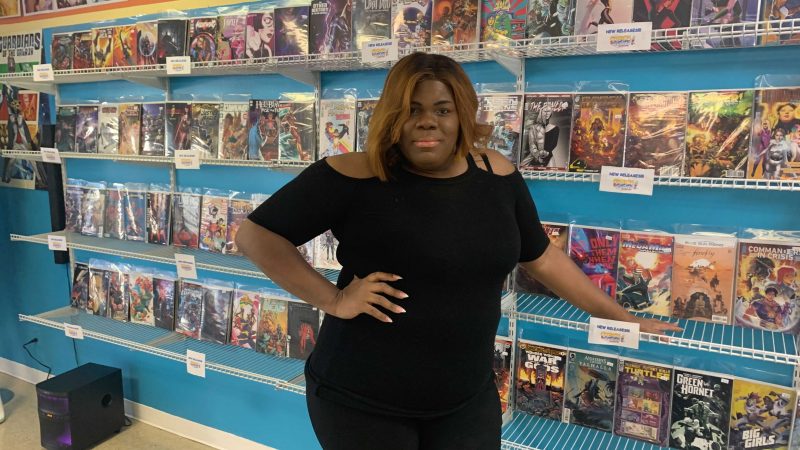 Bookstores are feeling the impact of the pandemic, but they're faring much better than their niche counterparts: comic book stores. Still, Marvel and DC superhero fans are keeping the industry alive, as are indie comic lovers. One of those people is Lashawn Colvin. She recently opened her very own comic book store in Montgomery, becoming the first known Black woman in the South to do so.
On the outside Colvin is just another grown woman trying to make it in America. But on the inside, she's a comic geek. And that, she said, will never change.
"I've been drawing my entire life since I was a child, so I always had that love for the culture in me and it just carried over into my adulthood," she said. "A lot of people say when you get older you're supposed to grow up, I never grew up."
Colvin, 27, still plays her PlayStation, she never stopped reading comics and she still watches anime.
Recently, Colvin opened a comic book shop of her own. Comics & Geeks is spacious and bright with blue and orange walls that pop out as soon as you open the door. And there are hundreds of comic books lining the shelves on the walls.
Aside from running her business, Colvin has been editing comics since 2016 for Short Fuse Media Group, a comic book publishing company. And she's created a lot of meaningful relationships in the indie comics world. She has an entire wall at her shop dedicated to independent authors she's worked with over the years.
"I was flooded with so many gifts from independent comic book creators and it was so beautiful because they were so supportive," she said.
Colvin also found support from other local comic shop owners. For years before she opened her store, she'd frequent Capitol City Comics, Montgomery's longest standing comic book shop. Owner Rob Duncan became a mentor to her.
"She didn't realize it was pretty easy to start a business and I said it's easy to start one but maintaining one is a little bit more difficult, but I can tell you everything you need to know," he said.
Duncan said the comic book industry has held steady since the 1980s mostly because of the people who support it.
Marco Davanzo is executive director of ComicsPro, a trade organization supporting comic book retailers in the U.S. He said it's been a challenge to compete with traditional book stores, which cater to a broader customer base. Davanzo said there hasn't been much growth in the industry but you can still get by selling comics.
"Plenty of people make their living on it. It's still a great career," he said. "I got into it 20 years ago after being a stockbroker for many years because I had a passion for it and that's what we recommend, is that people who start really have a passion for comic retail."
As a Black woman, Colvin stands out in the comic book retail world. For decades, the people who owned comic book shops were predominantly white men. But Davanzo said that's changing. He said the industry is growing more diverse, especially as more women show interest in comics.
Colvin is working on a comic book series of her own called "Beautiful Soldiers" set to be released next year.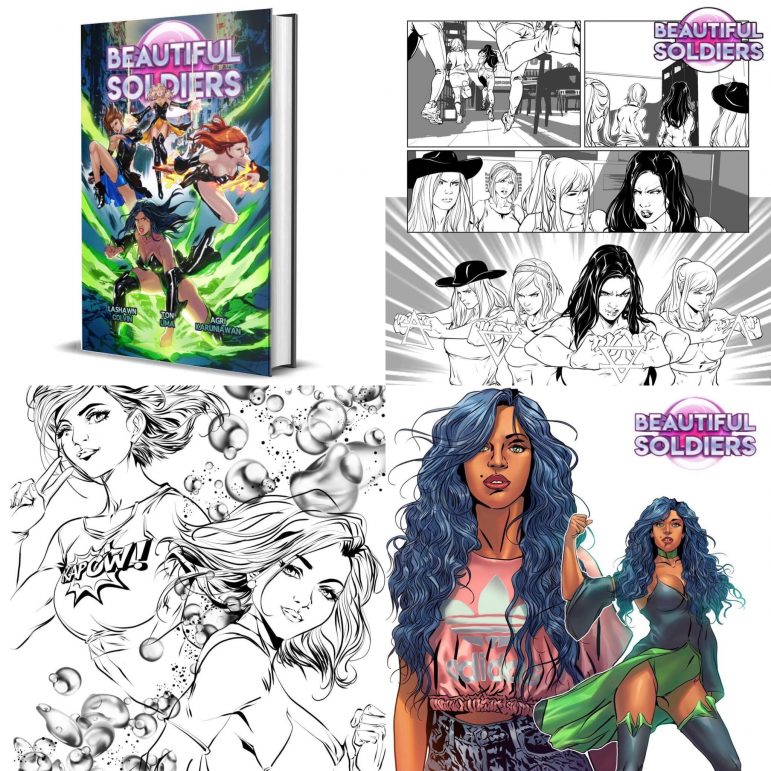 But Colvin said getting here hasn't been easy. For years, she went without heat and gas just to save money. The dream of finishing her comic book series seemed impossibly far off.
"I had to fight a lot of doubts that I had within myself because I wanted to give up so many times. I wanted to just quit. I wanted to stop," she said. "I had to remind myself that this is what I want and I'm going to do whatever I need to do to make it happen."
Colvin said it all paid off. Not only did she open the first Black female-owned comic book shop in the South, but next year she'll have her very own comic on the shelves.