Ivey Proposes Education Investments, Cautious on Lottery in State of the State Address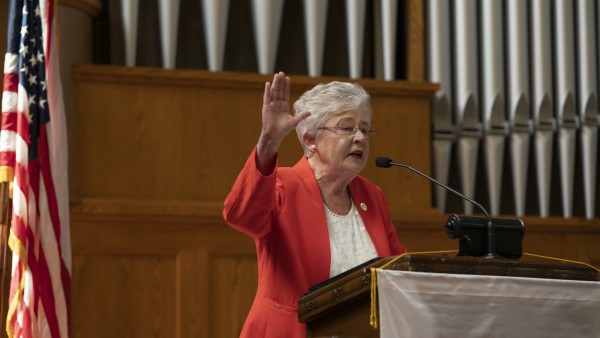 Gov. Kay Ivey told lawmakers she felt a sense of urgency to address longstanding criminal justice challenges during her State of the State address Tuesday. She vowed to move ahead with plans to build three prisons.
"We simply cannot afford to wait any longer to tackle this problem," she said."Failure is not an option."
She noted the state's prisons crisis is an "Alabama problem that must have an Alabama solution." The state's prisons are overcrowded, understaffed, and violent. A scathing Justice Department report last year documented conditions including inmate assaults and torture. The state is under immense pressure from federal officials to improve conditions. Ivey left it to the Legislature to craft specific rehabilitation and reform proposals.
She pledged to increase investment in education through a $1 billion bond for capital improvements to public schools and higher education institutions. The money would help pay for construction, safety improvements, and technology upgrades. She also proposed an expansion of the state's pre-kindergarten program with a $25 million boost to the state education budget.
Ivey urged residents to support a statewide amendment on the March 3 primary election ballot that would change the state school board from an elected board to an appointed one. She noted the state's abysmally low national rankings in math and reading.
"Too many of our high school graduates simply aren't ready for college or a career," she said. Teachers, she said, weren't to blame. "It starts at the top," she said.
Ivey noted that Alabama's board of education has had five superintendents in five years. Shifting to an appointed board would impose term limits to two six-year terms. A newly-constituted board, Ivey said, would also be more diverse in terms of race, gender, and geography "to reflect the make-up of students in our public school system."
Ivey proposed a 3% teacher pay raise and a 2% raise for state employees.
She appeared uncertain a lottery would benefit the state. Ivey announced she would form a working group to explore potential revenue from a state lottery.
"Like you, I'm fully aware that the four states which border us all have some form of gaming," she said.
The study group is tasked with knowing the facts, she said.
"And we will then, once and for all, be in a position to determine whether or not this is a path we want to pursue."
Ultimately, she said, state residents would vote on the issue. She asked the Legislature for time on the lottery question until more is known.
The state's low 2.7% unemployment was a highlight for Ivey as she touted the state's strong economy. She also urged full participation in the 2020 Census.