Customers Resort To DIY Styles With Barbershops & Hair Salons Closed
The coronavirus pandemic continues to upend everyday life. The outbreak forced the closure of nonessential businesses, including hair salons and barbershops. Gov. Kay Ivey this week opted to keep those orders in place at least through the end of the month, which is leading some people to get creative about how to keep their hair looking good.
To Richard Boyd, the six weeks Jefferson County's barbershops and hair salons have been closed is too long.
"I don't think I can hold out any longer," he says. "When I look at myself in the mirror, I don't like what I see."
The buzz cut has been his go-to look for the past 20 years. But right now he says his hair is poofing out on each side and his beard is long and wild.
Boyd usually gets his hair cut at Birmingham Classic Cuts inside Seasick Records. 
Angel Perez is a barber there. Most people know him as A.P. He says just because a lot of people are stuck inside doesn't mean they have to look as rough as the times we're living in.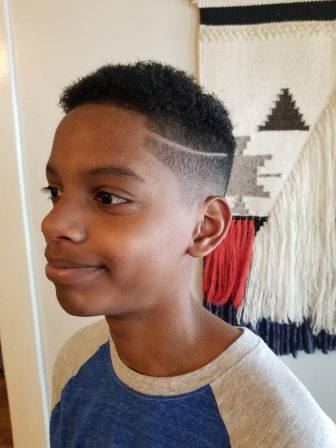 "For all of us right now, since we're all home and a lot of us who are in the service industry don't have an income at the moment, just a little bit of self-esteem helps you out a little bit," he says.
Perez keeps a fresh cut while he's home and says he's toying with the idea of doing a tutorial video for his clients. But until then, he's just a phone call away. 
"I've gotten phone calls, I've gotten text messages, and I walk people through the process," he says. "Trying to look out for the clientele as much as possible while they're home."
Many hair care tutorials made before the outbreak are getting even more views now. Additionally, women of color have created various Facebook groups to walk women through different styles. 
For instance, a Detroit-based hair stylist started a Facebook group called "A Safe Space For Black Girls That Never Learned to Braid." There's also Curly Girl Method, a private group that offers tips to help women maintain their curly hair.  
Men are struggling just as much. Bob Byrd is mostly bald and says his hair only grows on the sides and on his neck, giving him what he calls a "hillbilly" look. But Byrd recently cut his hair himself with no one else home and one lonely bathroom mirror. 
"I just put that number one blade guard on and I went crazy," he says. "I was just mowing my head like you mowed the yard until everything looked consistent. But then I had to do the back."
No one can see the back of their head without an extra mirror. Byrd says that's what made him nervous. 
"It was pure guesswork," he says. "I was running the razor behind my head without knowing what it was looking like. I don't know if, on the back of my head, if I've got a mohawk or a mullet or what."
Boyd also recently cut his own hair and says, like Byrd, he's not sure what the back of his head looks like.  But both men say they look good from the front and that's good enough.