COVID Hospitalizations Hit Record High As Case Numbers Rise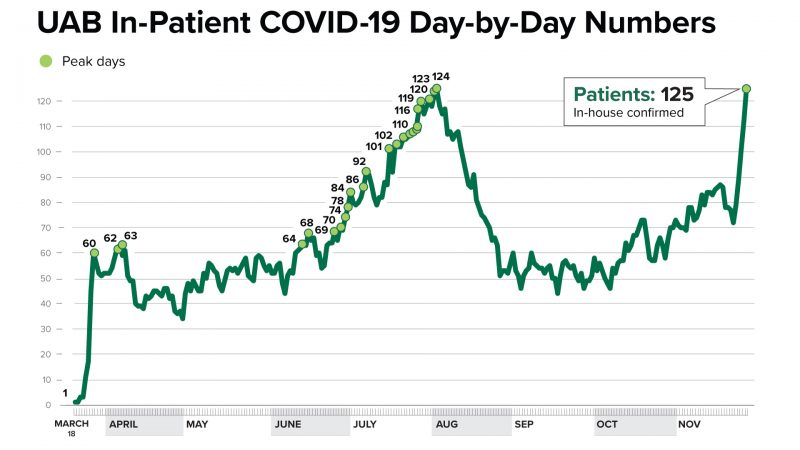 The number of COVID-19 patients in Alabama hospitals has shot to a record level with the resurgence of the disease across the state, prompting a UAB doctor to warn people against playing "Russian roulette" with their response to the pandemic.
There were 1,717 patients in 104 hospitals across the state Monday, the Alabama Department of Public Health reported. That eclipsed the previous high of 1,613 patients on Aug. 6.
UAB Hospital also reported its highest-ever number of COVID-19 patients on Monday after a rapid climb in admissions over the past five days. UAB was caring for 79 patients on Thanksgiving Day who had tested positive for the coronavirus, and the total rose to 89 on Friday, 101 on Saturday, 112 on Sunday and 125 on Monday. The previous high was 124 on Aug. 3.
"Today is the first time since Aug. 12 UAB's numbers have hit triple digits," the hospital said in a statement.
"These are patients who are either very sick, unable to get better or potentially unable to survive without medical attention and care," UAB said in explaining the situation.
Dr. Kierstin Kennedy, UAB's chief of medicine, said it will require a communitywide effort that includes wearing face masks, social distancing and washing hands to lower the infection rate.
"The impact on the health care system could be tremendous," Kennedy said in a video released by UAB. "The best way I can describe it is Russian roulette, not only in the form of maybe you get it and you don't get sick or maybe you get it and you end up in the ICU.
"But if you do end up sick, are you going to get to the hospital at a time when we've got capacity and we've got enough people to take care of you? … We want to take care of everybody that requests our care. And the only way for us to make sure we can do that is if we continue to remain vigilant, we continue to do what we know works, which is wearing our masks, social distancing and washing our hands.
"It's not over until it's over," she said. "We have to keep doing that."
The rise in the number of people in hospitals for the coronavirus in Alabama and nationwide has been dramatic.
Statewide, the number of people in hospitals stood at 973 on Nov. 1. It had risen to 1,422 a week ago and has continued a steady climb since then.
The overall number of COVID-19 cases also has grown steadily throughout November.
The Health Department reported 2,295 new cases of the virus across the state in Monday's daily report. The average number of cases stands at 2,206 a day for the past week and 2,164 over the past 14 days.
The seven-day average was 1,241 cases on Nov. 1, when the 14-day average was 1,190.