Alabama Health Officials Hope To Receive First COVID-19 Vaccines Next Friday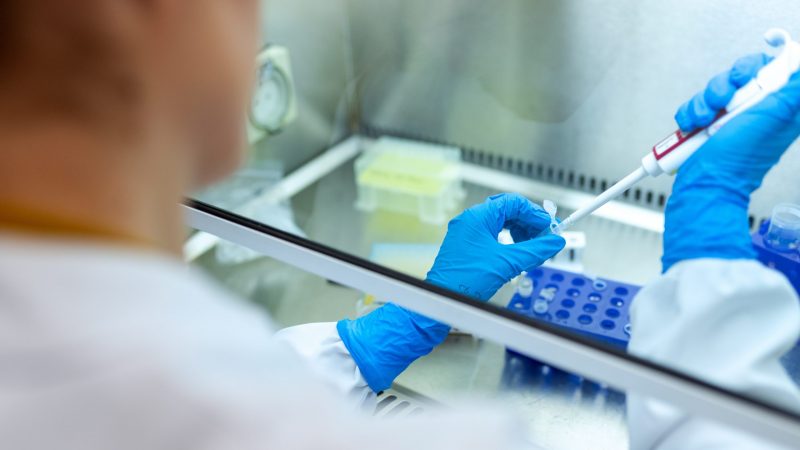 Public health officials say Alabama could receive its first delivery of coronavirus vaccines by the end of next week.
Jefferson County Deputy Health Officer Dr. David Hicks today said he expects vaccines from the drug company Pfizer to arrive on Friday, December 11.
If the vaccine is granted Emergency Use Authorization by the U.S. Food and Drug Administration, Alabama will receive about 41,000 doses. Those will be distributed at 16 vaccination sites at hospitals across the state, according to State Health Officer Dr. Scott Harris. Frontline healthcare workers and some first responders will be given priority for the vaccine.
Harris said that rural areas, like southwest Alabama, will not receive the Pfizer vaccine during the initial phase. This is mainly because rural hospitals can't accommodate the vaccine's cold-chain requirements: the vaccine must be kept at -80 degrees Celsius.
"There aren't a tremendous number of sites in the state that can handle that," Harris said. "Most of our larger hospitals can. There are a few academic and research institutions that can."
The other reason is because Pfizer plans to ship the doses in a minimum allotment size of about 1,000 doses per container, he added.
"So because this product needs to be used rather quickly once you open the pack and start administering it, it needs to be in locations that can give a 1,000 doses or so at a time fairly quickly," Harris said.
What About Small Towns And Rural Areas?
The state health department has instructed the 16 facilities offering vaccinations to use about 40% of the vaccines it receives for their own frontline workers and first responders.
"The remaining amount will be allocated to healthcare workers in [surrounding counties]," Harris said. "So some of that will be people who are in private practice as physicians or medical clinics. Some of it will be rural health centers or community health centers. Some will eventually go to nursing homes."
Moderna's vaccine — the other COVID-19 vaccine seeking Emergency Use Authorization — will be the ultimate solution for vaccinating more rural areas of the state, specifically southwest Alabama, according to Harris.
That's because the handling requirements of the Moderna vaccine are not as stringent as the Pfizer vaccine.
"[The Moderna vaccine] can be stored essentially in a normal freezer, -5 degrees [Celsius], which is something that'd be available in any hospital, just about any pharmacy, doctor's offices, clinics and urgent cares," Harris said.
Plus, the Moderna vaccine ships in lots as small as 100 doses. This makes it easier to use, store and distribute, he said.
Harris said they expect the FDA to approve the Moderna vaccine about one week after the Pfizer vaccine is approved; Moderna submitted its request for Emergency Use Authorization about a week after Pfizer.
When Can Your Family and Friends Be Vaccinated?
Jefferson County Deputy Health Officer Dr. Hicks said vaccines won't be available to the general public until spring. He stressed that people need to continue wearing face masks and social distancing.
"This season we need to spread joy. We do not need to spread COVID-19," he said.
Dr. Harris, like many Alabama health experts and officials, echoed that sentiment. He advised the public not to worry if they don't get one of the first COVID-19 vaccines to become available, because there are currently six vaccines being considered for approval.
"They're all going to be different," Harris said.
Each vaccine research trial involves different groups of people: from senior citizens to younger people, to people with chronic disease.
"But the point of that is, not all of these vaccines are going to be appropriate for a given person," Harris said. "It may be that if you're in a particular age group or demographic group or have a certain illness, there's only one or two of these products that are going to be appropriate for you and have approval to be used in your group."
Harris said it'll be up to the Centers for Disease Control and Prevention's Advisory Committee on Immunization Practices to determine which vaccines will be approved for certain groups.
How Are Hospitals Coping?
For the past four days in a row, new record highs have been set for the number of coronavirus patients in Alabama hospitals. More than 1,800 people are now hospitalized statewide.
Some areas of the country have instituted surge plans that include field hospitals because of a rise in cases. Jefferson County has a plan in place, but health officials haven't disclosed many details.
Local health experts hope such measures won't be necessary, but officials at UAB Hospital worry they could be overwhelmed very soon.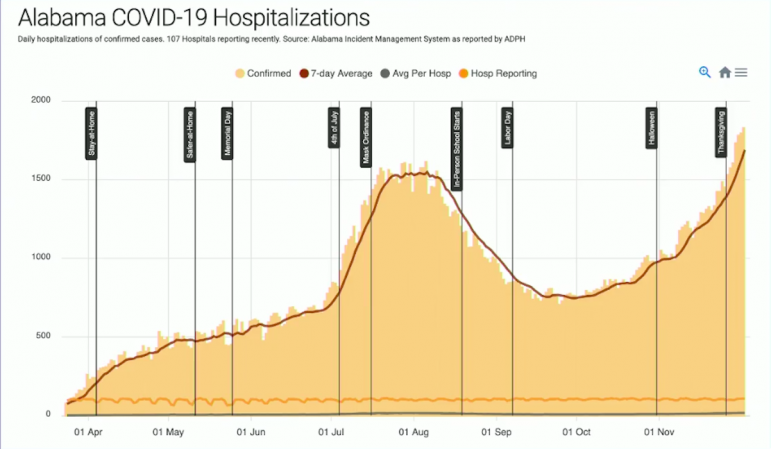 Dr. Sarah Nafziger, the co-chair of UAB's Emergency Management Committee, said the hospital has managed the surge so far, but it's taking a toll on the medical staff.
The hospital is still scheduling elective surgeries, though they've cut back on these in recent weeks. Nafziger said that while a surgery may be 'elective', many patients suffering from serious conditions need these procedures.
"We're not doing these surgeries for grins and giggles," Nafziger said. "The surgeries are scheduled because people need them. A lot of times peoples' condition can worsen when things are delayed."
Nafziger said healthcare workers are trying to provide in-home care to COVID patients whenever possible.
Andrew Yeager contributed to this story.
Editor's Note: UAB holds WBHM's broadcast license, but our news and business departments operate independently.