Some Alabama Graduations Saved By Going Virtual
The traditional in-person graduation ceremonies for Alabama's high schools and colleges were either cancelled or postponed this spring because of the coronavirus.  
For Shades Valley High School senior Taniyah Dyer, there was no walking across the stage or throwing her hat in the air. Like thousands of Alabama students, Dyer finished her courses from home. 
"I was upset because our prom got cancelled and the graduation and awards day, senior breakfast, all of that is cancelled," she said.  
Dyer thought she wouldn't be recognized this year.  But she got a pleasant surprise. 
Ignite! Alabama has made it possible for 2020 high school and college graduates to celebrate their achievements.  The organization supports minority women in business.
Jefferson County Commissioner Sheila Tyson is the board president for Ignite! Alabama. She says it stepped in after hearing from a few graduates who were upset about the cancellation of senior activities. 
"It will never be a replacement for the graduation and the prom, but it's something to keep their minds focused on what's ahead," she said.                                                        
More than 400 high school and college graduates participated in the virtual graduation. Their names were listed during the online event and their photos were posted on the Ignite! Alabama's Facebook page. 
About a dozen of them received cash prizes, laptops and other electronics from the event's sponsors. According to the organization, nearly 18,000 people viewed the celebration.
Birmingham Mayor Randall Woodfin spoke at the virtual graduation and acknowledged the graduates' willingness to adapt as their senior year was disrupted by COVID-19.
"Life teaches us how to pivot and you have been champions on how to do that this year," he said.
Woodfin, U.S. Senator Doug Jones, and a few celebrities participated in the virtual event which was offered on Ignite! Alabama's social media platforms and streamed on its website.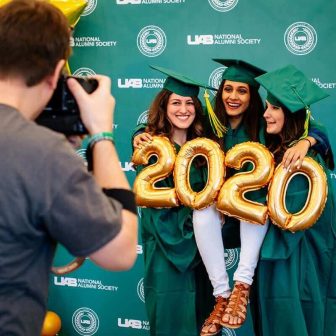 The University of Alabama at Birmingham and Alabama State University are planning similar events by hosting virtual commencement celebrations this weekend. 
UAB's Provost Pam Benoit says it was important for the university to recognize this year's graduates.
"We wanted to celebrate with them, so we put together a virtual commencement," she said. "There are ceremonies that will air on UAB's Youtube, Facebook and IG TV channels."
Benoit says the online event will include recordings from student leaders, deans and the university's president. She says graduates have also sent in short videos that will be interspersed throughout the virtual commencement. 
"We tried to, in a virtual setting, create the celebratory atmosphere of a commencement, even though we can't be there and do it in person," she said.
Graduation may look a lot different this year, but Benoit says the class of 2020 will be remembered for their resilience during an unforeseen national crisis. 
For some, like Taniyah Dyer, it's just enough motivation to prepare for the next chapter.