2020 BirminghamWatch Voter Guide: Finally, Voters Are Streaming Into Polls for Election Day 2020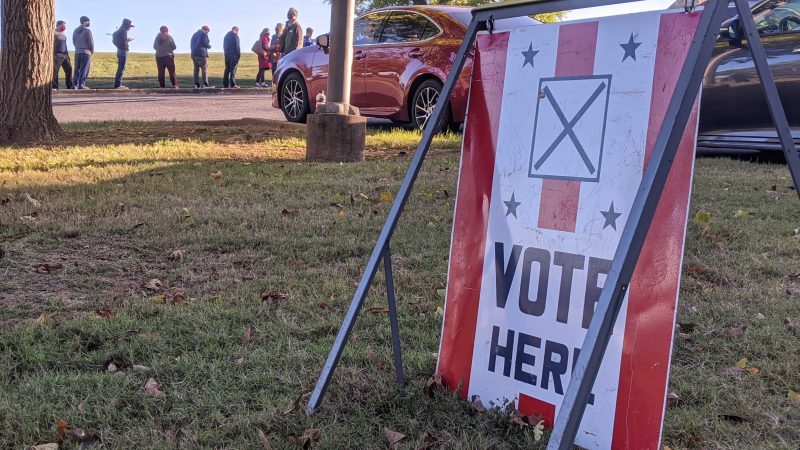 Alabama to Deliver Election Results by Wednesday in Face of Record Voter Turnout
Voters are streaming into polling places today to vote in what could be a record-breaking election.
More than 200 voters were lined up to vote at the polling place at Prince of Peace Catholic Church as it opened at 7 a.m. Those voters streamed across the parking lot and then alongside it, walking along the tree line to get to the site.
Polls close at 7 p.m.
Despite projections for a record-level voter turnout, state and local officials say they will finish counting the votes by Wednesday morning.
Voter turnout is predicted to hit 68% to 75%, corresponding to 2.5 million to 2.8 million people voting, according to Alabama Secretary of State John Merrill. The state already has seen a record number of absentee ballots returned — 300,402, as of Monday morning.
The highest recorded voter turnout in Alabama came during the 2016 general election, when 67%, or 2.1 million people, hit the polls. The previous record for absentee ballots was roughly 89,000.
Merrill said the increased turnout may lead to longer lines Tuesday. But he said officials have taken steps to mitigate wait times and to ensure safe voting conditions amid the COVID-19 pandemic.
What's At Stake
At the top of the ticket is the Donald Trump-Joe Biden showdown for the White House. That race has drawn the most interest nationwide. But there's another race that has drawn much attention in Alabama, as former Auburn football coach Tommy Tuberville, a Republican, tries to unseat Doug Jones, who three years ago was the first Democrat elected to the U.S. Senate from Alabama in 25 years.
Also up for grabs are races for the Alabama Public Service Commission presidency and a seat on the state Board of Education. In Jefferson County, contested races also include a district court judgeship, deputy treasurer, tax assessor, assistant tax assessor and assistant tax collector.
Voters also have six amendments to decide – seven in Shelby County.
The 2020 BirminghamWatch Voter Guide gives you information to navigate through the voting process. You'll find profiles of the candidates, including biographical information, the main issues they're citing in their campaigns, their top contributors and links to their web or social media sites. Also in the guide is a rundown of the amendments with an analysis of each by the Public Affairs Research Council of Alabama, sample ballots you can print, mark as you want and take to the polling place as a reminder if you want; and information about voting and going to the polls.
BirminghamWatch 2020 Voter Guide
Printable Sample Ballots for Jefferson and Shelby Counties
List of Candidates with Profiles
Your Guide to Alabama's 2020 Constitutional Amendments
Check your registration status, find your polling place and check the status of your absentee ballot
Jones Runs Aggressive Campaign to Maintain Senate Seat for the Democrats
With a Commanding Lead in Polls, Tuberville Shuns Media and Jones While Embracing Trump
Contributions in the Senate Race
Poll Watchers Have Strict Rules to Follow, and So Do Others at the Polls