Woodfin Mournful but Optimistic in His Second State of the Community Address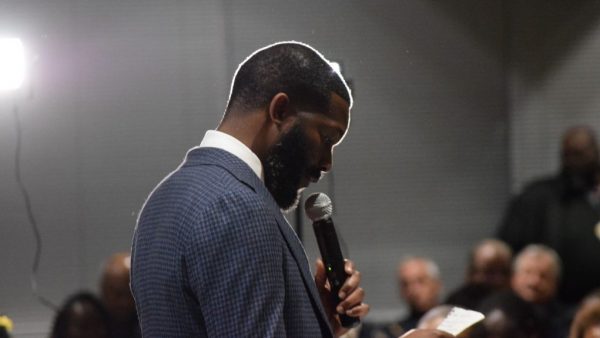 By Sam Prickett
Following a tragic week for Birmingham, Mayor Randall Woodfin delivered his second State of the Community address Monday night. His speech was equal parts elegiac and hopeful, addressing the death of former Mayor Larry Langford and the murder of Birmingham Police Sgt. Wytasha Carter while casting an optimistic eye toward the future.
"This evening, I come before you in a state of mourning," he said during his speech. "We're a city with a broken heart."
But resilience, Woodfin argued, "is in our DNA," and after a lengthy prayer from local pastor Terry Drake, he shifted his focus to the accomplishments of his administration's first year at City Hall. The city, he said is, "writing another chapter in our grand legacy."
The highlights from his first year, Woodfin said, included the removal of more than 300 dilapidated structures throughout the city, paid for in part by the new Neighborhood Revitalization Fund. He also pointed to ongoing efforts to resolve the city's unfunded pension liability, so that "future generations of city employees are taken care of."
Woodfin highlighted several changes he had made to the mayor's office, including the creation of an Office of Social Justice and Racial Equity and the transformation of the Office of Economic Development into the Department of Innovation and Economic Opportunity. For the latter department, he said, "their marching orders are clear: provide more opportunity for women- and minority-owned (businesses) in Birmingham." That office helped facilitate the creation of 2,100 new jobs in the city in 2018, he said, the most the city has seen since 2011. "We can only expect that number to rise this year," he said.
He repeated his promise "to talk to CEOs and grocery stores around the country to alleviate the issue of food deserts" in the city, and he promised that "a more robust update" on his administration's strategic plan would come in March.
But the crux of Woodfin's speech largely centered on his administration's public safety plan, which he and Police Chief Patrick D. Smith discussed with neighborhood officers last week. "We will not tolerate criminals taking control of our streets," Woodfin said, saying that the death of Carter had shaken his soul "to its very core."
"Violent crime is a public health care crisis in our city that will require all of us working together to make a difference," he said. He reiterated his belief that a more holistic approach to addressing crime — through prevention and re-entry services, not just enforcement — was the best way to approach that crisis. Community participation, he added, was essential.
"There's more to public safety than simply flooding our blocks with badges," he said. "We are looking to create robust neighborhood watch programs with block captains because no one knows neighborhoods better than those who walk its streets daily. It's the concerned, loving mentors, big mamas, aunties and respected elders who will help us take our streets back," he said.
He promised that details of a new public safety strategy — one "focusing on bolstering peace within the majority of the population … instead of focusing on reducing violence from the few bad actors in our city" — would be forthcoming "in the coming weeks."
Woodfin closed out his speech with the argument that true revitalization of the city would involve "restoring the intangible of hope."
"As long as there is progress, there is hope," he said. "We won't let you down. So, in the spirit of Larry Langford, let's do something."