Birmingham Police Officer Killed, Another Wounded in Downtown Shooting
A Birmingham police officer was fatally shot downtown Sunday morning and another critically wounded.
Sgt. Wytasha Carter, 44, of Birmingham died in the early morning shooting. Carter served at the Birmingham Police Department since 2011 in a number of roles, including West Precinct and as a school resource officer.
One suspect is in custody, while another suspect and the wounded officer are being treated at UAB Hospital. The officer is in critical condition.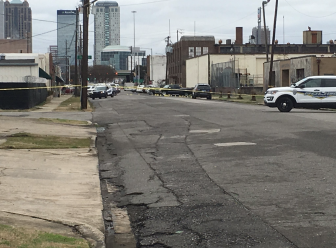 The officers were investigating car burglaries downtown about 2 a.m., according to police Chief Patrick Smith.  One officer was undercover, the other in uniform. Police approached one suspect, patted him down, and found what they believed was a weapon, Smith said in a statement to reporters early Sunday. The suspect armed himself and fired on the two officers, killing one and wounding the other.
Smith says the one suspect, 18, is in custody, while the other suspect, 31, is in the hospital. The unnamed officer is still in critical condition.
Mayor Randall Woodfin in a statement urged prayers. "As a city, we stand with the families of these officers and the Birmingham Police Department at this tragic time," he said in a statement. "This is a time of mourning for our city, but please know our police officers will be dedicated to justice and continued service for the people of Birmingham." Woodfin said Carter laid down his life for the city he served. "This husband and father was a true public servant and will be honored by each of us," Woodfin said.
The shooting happened outside a downtown club on Fifth Ave. North. An investigation is under way.
Carter was a graduate of Phillips High School. He began is law enforcement career as a correctional officer in Shelby County in 2002. He served in the United States Air Force. He is survived by his wife and children.