Most Birmingham-Area Schools Improve From Last Year in Latest Report Card, But Work Still Needed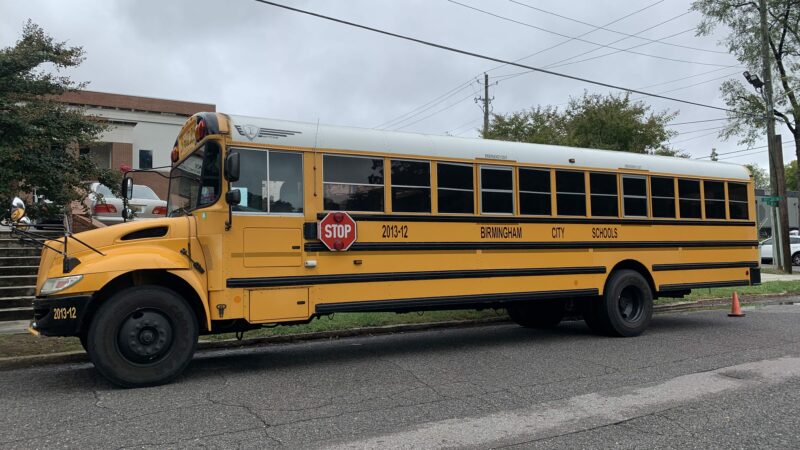 By Cheryl Slocum
Two Birmingham-area school systems scored better than last year on the 2018-2019 annual Education Report Card issued by the Alabama State Department of Education.
Jefferson County Schools and Birmingham City Schools each improved overall by one letter grade. Jefferson County received a B and Birmingham City Schools scored a C. The statewide grade was a B, with 84 points.
The Education Report Card is one of several components of state and federal data ALSDE uses to monitor school performance. Graded on an A-F scale, schools are evaluated based on reading and math proficiency, math and reading improvement, graduation rates, absenteeism rates, college and career readiness, and English language proficiency.
School report cards show detailed information on school systems and individual schools.
The letter grading system was introduced three years ago after a law required the switch from numeric scores. The Alabama Accountability Act, which was passed in 2012, requires that the state make the report card grade available to the public
State Superintendent of Education Eric Mackey announced that ALSDE had revamped the report card on its website to make viewing and searching for information easier. The enhanced site allows side-by-side comparison of up to four schools and uses colorful graphs and illustrations to make detailed information on student demographics, teacher credentials and school performance easier to read and understand.
"We hope this can be used as a catapult to jumpstart conversations about what is working in public schools as well as identifying areas that may need support and/or additional resources," Mackey said.
The site also allows viewers to take a deeper dive into information on individual schools.
You can view the report card information here.
Area Systems
For the Jefferson County school system, the overall score moved up from last year's C grade of 78 points to a B with a score of 81. The system has 36,360 students enrolled in 56 schools. Three schools earned A grades, 24 schools earned B, 18 schools were graded C, and nine schools received a D. This year, as was also the case last year, no Jefferson County system school received an F grade.
Birmingham City Schools improved from a D to a C, with a score of 71 in 2018-19 compared to the previous year's score of 68.
"We recognize that our district is on an upward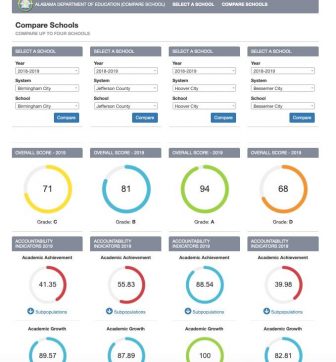 trajectory and heading in the right direction." said Dr. Lisa Herring, superintendent at Birmingham City Schools. "We are turning Birmingham City Schools around," she said.
Birmingham City Schools reported 23,341 students who attend 44 schools. Three of those schools received A grades, two logged B, 12 schools scored C, and nine schools were assigned D grades. Although the district's overall grade did improve, the number of schools receiving an F increased from five in 2017-2018 to six in the current report card.
Jefferson County and Birmingham school students make up 62% of the public school student population in the Birmingham area.
Hoover, the third-largest school district in the area, received an overall A grade with 94 points — an improvement from last year by four points.  Hoover City Schools had 13,965 students in 16 schools. All of Hoover schools were given A grades
Several of the area's smaller school districts maintained scores similar to last year's. Homewood, Mountain Brook and Vestavia Hills systems each held steady A's from the previous year, and all of the individual schools received A grades.
Homewood's five schools, which have a total of 4,244 students, improved from 91 points last year to 95 for the 2018-2019 year. Mountain Brook's A was one point from a perfect score, a 99 for 2018-2019, up one point form the previous year. Mountain Brook's system is made up of six schools and has 4,341 students enrolled. Vestavia Hills' 7,164 students attend eight schools. The system received 97 points, improving by three points from last year.
Bessemer City Schools, with 3,583 students and seven schools, and Tarrant City Schools, with 1,205 students and three schools, each maintained D grades.
Tarrant remained at 66 points with its three schools receiving D grades. Bessemer schools improved slightly from 67 points last year to 68 points for the 2018-2019 school year. Three of the Bessemer schools received C grades, three received D and one school received an F.
Midfield and Fairfield school systems maintained C grades in the most recent report card.
Midfield has 1,034 students and three schools, two of which received C grades and one was graded D. While Midfield maintained a C grade, the score did drop to 72 points compared to a score of 76 in the previous year.
Fairfield increased one point, to a 75. The district is composed of four schools with 1,563 students. All of the schools received D grades.