Woodfin Calls for Civility at City Hall; Councilor's Criticism Continues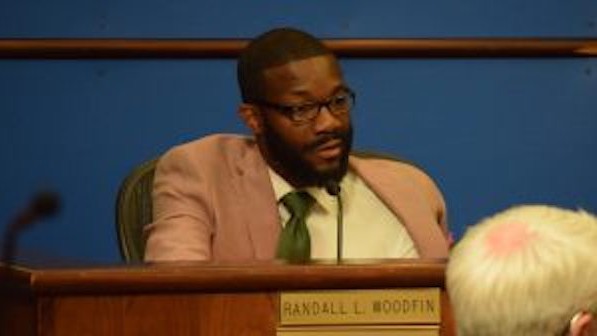 By Sam Prickett
Mayor Randall Woodfin called for greater civility between his office and Birmingham City Council on Tuesday, following weeks of escalating tension. The tension culminated with Woodfin and most of his staff being absent from council's Oct. 30 meeting.
While calling for civility, Woodfin also announced plans to reduce his staff's presence at council meetings. He said this is an effort to improve efficiency and to spend more time on community outreach.
Last week's absence of Woodfin and his staff drew considerable criticism from councilors, some of whom called it "a slap in the face to the constituents of the 99 neighborhoods." Critics accused Woodfin of retaliating because of council's rejecting a funding proposal for the Firehouse Ministries Shelter at Oct. 23's meeting. That heated discussion had seen Woodfin falsely accuse District 8 Councilor Steven Hoyt of unsuccessfully applying for a job with the Firehouse, a statement for which Woodfin apologized.
But resentment between the mayor and council continued to simmer — first as Woodfin called the council's rejection of the Firehouse proposal "unconscionable" in a press release, and then as Hoyt fired back by comparing Woodfin's "petty politics" to those of President Donald Trump.
At Tuesday's meeting, Woodfin denied that politics were at play with his staff's Oct. 30 absence. He had been out of town for a conference, he said, and had instructed his staff not to attend as a way for his office to "pause to reconsider our approach to city council meetings," he said. "That's the honest truth."
That's slightly different from the reasoning offered last week by Rick Journey, Woodfin's communications director, who said that staff had not attended because "the mayor wants to be in a position to address any questions from the council personally."
But Woodfin repeated Journey's assertions that the mayor and his staff "are the council's guests" during the weekly meetings, before expressing dismay with the tenor of discourse at City Hall.
"We value these meetings, we really do, and we believe they are important to our democracy as well as moving our city forward," Woodfin said. "With that said, I have noted a different tone lately in recent meetings… We were all elected in part because the community demanded civility to return to city government so that we could get things done along with the residents we serve. I want to honor that."
Though Woodfin said that the council could "expect me to be here" regularly, he said that his office would "probably have fewer staff inside the council chambers during council meetings." Some, he said, would be stationed "outside the chambers to increase our service to our residents," while others would be stationed on the first floor of City Hall. They would be there, he said, as a resource to the "many residents who only engage City Hall on their way in and out of our City Council meetings."
But while some councilors who had previously criticized Woodfin — such as District 9 Councilor John Hilliard — offered conciliatory responses to Woodfin's remarks, Hoyt remained unmoved.
"It's obviously your purview to do what you want to do with your staff, but you'll be the first one that's sat in your seat to deliberately do that," he said, saying that department heads' absences might slow down council meetings. Council President Valerie Abbott echoed that concern, garnering Woodfin's reassurance that department heads would be "sitting on call" if the council needed to consult with them.
Hoyt also renewed his criticism of Woodfin's interactions in previous weeks, saying that Woodfin's accusations on Oct. 23 had been uncivil and that the absence of staff on Oct. 30 "was not a good look for the city."
"I don't know any major city where the department heads do not show up in a council meeting," he said to Woodfin. "That's unexcusable, and I really think that's an untruth that you provided (as a reason for the absence)… I've served with a lot of mayors, but none as petty as you."
Woodfin did not respond to Hoyt during the meeting — but he did tell councilors he would meet with them one-on-one during the weeks leading up to his one-year anniversary as mayor on Nov. 28.