New Birmingham Bar Owner Named National "Bartender of the Year"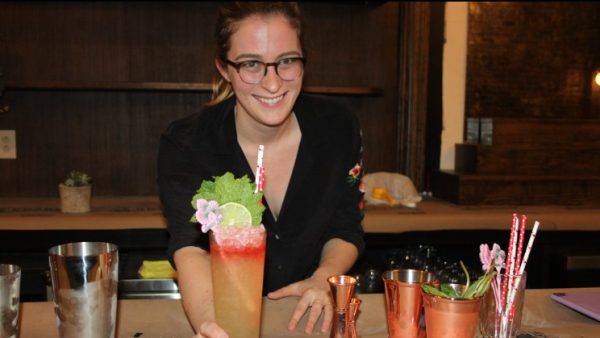 Brooklyn native Laura Newman moved to Birmingham in 2017 after she fell in love. The 29-year-old told her boyfriend the move would be temporary, just until she found the perfect city to open a bar. Newman says three months later, she found it.
"I loved it here so much that I actually changed plans and I decided to open a bar here," she says.
Newman recently became the first woman to win the U.S. Bartenders Guild World Class Competition. She beat almost a dozen bartenders across the nation. This was Newman's third year competing for the title and she calls it a big win. It proves women can excel in a male-dominated field and do it even better, she says.
Clair McLafferty, author of The Classic & Craft Cocktail Recipe Book and a local bartender, says there are a lot of preconceived notions about what it means to be a woman behind the bar.
"There are a lot of ideas about who behind the bar has knowledge, especially about bourbon and whiskey as a whole."
McLafferty says it's a challenge, but women are breaking through those stereotypes. And that fosters deeper relationships with other women behind the bar.
Maggie Hoffman is an author and spirits writer who's noticed an increase in "star" female bartenders in the US.
"More and more women are beginning to get a little bit of that spotlight now that there are so many star bartenders," she says. "It's always been the same group of dudes and more and more women are starting to get that attention.
Newman is definitely getting some of that attention these days. She gives cocktail talks across the country, sharing a few recipes that she will use at her bar, Queen's Park.
"The name originally comes from the Queen's Park Hotel, which was a grand old hotel in Trinidad and opened at the turn of the 20th century," she says.
I recently went to Queen's Park to get a preview. It's a narrow space with high ceilings, French-style seating and beautiful crystal chandeliers. Newman describes it as a classic bar.
"I'm really excited to be able to offer people in Birmingham awesome classic cocktails that they may not have had before or maybe haven't even heard of," she says.
Classics like a Midori Sour or the bar's signature cocktail: Queen's Park Swizzle. It's made with a Spanish sour rum. Newman says cocktails like these are a spectacle.
Creating a classic cocktail takes work but it's even harder to open a bar. McLafferty, the author and local bartender, says people across the US now notice Birmingham and its thriving food and beverage scene. The concept of Queen's Park is a risky one. It's not your average "Jack & Coke" bar, McLafferty says, referring to the popular cocktail. McLafferty calls Queen's Park a game changer.
"Birmingham itself has the will to sustain new concepts especially when they're as different as what Laura's bringing in" she says.
Queen's Park will have its grand opening Friday: a holiday pop-up bar that runs through the holidays. The Christmas themed pop-up will serve seasonal drinks to get patrons in the holiday spirit.