Barons Pick Up the Pace This Season
The Birmingham Barons have their first home game of the season Wednesday against the Montgomery Biscuits. Five years ago, the minor league baseball team moved into a brand new $64 million ballpark in downtown Birmingham: Regions Field. And this year the team plays host to the Southern League All-Star Game. The Barons have had their ups and downs, but there are some changes in store to keep fans hanging on.
The team won its season opener in Chattanooga. For the last five years, the Barons have benefitted from being downtown, Jonathan Nelson, Barons general manager says.
"You're seeing an unprecedented level of civic excitement enthusiasm and just genuine, you know, a sense of being proud of the Barons, of the facility that we play in Regions Field," he says.
Nelson wants to keep that excitement from fading. So one thing he's adding this year? New beers, and trendy foods like chicken and waffles and buffalo wings.
Chicken and waffles might not be something you think of when you think of ballpark food. It's a little awkward to eat. But it does bring in money. And that's important, especially when admission ticket prices are relatively low. Barons tickets have held steady at $7 since the team moved from its old location at the Hoover Met.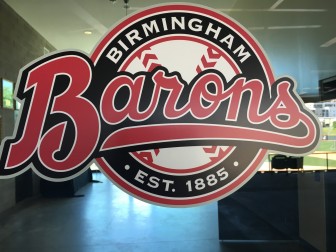 "It might not be just what that price point is of the ticket. It's everything else that goes with it and what people are spending when they come in," says Rodney Paul, who teaches sport management at Syracuse University.
Plus, when there's good food and drink and entertainment, people stay longer –to a point. Over the last several years, both the major and the minor leagues have been finding new ways to speed up the game. The Barons are no different. Nelson says this year, there's a new pace-of-play rule:
"The change is when you go extra innings a team will have a runner at second base to begin the inning," he says.
So there's a runner automatically at second base when a game goes into extra innings. This, Nelson knows, is guaranteed to fill the purists with outrage. But he says on Friday nights when they'd set off fireworks after the games, it was a long wait for the grand finale, "and unfortunately a few years ago it seemed like every Friday night we went extra innings and they were turning into four-hour games."
Noise ordinances and curfews made those late games tough, too. But Paul says the good thing about a $7 admission ticket is a lot of people have no problem ducking out early. Plus, Paul says fans reward teams that play faster games by going to more of them. And he says as long as people have a good time, it doesn't even matter much whether the team wins.