Many GOP Voters Still Undecided on Senate Candidates
The forum Sunday was at a firearms training facility in Trussville, so it wasn't surprising as the candidates took questions from the audience that shots rang out in the background. Four candidates attended at the GOP Senate forum: incumbent Sen. Luther Strange, Bryan Peeples, Randy Brinson and Congressman Mo Brooks. They wanted to win votes. But as they hashed out issues from abortion to concealed carry laws, many voters left undecided.
Doug Atkins, a retired 9-1-1- operator from Hueytown, realizes the clock is ticking; the special Senate primary election is a week away on August 15th. But for him, it's still between two candidates: former Alabama Chief Justice Roy Moore or Congressman Mo Brooks.
Moore wasn't at Sunday's forum. A campaign representative said he instead attended a religious rally in Mobile put on by several churches in his honor. Atkins said if Strange makes a run-off, he's voting for the other candidate—whomever it is. "Senator Strange, I just, there's just something about him that I would trust somebody else," Atkins says.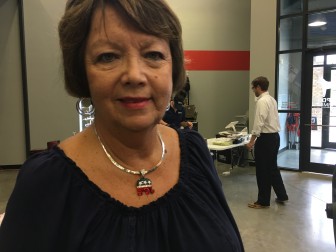 Judy Pate, who owns a cleaning business in St. Clair County, walked into the debate almost sure she was going to vote for Strange in the primary. And she still might. "But after hearing all the candidates, I'm hearing new things that I didn't know about them, so I'm not locked in," she says.
Now that she's heard from more candidates, Pate is keeping her options open. She was especially enamored of Randy Brinson, a gastroenterologist and former head of the Alabama Christian Coalition. Brinson was a virtual unknown to her prio to Sunday. She says over the next week, she has a lot more research and praying to do.
She isn't the only one with plans to devour information on the candidates over the coming week. Michele Boyd, of Alabaster, says she was impressed with all four candidates present, and one who wasn't: Alabama Senator Trip Pittman. She'd heard him in an interview last week. "I was disappointed he wasn't able to be here today, so there are some things I still want to research," Boyd says.
Looking to get to know the candidates better yourself? Here's a link to the candidate profiles produced by BirminghamWatch.