Study of School District Borders Shows US, AL Economic Segregation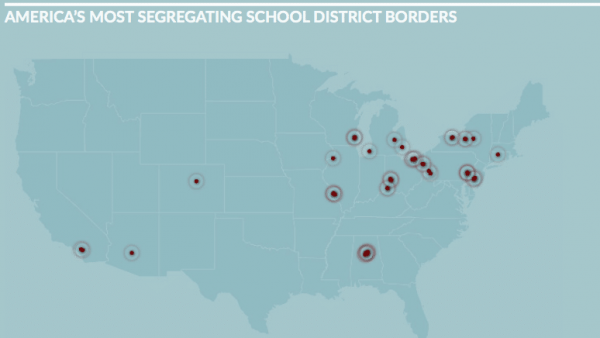 A wide body of research shows that students in poor school districts face real disadvantages. But the way the U.S. funds schools creates pockets of poverty right next to enclaves of wealth. That's one conclusion of a report being released today by the nonprofit group EdBuild. It analyzed the nation's 33,500 school district borders and then ranked the 50 that reflect and perpetuate economic segregation the most.
In Alabama, there are seven borders ranked in that 50, one of them between Hoover and Bessemer, the other six surrounding Birmingham City Schools. If the city were a state, it would have the second-most of any state in the nation. Birmingham has a particularly convoluted school district, bordering 13 others while the national average is five. The district is shaped the way it is partly because of a long history of "white-flight" systems seceding.
By the report's metrics, Birmingham schools have a nearly 50 percent student poverty rate, but nearby Vestavia Hills, for example, is at about six percent, for an over-the-district-border difference of 44 percent. The average difference nationally is seven percent.
Property values, which affect the amount of available local money (which comes with fewer restrictions than state or federal money) skew significantly in favor of the suburbs, too.
The report attributes so much disparity to breakaway school systems, reliance on property taxes, and court rulings that have thwarted across-district desegregation efforts.
"The entire system is crazy," says EdBuild founder and CEO Rebecca Sibilia. "People very rarely think about the use of school district boundaries as a means of state-sanctioned segregation … but when it comes to school districts, your neighbors matter."
The report notes that whole-county school systems, and larger tax pools in general, tend to smooth out disparities between districts.
For a good national overview of the report, click here. To download the entire report, click here.