"Sam" To Bring Produce To Food Deserts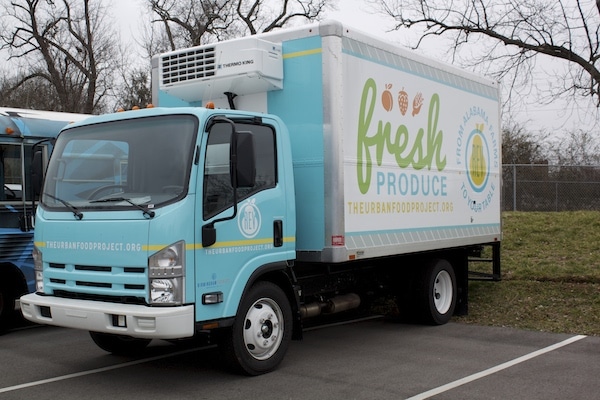 The economic development group REV Birmingham estimates as many as 88,000 Birmingham residents cannot easily access fresh, healthy food. But the group, through an initiative called the Urban Food Project, is working to change that.
The Urban Food Project's main goal is to help people who live in Birmingham's food deserts — areas where nutritious and affordable food is difficult to get — by bringing affordable local produce to retailers and restaurants near them. Until recently, REV transported produce any way it could, in sometimes unreliable ways that often changed week to week. But with the help of a USDA grant, REV can now distribute produce more consistently and efficiently. Enter "Sam."
Sam is a refrigerated truck that REV will unveil Friday in Woodlawn. According to REV CEO David Fleming, the truck gets its name from the late Sam Crawford, a former staffer who was passionate about increasing access to nutritious food in Birmingham's food deserts. Fleming says Sam will increase the amount of produce REV can deliver to target retailers and ensure that its quality is not compromised in the process.
Sam's debut party will feature Mayor William A. Bell, nutrition advocates, and members of the public interested in learning more about the Urban Food Project and REV Birmingham. As CEO Fleming puts it, "The unveiling of Sam really recognizes that this community as a whole is doing a whole host of things to address the health of its citizens."
As early as next Tuesday, Sam will be traveling the streets of Birmingham and making affordable, nutritious food available to more of Birmingham's citizens.