Vincent coffee shop becomes community hub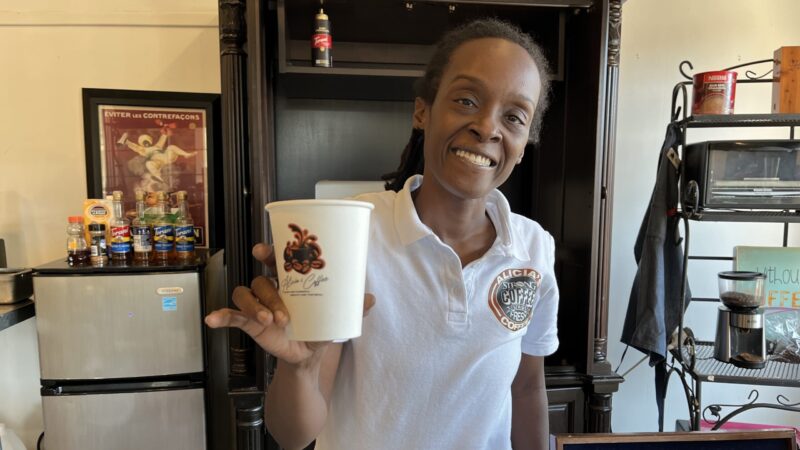 The way Naimah Alicia Elmore put it, coffee chose her. She didn't choose coffee.
Elmore is the owner of Alicia's Coffee in Vincent, Alabama, about 45 minutes southeast of Birmingham. The store is the site of WBHM's latest News and Brews community pop-up Friday, Nov. 17 from 7 to 10 a.m. The story of Alicia's Coffee is one of entrepreneurship and a little serendipity.
It was March 2020, right when the pandemic hit, and Elmore was laid off from her hotel job in suburban Birmingham.
"For some people the pandemic was a curse. For some it was a blessing," Elmore said.
Elmore said for her, it was both. She lost her job, but it allowed her to pivot to something new.
She remembered during those days when everyone was stuck at home, she was sitting on her back porch, sipping coffee, talking to her friend and business partner on the phone. That's when she floated the idea of starting a coffee business.
"We both just bust out laughing, started talking about other stuff," Elmore said. "But once I got off the phone I researched why do coffee companies succeed and why do they fail."
Elmore began contacting coffee roasters and by that summer, she had her first pop-up shop. Although she wasn't exactly selling coffee yet.
"We started out with just beans and ground coffee, you know, giving it away free," Elmore said.
That meant for the first year doing pop-up, every customer got a free cup or bag of coffee.
That practice allowed her to develop customers and make connections across the area. And it was an unexpected connection about a year ago that led Elmore to Terri Smith, who owns a furniture and home decor store in Vincent.
"I went to the event and I saw these kids in a literal pop-up tent, on the side of a soccer field on a dreary, cold, rainy day. And I said, 'Would you guys be willing to come to Vincent and make coffee in Vincent?'" Smith said.
Elmore had never been to Vincent, but she visited that day. The following Saturday, she was in this town of 2,000 people, doing a coffee pop up in front of Smith's store.
"People were so stunned to see something like that here, which we never had before, that they were turning around in the street to come see what was going on," Smith said.
Within weeks, Elmore took over a storefront Smith was renovating and with folding tables and lawn furniture, the pop up became a full-fledged coffee shop.
Alicia's Coffee has become a de facto community center in Vincent, hosting a weekly Bible study and meetings of the local historical society. It's even the after school hang out for teens.
"Everybody knows each other," Smith said. "It is, without the alcohol, we're as close to Cheers as you can get. So it's a coffee shop but it's a lot more about community."
And perhaps that's what's different when you're the only coffee shop for miles – the coffee's not the most important thing.