Tuberville's hold leaves Marines without confirmed leader for 1st time in 100 years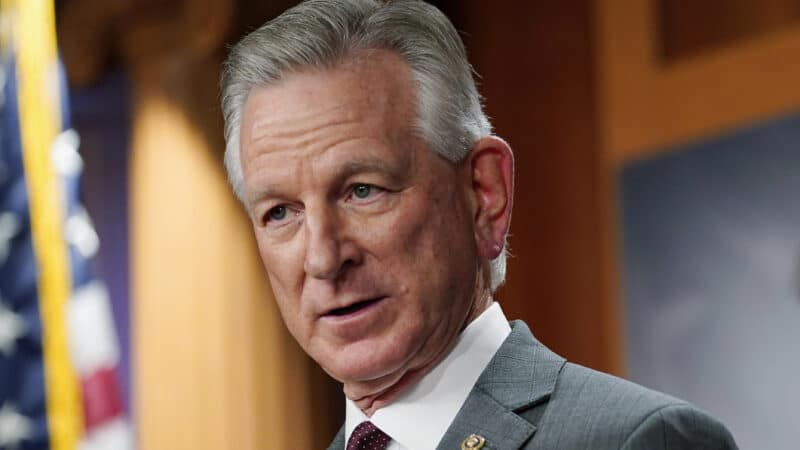 By Lolita C. Baldor
WASHINGTON (AP) — The U.S. Marine Corps is without a confirmed leader for the first time in a century as Gen. David Berger stepped down as commandant on Monday and a Republican senator is blocking approval of his successor.
Berger took over as the 38th commandant in July 2019, and is required to leave the job after four years. Gen. Eric Smith, currently the assistant commandant, has been nominated to be the next leader, but will serve in an acting capacity because he hasn't been confirmed by the Senate.
Under the law, Smith can serve as the acting commandant, but he can do nothing that would presume confirmation. As a result, he can't move into the main residence or the commandant's office, or issue any new formal commandant's planning guidance, which is traditional for a new leader. He has the authority to implement new policies such as budget, training and other personnel decisions.
Smith's promotion delay is the first of what could be many top level military officers held up by Sen. Tommy Tuberville, R-Ala. Tuberville has stalled all nominations for senior military jobs because he disagrees with Defense Secretary Lloyd Austin's decision to have the Defense Department pay for travel when a service member has to go out of state to get an abortion or other reproductive care. Abortion is now illegal in Alabama.
Speaking at a ceremony at the Marine Barracks Washington, just down the street from Capitol Hill, Austin and Berger called on the Senate to take action.
"We need the Senate to do their job so that we can have a sitting commandant that's appointed and confirmed. We need that house to be occupied," said Berger, with a nod to the commandant's quarters at the edge of the parade field.
Austin and other Pentagon officials have pressed the Senate to move forward, saying that delays are already impacting more than 200 military officers, and many key leaders.
"You know, it's been more than a century since the U.S. Marine Corps has operated without a Senate confirmed commandant," Austin said during the ceremony.
Because of Berger's requirement to step down in July, the Marine job is the first of the military chiefs to be affected by Tuberville. The Army, Navy and Air Force are all expected to face the same delay later this year, as could the nomination of the next chairman of the Joint Chiefs of Staff.
The current chairman, Army Gen. Mark Milley, leaves his job at the end of September. Gen. CQ Brown, the current chief of the Air Force, has been nominated to replace Milley, and is scheduled to go before the Senate Armed Services Committee for his hearing on Tuesday.
The hold, however, is also impacting scores of one, two and three-star officers who are assigned to new commands but can't move on. It also affects their families, who usually relocate over the summer to their new military communities so school-age children can settle in before fall.
"Smooth and timely transitions of confirmed leadership are central to the defense of the United States and to the full strength of the most powerful fighting force in history," said Austin. "Stable and orderly leadership transitions are also vital to maintaining our unmatched network of allies and partners. And they're crucial for our military readiness."
Smith hit the thorny issue head on during his remarks at the ceremony Monday — saying he wanted to get one thing out fast.
"If you're saying, 'what am I supposed to call you?' ACMC. That is my title, and one that I'm proud of," said Smith, using the shorthand for his assistant commandant role. But he quickly added, "to make sure that there is no confusion — all orders, directives and guidance, which were in effect this morning remain in effect, unless I direct otherwise. Further guidance to the force will follow."
Sabrina Singh, a Pentagon spokeswoman, said Monday that as of last Friday, there were 265 senior officers whose promotions have been held up by Tuberville, and that number could leap to 650 by the end of the year if the issue isn't corrected. She noted that in more than 100 cases, officers — like Smith — would be forced to do two jobs at the same time because no one can move up.
She said the Pentagon is asking officers to delay planned retirements and stay on, while in other cases officers are doing more senior ranking jobs without getting the pay for that new rank.
Later in the day, Jack Reed, D-R.I., chairman of the Senate committee, spoke on the Senate floor, asking that Smith be confirmed and criticizing Tuberville for what he called an unprecedented hold that is driving the U.S. military "to a potential breaking point.
"In General Smith we have a Purple Heart recipient — this man has literally shed his blood for his country," said Reed, who attended the Marine ceremony. "He stands ready to continue his service to our nation and the Marines he will lead for four more years. He simply awaits our action."
Tuberville, however, blocked a vote and in a Senate floor speech said the holds would have "minimal effect" on Smith's ability to lead.
"There may be a delay in his planning guidance, and yet he cannot move into the commandant's residence, but there is little doubt about General Smith's ability to lead effectively," said Tuberville.
The last time the Corps was led by an acting commandant was in 1910. Then-Maj. Gen. George Elliott, who was the commandant, reached the required retirement age in November 1910 and left the office. Col. William Biddle served as the acting commandant until he was promoted to major general and became commandant in February 1911.
Berger, a native of Woodbine, Maryland, graduated from Tulane University and was commissioned in 1981. He commanded at every level including tours in Iraq and Afghanistan.
During his tenure, he spearheaded a broad campaign to transform the Marine Corps to better be able to fight amphibious wars in the Pacific after years of battling terrorist groups in the Middle East. The plan was lauded by many in the Pentagon and Congress as a critical way for the Marines to prepare for a potential conflict with China.
Smith, a career infantry officer, is a highly decorated Marine who served multiple tours in Afghanistan and Iraq, including time in Fallujah and Ramadi during heavy combat in 2004 and 2005 in Operation Iraq Freedom. He later was the senior military adviser to Defense Secretary Ash Carter.
_____
Associated Press writer Mary Clare Jalonick contributed to this report.