Suit accuses Jefferson County of racial gerrymandering in commission districts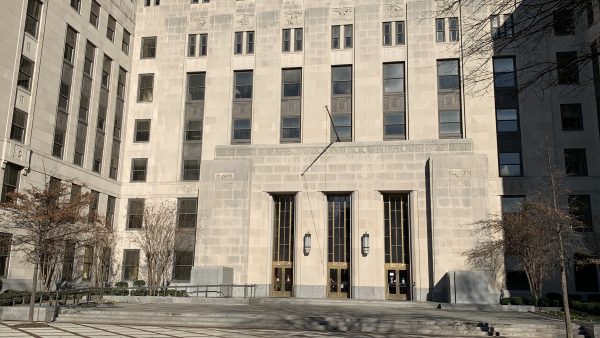 Jefferson County Commission President Jimmie Stephens said the commission is not guilty of illegally packing Black voters into two districts to limit the influence of Blacks, as it is accused in a federal lawsuit filed Friday.
The lawsuit accuses the commission of intentionally packing Black voters into two supermajority Black commission districts based in and around Birmingham. The commission over the past decade, the lawsuit maintains, has siphoned Black voters living in the suburbs into those two districts to prevent them from exercising greater political power in surrounding districts.
"I haven't read the lawsuit but of course not," Stephens said. "When we do our redistricting, there is no race involved. It's only population."
The lawsuit was filed by the NAACP Legal Defense and Educational Fund and Wiggins, Childs, Pantazis, Fisher & Goldfarb on behalf of Greater Birmingham Ministries and Jefferson County resident and activist Cara McClure.
"These are superpacked districts," LDF assistant counsel Kathryn Sadasivan said. "The Voting Rights Act prohibits the packing of Black voters in such a manner that they are denied the ability to influence the adjacent district. We see that in Jefferson County Commission where you have these two more central Birmingham districts that are majority Black but now reach out to the suburbs to grab and separate Black communities in those suburbs from their white counterparts in those same suburbs."
Jefferson County offices were closed Friday for the Good Friday holiday. When contacted by phone, County Attorney Theo Lawson said he has not yet seen the official filing.
"I'm putting together something," he said. "I need to make sure I all five (commissioners) are good with it."
The commission president echoed that sentiment.
"Next week, we will look at it and go over it and do what we need to do to defend our actions," he said. "But I can assure that our redistricting has been totally nondiscriminatory."
Stephens said the county's redistricting has been done in accordance with Alabama law and with consideration of the consent decree that was filed in 1985.
The 1985 consent decree created the two majority-Black districts, expanding the commission from what had been three at-large positions, so Black voters would have an opportunity to elect candidates of their choice. The lawsuit contends that the county has packed people of color into the districts in greater numbers than necessary in the ensuing years.
Black voters make up 40% of the voting age population in the county but in Districts 1 and 2 account for 76.34% and 64.11%, respectively, of the voting age population, according to the lawsuit.
"For over a decade, the Jefferson County Commission has packed Black voters into two commission districts, ensuring that communities of color have less influence on the Commission than they would have under a fair system," Alabama NAACP President Benard Simelton said in a statement.
The lawsuit also accuses the county of using an abbreviated process to draw new lines, holding only one public hearing.
The commission president said the commission has heard of no problems or complaints that the county has not followed the letter of the law.
"We will make sure that each commission district is represented by the same amount of Jefferson County citizens," he said. "We try to follow traditional commission districts so that there is continuity in the representation that people receive."
Stephens said no gerrymandering was involved in redistricting, adding that each commissioner represents citizens whether they are white, black, Republican or Democrat.
"Those descriptors that I just gave are purposely turned off when we go through our redistricting process," he said. "A voter is a voter. I feel comfortable if you look at the citizens of Jefferson County and ask them if they're being well served by the Jefferson County Commission, I would say that (that they would say) 'Of course.'"
The lawsuit comes as the U.S. Supreme Court is poised to decide a challenge to Alabama's congressional districts that accuses state lawmakers of splintering historic Black communities to create one majority Black congressional district and keep the other six districts as majority white. A three-judge panel ruled the congressional map likely violated the Voting Rights Act and ordered the state to create a second congressional district where Black voters were a majority of the voting age population or close to it.
The state appealed and the Supreme Court put the redistricting order on hold. Justices heard oral arguments in the case in October. At that hearing the Supreme Court's conservative majority appeared open to making it harder to create majority Black electoral districts.