Runoff Tuesday in race for House District 55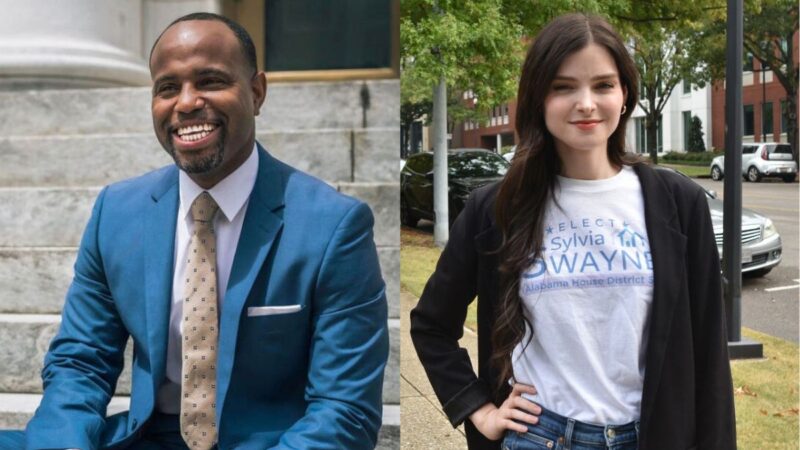 By Kelsey Shelton, Reflect Alabama Fellow
Voters will go to the polls on Tuesday, October 24 for a special runoff election for Alabama House District 55. That district covers parts of Birmingham and its western suburbs. There are no Republicans in the race which means the winner of the Democratic race is assured to take the seat.
While Sylvia Swayne and Travis Hendrix are from the same party, that doesn't mean they're fighting for the same issues.
Swayne's campaign has been a historic one. If elected, she would be Alabama's first openly transgender representative – a fact she's proud of, but hopes isn't all she's known for.
"Being a first, I think it's important to recognize and acknowledge that," she said. "As long as we recognize that the issues are more important, the needs of the district go far beyond my gender identity."
She said her experience as a transgender woman informs her perspective, but it doesn't define it. She added that diverse perspectives are essential to accomplishing goals.
"That's where you're able to come up with creative solutions and consider anyone who could be affected by a bill or, you know how we want to allocate the budget and what do we prioritize. That's going to be a conversation between people of all backgrounds," she said.
Expanding Medicaid is a priority, though she knows this will be difficult to accomplish in a majority Republican House. She said she won't compromise on her views, but she will adapt in order to get things done.
"You have to speak the language of the person you're talking to," she said. "I know that when I talk about expanding Medicaid, that saying that healthcare is a right is not going to have the same impact as talking about the economic benefit of expanding Medicaid, the fact that taxpayers in Alabama are already paying for Medicaid in other states who have already expanded Medicaid."
Swayne's opponent in the race is Travis Hendrix. Hendrix did not respond to an interview request from WBHM, but he did speak with the Alabama Reflector where he described how being a police officer influenced his decision to run.
Hendrix is a native of the district. While serving as a school resource officer, he learned more about the community and its problems. That inspired him to become involved in his community.
During his time in law enforcement, he saw residents with health problems struggle to pay their hospital bills. He hopes expanding healthcare access lessens that financial burden on Alabamians.
He also wants to eliminate the state's sales tax from groceries, another issue affecting low-income constituents of the district.
Hendrix wants to improve the district's infrastructure. He said there are areas that need immediate fixes.
"Some street signs are knocked down, so you have to look at the house on your phone and see what street you're on," he told the Alabama Reflector.
The winner of this special election will succeed former Representative Fred Plump who stepped down in May after pleading guilty to charges of wire fraud, conspiracy and obstruction of justice as part of a kickback scheme. The special general election will be held January 9, 2024.