'Ruffed' up by school? These dogs help Birmingham students with stress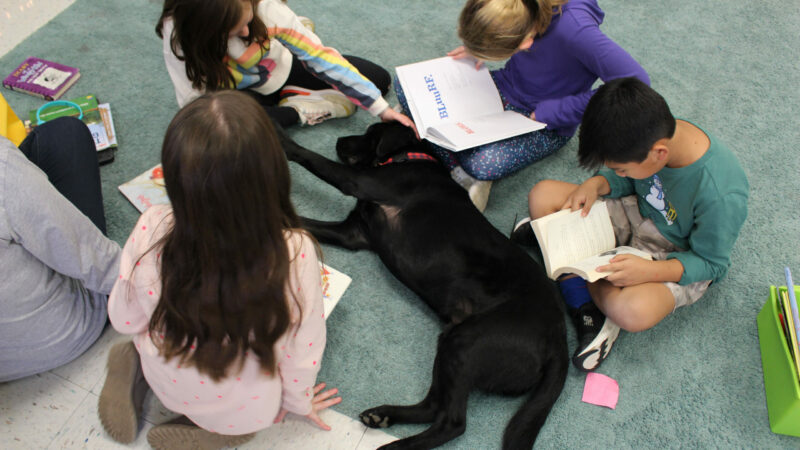 Figuring out how to manage stress, anxiety, and depression can be difficult, especially when you're a kid. West Elementary School in Vestavia Hills is using Merlin, a 4-year-old black lab, to help students manage their mental health.
West adopted Merlin last year from Service Dogs of Alabama. He spent years training as a facility dog in different environments ranging from a Florida prison to a pre-kindergarten classroom.
Facility dogs are similar to service dogs, but they're trained to handle larger crowds, especially groups of young children, and are equipped to de-escalate a variety of situations.
"If we have a child who is just having a hard time and anything that we do is not helping, [Merlin's] a totally different tool and so far 100% of the time has proved to be able to diffuse the situation – help the situation," said Dawn Norris, Merlin's handler and one of the guidance counselors at West.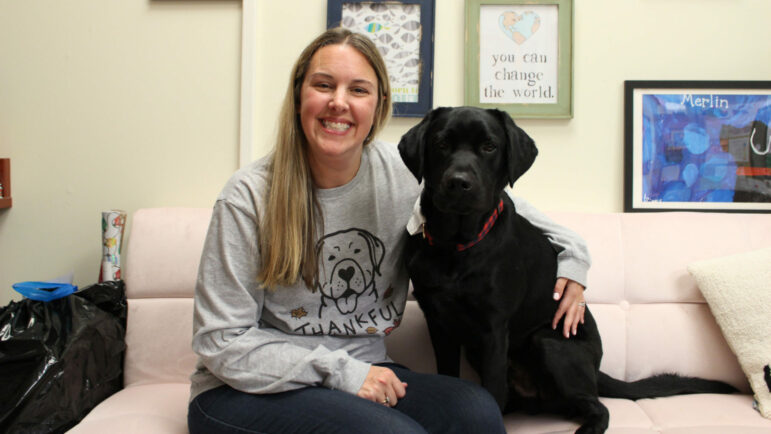 Every day looks different for Merlin. Sometimes he's in the classroom where students read out loud to him to practice their reading skills. Other times, teachers incorporate him into their class examples. But Merlin's biggest job is to make the students feel better.
"He knows if you're sad. He can sniff it out," said River Henderson, a 3rd-grade student at West.
Merlin uses scent training to tell when a student is upset or stressed out.
"[He's gone] in, smelled, and settled right under a little friend who I know is having a really hard time at home," Norris said. "It's just kind of amazing kind of watching him figure that out."
When Merlin isn't in the classroom, he usually participates in group sessions that work on friendship, self-esteem and making good choices. He also spends a lot of time doing one-on-one sessions with students.
Norris said Merlin helps her students deal with a variety of issues ranging from stress over home situations to the side effects of ADD/ADHD, anxiety and depression. Students can cuddle or talk to him.
Mental health is the top concern related to Alabama kids between the ages of 6 and 13, according to a recent report released by Children's of Alabama that surveyed parents, teachers and medical professionals.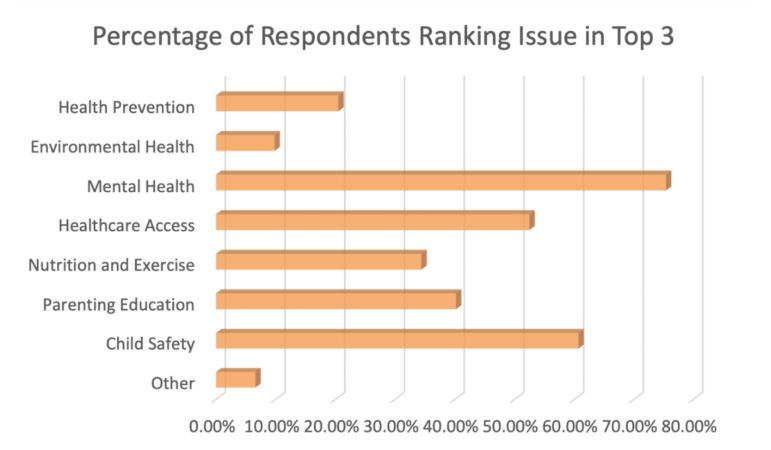 A study released last year shows that facility dogs can help with students' mental health. It revealed a facility animal reduced the stress hormone cortisol in students.
Fran Woodruff has seen the positive effects of a facility dog firsthand. She's the librarian at Edgewood Elementary School in Homewood and the handler for Foxie, who just happens to be Merlin's sister.
"[Foxie] understands she's here to provide unconditional love, and the kids make great use of that," Woodruff said.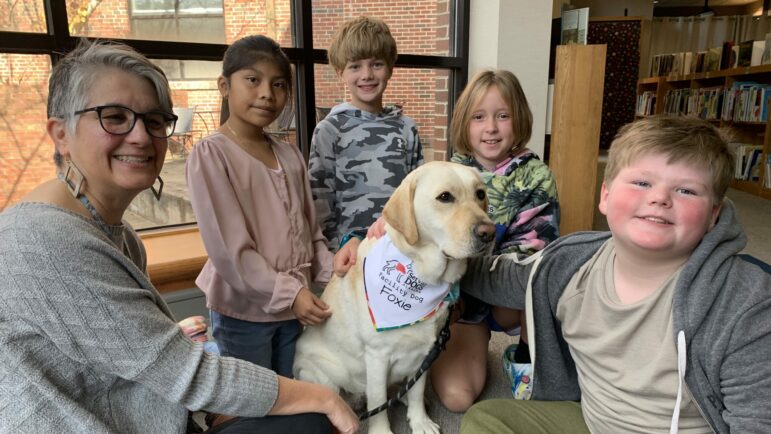 Foxie largely hangs out in the library, so students can stop by whenever they're free. One of her regular visitors is Rosie Cooper, a 4th grader at Edgewood.
" I have anxiety disorder … when I have an anxiety attack [Foxie] always helps me. She helps me get out of it. And that's what I love about her," Cooper said.
Having a school dog makes a big difference not just for the students but also for the faculty and staff, according to Woodruff. She's seen teachers rearrange their schedules to spend time with Foxie.
"It's such a simple thing to add to a school," Woodruff said. "I think every school should have a school dog. At least one if not more than one."