Republicans and Democrats split over response to Sweet 16 party shooting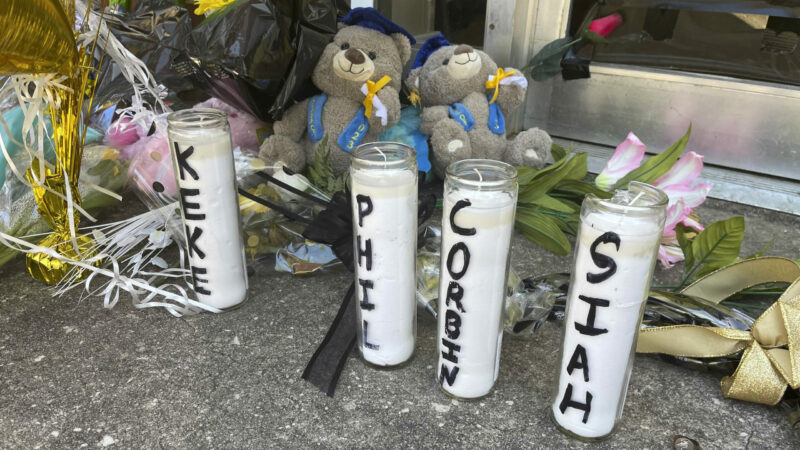 As of Friday, six people had been arrested in Saturday's birthday party shooting in Dadeville which killed four and injured at least 32. On Tuesday, Alabama lawmakers held a moment of silence for the victims. When reacting to the shooting, Republicans and Democrats had very different responses.
"Democrats are talking about guns and gun control. Republicans are talking more about crime," said Todd Stacy, host of Capitol Journal on Alabama Public Television.
Stacy discussed that and other actions in the legislature this week.
Preventing a tragedy
During an already scheduled meeting of the Legislative Black Caucus in Birmingham, three members of the group held a press conference to respond to the shooting.
"Some of it was specific. A lot of it was not specific," Stacy said. "You hear the phrase, 'We need to do something.'"
Democratic Sen. Marika Coleman of Pleasant Grove spoke about her "red flag" law which she's introduced in several legislative sessions. Such laws establish a legal process to remove guns from people who are deemed to be a threat to themselves or others. Democrats also promoted an assault weapons ban.
Stacy said as details about the Dadeville shooting dripped out, it became clear this was not a lone gunman with a high-powered firearm and the traditional Democratic proposals would not have prevented the incident.
"Republicans are talking about bills to strengthen crime penalties, sentencing, going after illegal guns." Stacy said. "There's a gang violence bill that the Senate Judiciary Committee passed this week."
Some policies, such as "red flag" laws, do find broad support but can get blocked in conservative legislatures around the country. Stacy said that's not always the case and points to Florida, which is trending further to the right, but passed a such a law in the wake of the Parkland school shooting.
"When I talk to Republican lawmakers and prosecutors, they say they aren't necessarily opposed to the concept. But they all say the devil's in the details," Stacy said. "You do have some Second Amendment issues. You have some Fourth Amendment issues. If you took a blind poll of folks in the legislature, I bet it would be pretty popular. But yes, whenever you're talking about guns, Republicans get very touchy about it. That's just a political reality."
The "game plan" passes over the finish line
A package of four economic incentive bills dubbed the "game plan" by Gov. Kay Ivey is now law. Ivey signed the bills during a Thursday afternoon ceremony. The programs would have expired if lawmakers didn't reauthorize the package. Stacy said that forced lawmakers to update and reconsider the incentives.
The centerpiece of the package is a bill that reauthorizes and expands the Alabama Jobs Act and gives tax credits for capital investments and payroll rebates for job creation. The program is the state's primary economic recruitment tool.
The legislation authorizes the program for another five years and incrementally increases the cap on incentives from $350 million for 2022 to $475 million for 2027. It would also establish a new $10 million in incentives for tourism projects such as amusement parks, resorts, water parks and aquariums.
The package includes incentives for tech startups, particularly for minority owners and those in rural areas and incorporates a transparency provision.
"That would require that every incentive that is used for a project be posted online for everybody to see. That's certainly something new in the economic development realm," Stacy said.
New rules for hospital visitation
Ivey signed a bill into law Tuesday which requires hospitals and nursing homes to allow certain in-person visits, even during a pandemic.
"This is obviously a remnant of COVID as so many people were frustrated with the hospital and nursing home policies that kept loved ones from being able to visit and be with their loved ones, in some cases while they were dying," Stacy said.
Under the law, patients would designate an essential caregiver who would be allowed two hours of daily visitation. It would also require facilities to allow visitation for end-of-life situations, childbirth, pediatric patients and when patients need additional support for things like making major decisions or help with eating and drinking.
Stacy said the bill was developed in consultation with the healthcare industry.
"They're on board with it, with the understanding that if the federal government says 'no visitation,' they're going to have to follow the federal government," Stacy said.
The Battle of Goat Hill
Wednesday night brought the return of a tradition to Montgomery – the legislative softball game.
House members took on the Senate while appellate judges served as umpires. For the second year in a row, the Senate came out on top.
"It was a great time raising money for tornado victims in Selma," Stacy said. "There's a lot of arguing that goes on in the statehouse, a lot of back-and-forth, a lot of serious topics, so it's kind of nice to be able to blow off steam down at the ballpark.
Other Action
Alabama House OKs ban on trans athletes at the college level
House committee approves bill making it a felony to help someone fill out an absentee ballot
Retired congressman returns to Montgomery to lobby for Second Chance legislation
House passes bill ending "failing school" designation
Includes reporting from the Associated Press