Why preventing flooding in Mississippi's Yazoo Backwater is easier said than done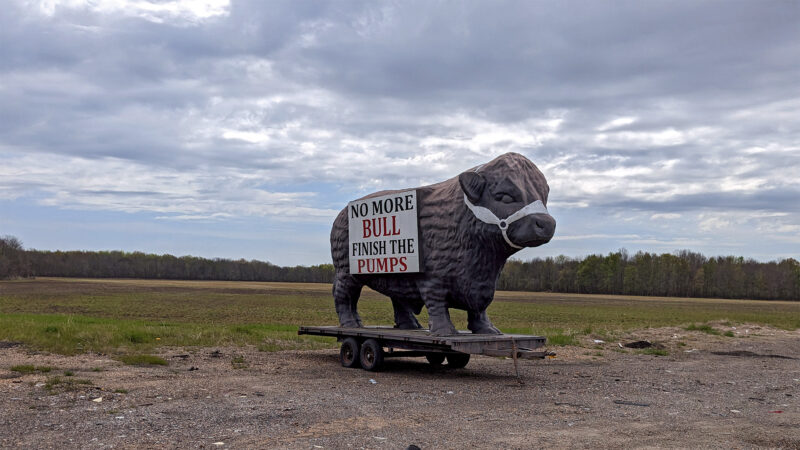 The Yazoo Backwater area of the South Mississippi Delta has suffered from chronic flooding for generations.
Loss of home, relocation and rebuilding have become a part of life for residents in the area, but coming up with a solution has been controversial. Earlier this year, the Environmental Protection Agency and the U.S. Army Corps of Engineers announced they would work together on a pumping system that could prevent flooding, but would also devastate the surrounding environment.
The Vicksburg Post has been covering the situation and how it could impact residents. Anna Guizerix, the paper's managing editor, spoke with the Gulf States Newsroom's Danny McArthur to discuss how the South Delta got to this point and what's at stake.
The following conversation has been edited and condensed for clarity.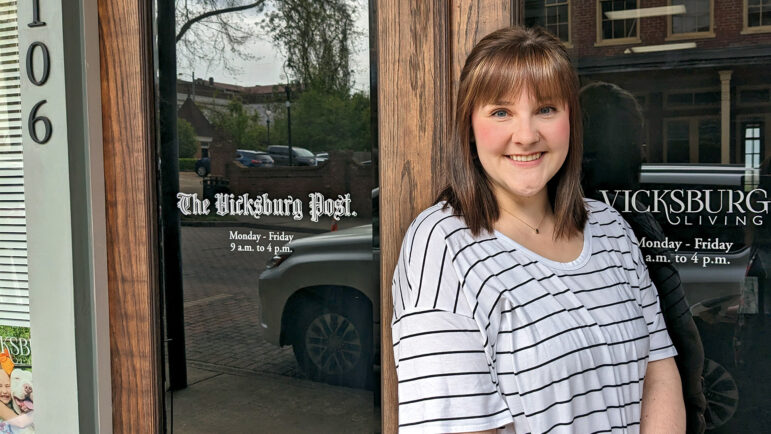 This has been an issue that's been going on for generations. Why is flooding such a persistent problem in the area?
Historically, it's been a problem since the 1890s, if not before. The latest account I've found is a lady whose great-great-grandparents had their wedding announcement in the newspaper and it said that the guests arrived by skiffs because the water was too high for them to walk there. The history of the area is kind of pockmarked by a few major floods. And so '73 rolls around and Backwater floods, the Mississippi River floods and there's no way for that water to escape. You have the levee and you have water on either side. The Corps of Engineers comes in and they say, 'OK, we're going to design this pumping system.' It's a three-part system. You have the steel bio gate that opens to let Mississippi River water in when the river is too high or let backwater out when it's too high. You have the levee system and then you also have the backwater pumping station. That last piece of the puzzle — the pumping station — was not completed. So because there's no pumping station, it creates a bathtub effect. 
When it comes to solutions to the problem, there's been a lot of back and forth for quite some time.
Yes. We kind of have this demonization of anti-pump people. And we also have demonization of these large producing cash crop farmers. And at the same time, we also have the environmental piece, because these floods do devastate the flora and fauna in the region. So for the last few years, the Yazoo Backwater pumps issue and the Yazoo Backwater flooding issue has been treated like a political football to be punted around instead of a matter of life and death for both human, animal, plant life in the region.
Can you talk about what's at stake for these communities if there's no solution? 
I have, through the course of my reporting, kind of crisscrossed the area, which is a lot wider than it looks like on a map. But I've seen what these towns look like after floods. A good example is the Holly Bluff Community. One story source I spoke to, Mr. Thomas Jones, he said, "You know, we used to have commerce and a downtown. It wasn't very big, but it was there." And I had to drive through all of what remains of that town to get to his house. It was shocking to me to see just bricks tumbling out of buildings. 
Back in January, there was some movement on this with the Army and the Environmental Protection Agency.
That was in February. But now Army and EPA are working together. And then … February 15, they invited everybody in the community to come out to the Vicksburg District building here in Vicksburg and they had a series of public information sessions. And it was a conversation between these officials from Washington D.C. with the EPA, the Army Civil Works and the people who, again, have been living in and amongst these floodwaters their whole lives. The residents were hopeful — they walked away hopeful — which is something I had not seen in any other meeting. It really felt positive.
As someone who's been reporting on this for a while, why should people across the region be paying attention to this?
Well, the people in the Yazoo Backwater Area and in the South Delta are just like you and me. They come from all walks of life, all backgrounds. They're proud of where they're from and what they do is important to our region. They are pushed out of their homes. They have lost everything not once, but twice, and three times over in some cases. And all they want to do is what you and I take for granted every night, which is go home and enjoy the places that they've worked so hard to cultivate and to build a life.
Anna Guizerix is the managing editor of The Vicksburg Post. She is also the host of the newspaper's podcast, "Voices of the Floods."
This story was produced by the Gulf States Newsroom, a collaboration among Mississippi Public Broadcasting, WBHM in Alabama and WWNO and WRKF in Louisiana and NPR.