HBCUs capitalize on growing interest by adding sport options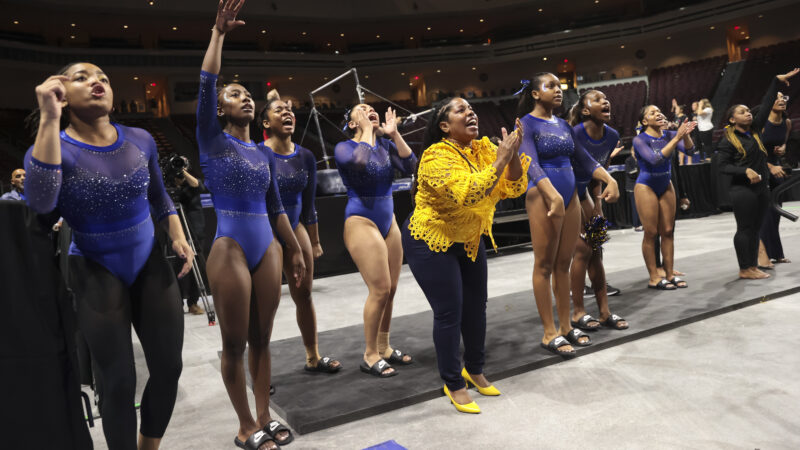 By Cliff Brunt
The outrage, frustration and emotional trauma Jahi Jones felt as he watched video of police murdering George Floyd three years ago compelled him to seek ways to lift up other young Black men.
He just wasn't sure how to do it.
Jones had attended the University of Maryland on an academic scholarship and was a walk-on for the wrestling team. He became team captain, competed at the NCAA championships and earned bachelor's and master's degrees. He later noticed that, in 2021, Black men made up half the 10 Division I national champions in wrestling but fewer than 10% of Division I wrestlers.
That's when everything started to click.
"I would start thinking about ways that I could get involved to help inside of the wrestling community and just make things more fair and equitable," he said. "It was just seeing the lack of diversity, but also seeing that … we excel inside the sport, but (we are) just not having those same opportunities to develop."
Now 25, Jones is the executive director of the HBCU Wrestling Initiative. With a major assist from that program, Morgan State in the next school year will become the only historically Black college or university (HBCU) to offer Division I wrestling. The school had cut the sport back in 1997.
Kenny Monday – the first Black wrestler to win an Olympic gold medal — will be the coach. The Baltimore school also will add women's acrobatics and tumbling, which could someday be a full-fledged NCAA championship sport.
Morgan State's additions mirror a growing phenomenon at HBCUs as they ride a wave of popularity not seen in decades: Many are adding sports beyond the more typical offerings of football, basketball and track and field.
The Associated Press contacted 46 Division I and D-II HBCUs and five conference offices about the trend over the past decade; 20 schools responded, saying they have added at least 42 NCAA championship or emerging sports since 2016, including at least 32 sports since 2020 alone. Several of these new teams are scheduled to start competition next school year. Only three of the newly added sports were track and field, two were football and none were basketball.
Division II Bluefield State has been the busiest — the West Virginia school has added 13 sports since 2020.
Smaller schools are making moves, too. Fisk University in Nashville, Tennessee, added women's gymnastics last season. Talladega College (Alabama) is slated to add women's gymnastics as early as this fall.
HBCU administrators say the new sports fill a need, noting that Black parents are increasingly choosing different, "non-traditional" options for their children. Sports such as gymnastics, lacrosse and volleyball have gained more Black competitors at the NCAA level in recent years, and HBCUs are adapting by increasing their offerings.
Chara Hinds, a sophomore from Barbados who competes in women's triathlon at Delaware State, said the changes already are making a difference.
"It means a lot because it gives me the opportunity to participate in triathlon and still go to an HBCU, and as a person of color, that is a one-of-a-kind experience," she said.
This trend picked up in 2020. The rise in social awareness that followed Floyd's slaying and a wave of interest in HBCUs fueled a spike in donations, helping support the clear interest in Black athletes playing non-traditional sports.
"I think it's just an evolution of where we (Black people) are as a society," said Delaware State athletic director Alecia Gadson, whose school added women's triathlon in 2021 and will be adding women's soccer and women's lacrosse in the next school year. "We're thinking differently. You know, when you have a kid now, you don't have to say, 'Oh, I'm going to push them into basketball just because they're tall. You may say, 'Hey, you know what? They might be able to do volleyball.' I think it's a mindset."
Deion Sanders has played a significant role in raising the profile of HBCUs. The former NFL defensive back coached the Jackson State football program for three seasons, most recently in 2022 before being hired at Colorado.
"I think that Deion's level of engagement helped to put fuel to the fire," Southern Intercollegiate Athletic Conference (SIAC) commissioner Anthony Holloman said. "But I think the fire had already been lit."
Organizations such as the the HBCU Wrestling Initiative, HBCU Gymnastics Alliance and the First Point Volleyball Foundation have provided funding and direction for new programs.
The wrestling initiative got a $10 million pledge from investor and former Princeton wrestler Michael Novogratz. Jones said Novogratz already has donated $6 million, which covered the $2.7 million needed to restart the sport at Morgan State. Jones said the initiative has had conversations with schools in the Division I Southwestern Athletic Conference (SWAC) and Mid-Eastern Athletic Conference (MEAC) about potentially adding more programs.
First Point Volleyball provided a $1 million grant to help the SIAC start men's volleyball. Six schools began play in 2022, becoming the first HBCUs to offer the sport.
"I just think that the importance of diversity and and representation in sports in general needs to increase and improve, and so to see increasing and improvement overall in men's volleyball specifically is phenomenal," said Anitra Brockman, men's and women's volleyball coach at Central State (Ohio). "It just really shows that minorities in general, especially Black athletes, can participate in predominantly white sports and be just as successful and be supported equally."
Volleyball made sense as a sport to add — it is among the fastest-growing sports in America. According to NCAA data, the number of Black participants in men's volleyball has slowly climbed from 93 in 2012 to 214 in 2022; of those 214, 54 — 25% — were at HBCUs. In that same time frame, the number of Black female players rose from 1,481 to 2,046, with 579 of them last year at HBCUs (28%).
The investment in men's volleyball is strategic. Holloman said the SIAC is working with John Speraw, the Team USA and UCLA men's volleyball coach who leads First Point and is looking for ways to increase the talent pool at the national level.
Holloman said Speraw has the right idea, and his timing was perfect.
"If you want to get immersed into our culture, then what better way to do it than developing a relationship with historically Black colleges, who have historically produced great athletes across the board in every sport?" Holloman said.
Black athletes are taking advantage of their options. Cameron Lee, a 6-foot-1 Central State sophomore, said he didn't even play volleyball until after his senior season of high school basketball at Edmond North (Oklahoma) High School. He played one year of club volleyball before joining the Central State program.
Teammate D'Aaron McCraney, a 6-foot-9 sophomore from Las Vegas, also started off playing basketball before switching to volleyball. He said he loves the ability to chase his passion and be himself.
"I just feel like being in the environment and in the school — especially with people who understand me as a Black man — I don't have to explain myself and act different around them because I'm a Black man," he said.
Fisk is the first HBCU to add women's gymnastics, the latest step in an explosion of interest in the sport among Black athletes. Fisk athletic director and gymnastics coach Corrinne Tarver said she's amazed by the attention her program has received.
"We knew the significance of this," she said. "We knew it was important, but did not expect it to be this — to be this big and be so much publicity and interest. It's been absolutely crazy. It's been wonderful."