Birmingham-Southern president says he'll do everything possible to keep the college open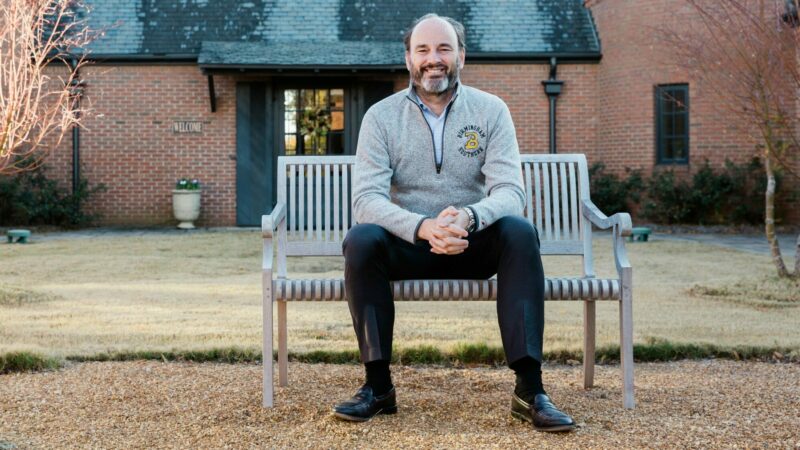 Late last year, officials at Birmingham-Southern College revealed the private liberal arts college could close as early as this spring due to former accounting errors, a drained endowment, declining enrollment and years of financial stress. The college is now asking the state for a $30 million dollar bailout as part of a $200 million dollar campaign to save BSC.
But there are concerns about if this is the best use of public funds. WBHM's Kyra Miles spoke to Birmingham-Southern President Daniel Coleman.
This interview has been edited for length and clarity.
We're talking about the financial problems that came to light at Birmingham-Southern in December and you've since launched this campaign to raise money. What have you been hearing from people so far?
The financial troubles came to light in December, but the financial troubles have been around for quite some time. And we had a private campaign going for about a year where I've met with individuals who are close to the college and people in Birmingham who care a lot about the college. But unfortunately, given our financial situation, we're running out of time.
Right now, we're in the process of having many conversations with representatives in Montgomery and other people in Montgomery, making our case as to why an investment from the state would be good for the state as well as for the college.
Birmingham-Southern is in the process of asking the state for money. But I think a big question that's come up is why should public money bail out a private institution? What makes Birmingham-Southern different?
Several colleges get money every year that are private from the state, and it's actually the same source of money: the Education Trust Fund. And the reason these institutions get money from the state is the state deems these investments in the public interest of our state. And so if the state deems an investment in Birmingham-Southern is in the public interest, I think it's very justified and I think there's a lot of precedent.
I spoke to students and alumni and some brought up concerns about what kind of state oversight Birmingham-Southern might be letting in if the college accepts the money from the state. Are there expected strings attached to the money you might receive?
I don't perceive strings that are inconsistent with what we do every day, so I'm not really worried about that. I'm really hopeful that we can get an investment from the state and continue to do what we've always done.
Another alumni I spoke to brought up concerns about giving money to a school that has mishandled it in the past. She was worried about her donation not being effective. Can you speak to that concern?
Yeah, that's a real concern. We've done two things to address that issue. First, in our private campaign, we're not planning to take money until we get to $100 million. At which point we think that will tell everyone we're actually investing in the school for the long run. We're not throwing good money after bad, and over time we'd look to get to $200 [million].
The second thing we've done is we set up a foundation separate from the college with a separate board of trustees, which will add an extra layer of governance. So the next time someone wants to come in and spend the endowment, there'll be a group of people to be able to say, 'No, this money's for the future of the college.'
From the politicians' side, some of the Jefferson County Commission have shown support for helping Birmingham-Southern, but others have not. For example, Jimmie Stephens had concerns about making Birmingham-Southern an exception and shared that his constituents were against spending their tax dollars on a private institution.
How do you respond to that?
Well, one thing is our focus is on the state right now. We don't have an official ask in front of Jefferson County. And if we do, it would be small, perhaps smaller than The World Games.
The second thing I would say is our economic impact on this area is probably in the couple hundred million range. And what that means is for a very, very small amount of money, the city and county can ensure that an institution that's been around a long time has a consistent economic impact.
Across the country, we've seen small liberal arts colleges close, and there've been a couple of cases of that in Alabama as well. Meanwhile, state education is more focused on STEM than liberal arts. What does Birmingham-Southern do in an education landscape like that? How do you sustain yourself?
Actually, liberal arts is a short term for liberal arts and sciences. So STEM is very much a part of the liberal arts. We're one of the top colleges probably in the Southeast in sending people to med school. We have plenty of mathematics and physics majors as part of the liberal arts college. Going forward, we're looking at potentially setting up master's programs in data science, which we have approval for to start in the fall, and after that, areas like cybersecurity and software engineering.
How confident are you that you'll be able to help Birmingham-Southern through this challenge?
Confidence may not be the right word. I can't imagine Birmingham without Birmingham-Southern. And so we're going to do everything possible to make sure that this city, this community and the state has a leading liberal arts college for the next hundred years and we're not going to stop trying till we get it done.
Kyra Miles is a Report for America corps member covering education for WBHM.