Birmingham-Southern hoped to borrow money. Now the school is on borrowed time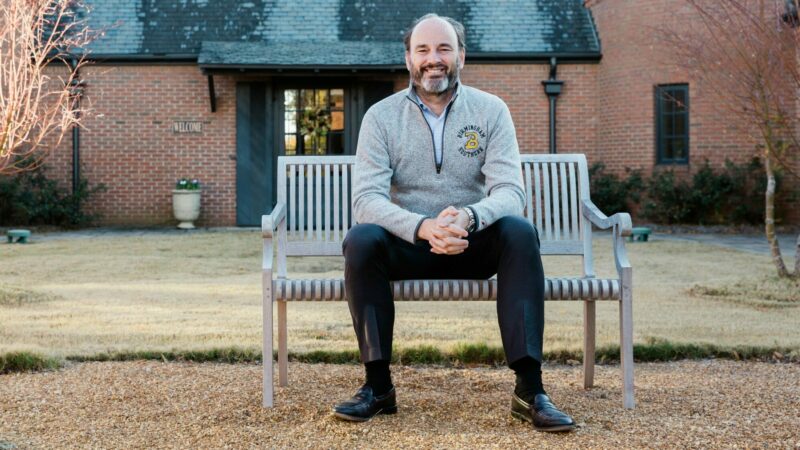 Birmingham-Southern College supporters hit another roadblock this week, as they try to find additional funding and keep the doors open at the nearly 170-year-old school. The college has dodged bullets before, ever since a series of accounting mistakes by past leadership and issues related to the Great Recession have left the college financially strapped.
The school saw a new glimmer of hope this summer, after a new Distressed Institutions of Higher Education Revolving Loan Program was created by state lawmakers earlier this year. While any college in the state could apply for a loan through the program, it was effectively created for Birmingham-Southern.
However, earlier this month Alabama State Treasurer Young Boozer denied BSC's $30 million loan application, saying the school did not the meet minimum criteria the law requires. He told WBHM the collateral the school put up for the loan was already pledged to another lender. (He declined to provide any additional information, because he says litigation concerning the matter may continue.)
Birmingham-Southern President Daniel Coleman says that's not true.
"The collateral was designed to make sure, no matter what happens to us, the state will get paid back," Coleman said.
Coleman also said Boozer negotiated in "bad faith," and behaved "arbitrarily or capriciously." To compel him to approve the loan application, or to at least put the facts about the loan application into the public record, Birmingham-Southern filed a lawsuit against the State Treasurer.
The case went before Montgomery County Circuit Judge James Anderson, who dismissed the case Wednesday. During the hearing, Anderson said he was "sympathetic" to the college, but he dismissed the case, due to the word "may" in the law and because of legal precedent concerning state contracts.
The law states, "The State Treasurer may in his or her judgment, award a loan to any eligible institution that meets the requirements provided…."
But Coleman told WBHM, "It seems very evident to us that [Boozer] never had an intention of lending money."
The lawsuit filed by the college against Boozer states, "In effect, [Boozer] has exercised a veto of the program he opposed since it was presented to the Legislature — an act far beyond any discretion or investigatory power granted to his office under the plain language of the statute."
Coleman believes Boozer purposefully delayed the application process and eventual loan denial. When asked if he believes Boozer was intentionally trying to run out the clock on the college, Coleman said, "He knows the details of our finances and when things get very difficult. So, it's possible that is the strategy of the state. I couldn't tell you why [he] would want to do that, but it's very possible."
For Birmingham-Southern, Boozer's denial could hardly come at a worse time. The school, already in financial straits, made the decision over the summer to stay open, based on what seemed at the time as the promise of the loan. Now, as the college is further out on the financial limb, keeping afloat looks all the more difficult.
What follows are additional excepts from an interview between WBHM's Richard Banks and Coleman, as they discussed the shock of the loan being denied and what may lay ahead for Birmingham-Southern.
The following interview was edited for clarity.
Treasurer Boozer wrote in an update on the state treasurer's website that Birmingham-Southern did not meet the loan program's "required statutory minimum criteria." Do you know the specifics of those criteria that BSC did not meet?
He cites the fact that from his point of view, we didn't have adequate collateral. And from his point of view, our turnaround plan was not convincing — that we could [not] pay back the loan. And those were the two issues. We did meet that collateral. From my point of view — and from I think most people with the financial backgrounds point of view would agree — that the collateral was more than ample. And the second is a little more complicated. But we demonstrate the way the loan's structured that we would be able to pay it back with a debt service amount. That's about what we have today, and debt service is simply the amount you pay on your debt every year and includes principal and interest. From my point of view, there's no evidence that supports his claim.
You said you wanted to provide details concerning the loan and collateral.
The loan's a $30 million loan, but we weren't going to take all 30 right away. We're going to start with 16. And with [that] 16, we offered most of our campus as collateral, about $75 million in value, appraised value. That's kind of like going to the bank and saying, 'I'm going to borrow money for mortgage and I'm going to pay 79% down.' And most banks would say, that's pretty good. I'll do that. And then, we were going to ask for $9 million for the second year, and we were going to collateralize that with U.S. Treasuries. And then the third year, we do the same with $5 million. So, from my point of view, the first part of the loan was over collateralized — it was collateralized like 4.6 times what we're asking. And then the second and third parts of the loan were collateralized by the best, the absolute best collateral available to man, which is U.S. Treasuries. And I think every financier that I know — and I spent 31 years in finance — would jump at that collateral, because it's very liquid. You know what it's worth, and you can liquidated it at any moment.
So right now it is, in a sense. President Daniel Coleman versus Treasurer Young Boozer. Are you thinking of having a third party review the application?
To my knowledge, he has no interest in doing that. So I mean, we'd be glad to have anyone review the application. I mean, part of the reason we went to court was we felt like there was no other way to get people involved to say, 'Hey, this is not right.' But that's what the Treasurer, I think, feels. And I don't know, I haven't talked to him, but I think the Treasurer is unlikely to step forward and offer up a mediator or anything like that.
What sort of support have you received from state lawmakers and others in leadership positions who may be able to help?
Well, I mean, we have a lot of support from friends in Montgomery, in Washington, as well as city hall. The ability to help quickly, especially from the state's point of view, is hamstrung, because of the legislative session and start [in] February. But we cherish their support and we know their support is genuine. And we think, as we look at all the options, having their support is going to be critical.
Will Birmingham Southern close without the loan from the state?
It's not clear. We're working to make sure that doesn't happen. But the state's — I won't say the state —the Treasurer's put us in a very difficult position, so we're working hard to try to figure this out.
How much time do you think you got?
Not a lot. Just not a lot. I can't get over the fact that one person has taken upon himself to do this. To really hurt the lives of over 700 students and about 300 employees, not to mention the future impact this college is going to have on this state. I just can't get over that. And I really think the people of this community and of the state should not stand for that. And I welcome their help as we try to fight this battle.