Alabama judge denies bond for suspects in Sweet 16 shooting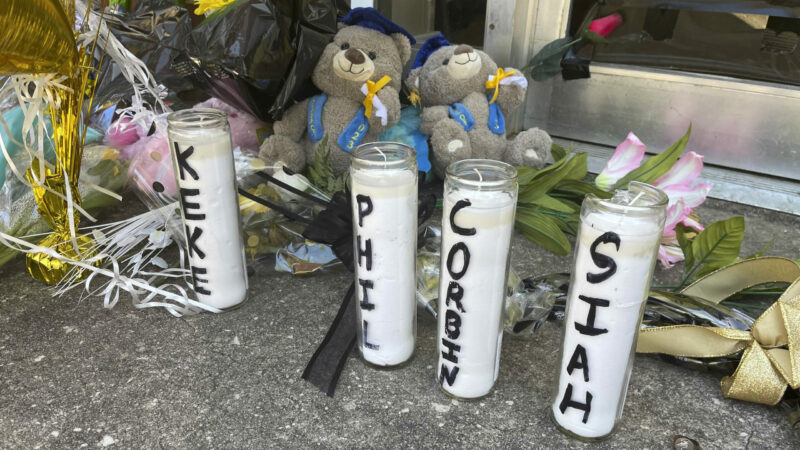 DADEVILLE, Ala. (AP) — A judge on Wednesday denied bond for five suspects charged with reckless murder in connection with a shooting at a Sweet 16 birthday party that killed four people and injured dozens in Alabama, according to court records and state investigators.
Tallapoosa County District Judge Clayton Turner ordered Wilson LaMar Hill Jr., 20, of Auburn; Johnny Letron Brown, 20, of Tuskegee; and Willie George Brown Jr., 19, also of Auburn, to be held without bond. The Alabama Law Enforcement Agency said that the judge also denied bond for two juvenile suspects. The state agency previously identified the pair as Tyreese "Ty Reik" McCullough, 17, and Travis McCullough, 16, both of Tuskegee.
A sixth suspect, a 15-year-old from Tuskegee, is awaiting a hearing, the Alabama Law Enforcement Agency said.
The six are each charged with four counts of reckless murder in connection with the April 15 shooting in Dadeville that killed four people and injured 32 others. Two Dadeville High School seniors, Phil Dowdell, 18, and Shaunkivia Nicole "KeKe" Smith, 17, were killed. Also killed were Marsiah Emmanuel "Siah" Collins, 19, and Corbin Holston, 23.
During a Tuesday bond hearing, Alabama Law Enforcement Agency Special Agent Jess Thornton testified that 89 bullet casings were found at the scene.
Survivors described a bloody and chaotic scene as gunfire erupted at the birthday celebration for Dowdell's sister. Thornton said investigators believe seven handguns were used during the shooting and that at least one may have been altered with an illegal "switch" to make it fire more rapidly.
Investigators have not discussed a motive or what they believe led to the shooting. How the shooting began and who fired first is expected to a key issue for the defense as the case moves forward.