Alabama Gov. Kay Ivey sworn in for her 2nd full term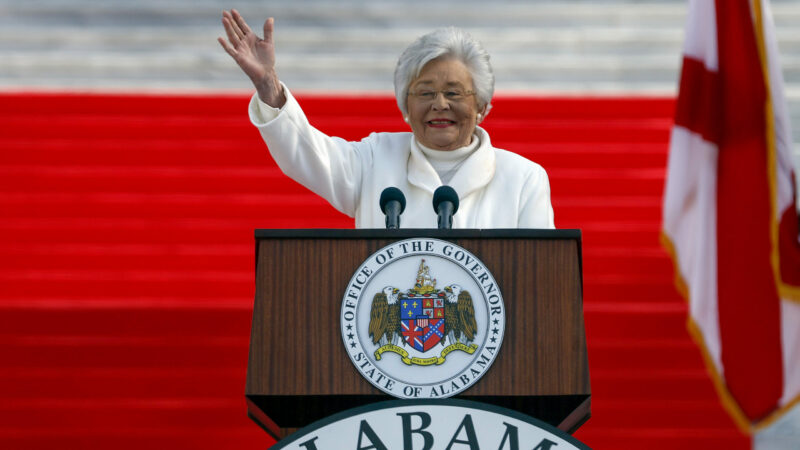 MONTGOMERY, Ala. (AP) — Alabama Gov. Kay Ivey began her second full term on Monday, calling the state a place where "common sense and opportunity abound" in uncertain national times.
Ivey took the oath of office on the steps of the Alabama Capitol decorated with the state's red and white flag.
"It is the highest honor of my life to serve as your governor. I commit to you today I will work hard over the next four years to build on our roots so we can address our long-standing challenges, further our progress and prepare for the future," Ivey said.
In a wide-ranging speech, the Republican governor thanked supporters, promised a focus on education, broadband expansion and regulation cuts for businesses but also nodded to GOP hot-button issues, such as restrictions on transgender athletes.
"When I was a young girl growing up in Camden I could never have imagined the world we live in today. Never would I have thought that the day we elect a female governor and a female United States senator, we would also have to fight for our girls to have a fair chance when they compete in sports," Ivey said.
Ivey in 2021 signed legislation to prohibit transgender girls from playing on K-12 girls sports teams, one of several conservative governors who have signed similar restrictions in recent years. Opponents argue such measures are rooted in discrimination and fear, and violate the federal law barring sex discrimination in education.
Ivey also paid tribute to the people helping in the recovery from last week's deadly tornado outbreak that killed seven people in the state.
"The one light in all this darkness was our people. Folks all over our state are flocking to the aid of their neighbors," Ivey said.
Ivey said that "ensuring every Alabama student receives a high-quality education will be my No. 1 focus" in her second term.
She said that by the end of her term, Alabama, which normally lags at the bottom of national rankings, will rank in the top 30 of states for reading and math performance.
The governor promised discussions on school choice, including changes to the state charter school law, and said the state will partner with Dolly Parton's Imagination Library initiative to send a free book every month to children under 5 whose parents request them. She also announced the creation of a new teacher-focused commission that she said will advise on "big changes we can make to recruit, retain and prepare the teacher of tomorrow." She did not offer additional details.
The 78-year-old governor, who has had past political opponents raise thinly veiled questions about her age and fitness, said her administration has a "busy, productive full four years in front of us."
With the prospect of an open governor's office in 2026, Ivey also challenged other elected officials to work together instead of focusing on the next election.
"Let us not forget our service cannot be about the next election. It is about serving the people of our state, giving them what they need and deserve from their government," Ivey said.
Ivey is the state's second female governor and the first Republican woman elected to the post. Her inauguration Monday fell on the anniversary of the state's first female governor, Gov. Lurleen Wallace, being sworn in as governor on Jan. 16, 1967. Ivey has called Wallace one of her heroes.
Ivey had been lieutenant governor but automatically became governor in 2017 when then-Gov. Robert Bentley abruptly resigned amid an impeachment probe. Ivey won the office in her own right in 2018 and again in 2022.
In her last term, Ivey championed a number of GOP priorities. She signed into law a 2019 abortion ban, outlawing abortion at any stage of pregnancy with no exceptions for pregnancies arising from rape and incest. The abortion ban took effect after the U.S. Supreme Court last year ended constitutional protections for the procedure.
Ivey also signed legislation that abolished the requirement to get a state permit to carry a concealed handgun.
She came under criticism from Democrats for her focus on prison construction as the state faces an ongoing prison crisis with high numbers of inmate-on-inmate killings.
Ivey did not face an easy path to the GOP nomination last year as Republican primary challengers criticized her push for a gas tax increase as well as her handling of the COVID-19 pandemic, with state business closures and mask orders.
However, the governor defeated her opponents — including former Trump ambassador Lindy Blanchard and Tim James, the son of a former Alabama governor — without being forced into the runoff. Ivey easily won the general election in November, defeating Democrat Yolanda Flowers and Libertarian James Blake.
Lt. Gov. Will Ainsworth, Attorney General Steve Marshall, Secretary of State Wes Allen and other state-wide elected officials were also sworn in during the inauguration ceremonies.