After decades of attempts, major bill to cut state's 4% grocery tax wins final passage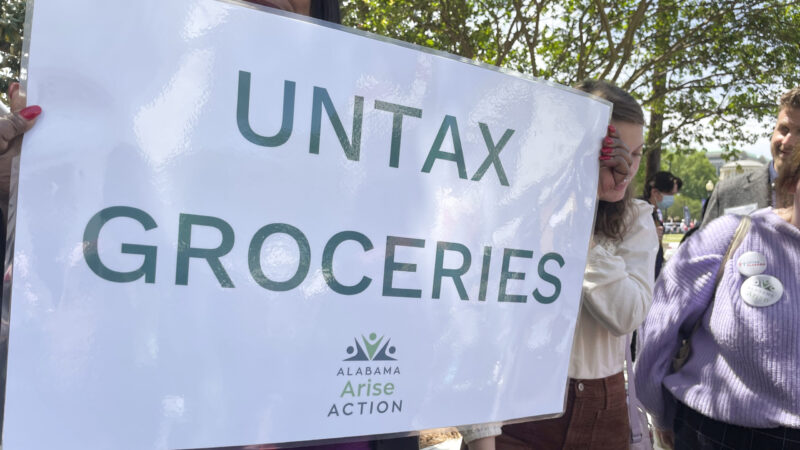 MONTGOMERY, Ala. (AP) — Alabama families could soon pay less at the grocery store after lawmakers gave final passage Thursday to a landmark bill that would gradually remove half of the 4% state sales tax on food, capping decades of fruitless attempts at such a tax cut.
The legislation now heads to the desk of Gov. Kay Ivey, whose office said she will review it when she receives it.
Alabama is one of only three states that tax groceries at the same rate as other purchases. Advocates had long argued that taxing food at such a rate placed an unfair burden on families in the poor Southern state, where 16% of the people live in poverty and the median household income hovers around $54,000.
The Senate voted 31-0 to approve an amended version of a House-passed bill on Thursday. The House later voted 103-0 to agree to the change.
Final legislative passage came after decades of attempts at the Statehouse in Montgomery but this year's measure gained broad bipartisan support against a backdrop of soaring food prices and a hefty state budget surplus.
The legislation would gradually remove half of the state's 4% sales tax on food by Sept. 1, 2024, provided there is enough revenue growth to offset the loss.
"This is going be great for working Alabamians. Folks are struggling to put food on the table," Republican Sen. Andrew Jones, sponsor of the Senate version, said after passage.
Jones said the day was historic because of the size of the tax cut, which would be worth more than $300 million annually, and because it had been sought for so long.
Similar legislation had been proposed unsuccessfully in Montgomery since at least the early 1990s but never came to fruition, partly because of concern about the loss to education funding.
The current 4% tax provides more than $600 million annually to the state for its Education Trust Fund, or ETF, which currently totals a little more than $8 billion. Cutting the tax in half would cost the education budget about $300 million annually.
Alabama lawmakers had proposed multiple tax cuts this year. But the food tax proposal drew widespread support with nearly all 140 legislators signing on as sponsors.
"People spoke from across the state, across party lines, that they wanted a repeal on our grocery tax. And of course we didn't get the full 4% upfront, but this is a start," said state Rep. Patrice McClammy, a Montgomery Democrat.
McClammy and Jones said lawmakers are creating a study commission to explore the possibility of eventually removing all of the tax.
The approved bill would reduce the 4% tax on food to 3% on Sept. 1. It would drop to 2% on Sept. 1, 2024, provided that tax collections to the Education Trust Fund are projected to rise at least 3.5% to offset the loss. If the growth requirement isn't met to drop the tax to 2% in 2024, it would be reduced in the next year that the growth requirement is satisfied.
The Senate on Thursday quickened the pace of the tax removal but also increased the required revenue growth from 2% to 3.5% to safeguard against a loss in education funding. The House accepted the change on Thursday afternoon as the measure headed toward full passage.
"I think there's some concern among members we're heading into potentially perilous economic times… so we wanted to make sure that we have enough growth in the ETF (Education Trust Fund) to sustain the drawdown in the grocery tax," Jones said.
The legislation also would prevent local governments from raising taxes on groceries if signed into law.
Alabama Arise, an advocacy group for low-income families, had lobbied for the removal for years. Executive director Robyn Hyden said reducing the state sales tax on groceries "will provide meaningful help for Alabamians who struggle to make ends meet."
"This grocery tax reduction will benefit every Alabamian. And it is an important step toward righting the wrongs of our state's upside-down tax system, which forces Alabamians with low and moderate incomes to pay a higher share of their incomes in state and local taxes than the wealthiest households," Hyden said.