After the U.S. Supreme Court overturns Roe v. Wade, Republican lawmakers applaud, others say they will sue, and some take to the streets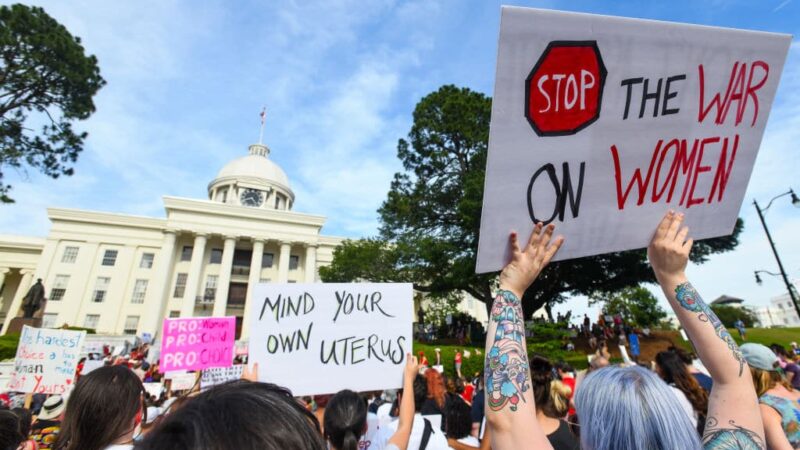 After the U.S. Supreme Court voted to overturn the landmark Roe v. Wade case in its decision to uphold Mississippi's 15-week abortion ban on Friday morning – some in Alabama celebrated and others reacted in anger.
Alabama's Attorney General Steve Marshall called on clinics that provide abortions in the state to immediately stop operations. He said that the state is "unequivocally elected to be a protector of unborn life."
He also warned that his office would prosecute any vandalism against crisis pregnancy centers, churches or other anti-abortion organizations.
The director of the state's largest abortion clinic in Tuscaloosa told al.com that it stopped performing abortions as soon as the ruling was issued.
But, it's not clear exactly what's next for women in Alabama who are hoping to end their pregnancies.
In May 2019, Republican Gov. Kay Ivey signed a bill into law that banned nearly all abortions at any stage of a pregnancy, unless a woman's life is threatened or there is a lethal fetal anomaly. The ban, however, was blocked by a federal judge. Attorney General Marshall said Friday that the state would move quickly to get that judge's ban lifted.
Currently, Alabama does not allow abortion past the 20th week of gestation unless a doctor has determined either that the fetus is unviable or that carrying the fetus to term would cause death or severe and irreversible impairment to the woman.
The state also has a pre-Roe ban on abortion passed in 1951 that was never repealed.
And JaTaune Bosby, the Executive Director of the ACLU of Alabama, said that decades-old statute is currently the land.
"Essentially, what is the law on the books in the State of Alabama… it outlaws abortion immediately," Bosby said. "So, individuals seeking an abortion today cannot get one."
Bosby didn't go into detail about that assertion however because the ACLU is currently suing the state over its 2019 abortion ban that is currently in limbo.
Still, the Alabama legislator who introduced and championed the state's abortion ban in 2019 said Friday that she is celebrating the Supreme Court's decision.
Rep. Terri Collins, R-Decatur, backed the ban to make performing an abortion at any stage of pregnancy a felony punishable by up to 99 years or life in prison for the abortion provider. The only exception would be when the woman's health is at serious risk.
The law remains one of the most restrictive in the country. Yet, in May, AL.com reported that Collins said she would support new state legislation that makes some exceptions to the ban, allowing for abortions in the case of rape, incest, or an unhealthy fetus, similar to heartbeat bills she's co-sponsored in the past.
On Friday, Collins would not state specifically whether she still plans to support adding any exceptions.
"I don't know what we will do," she said. "We don't go into session until March of next year. So we've got a lot of time to think about it. And so, for today, I just celebrate life."
Collins joins a chorus of other Republican politicians from around the state celebrating the decision.
In a media release, Gov. Kay Ivey called the decision a giant step forward for the country.
"Folks, after almost 50 years of standing up for unborn babies, our prayers have been answered," Ivey said.
U.S. Senator Richard Shelby said Friday's decision upholds the country's Constitution.
"It is our moral and ethical duty to protect the dignity of human life, particularly when it comes to the unborn," he said.
Other state Republican lawmakers are also applauding the decision.
"As a Christian, I believe life begins at conception, and that's why I signed a 'friend of the court' brief in support of this law … I hope we don't let this passion stop here, and we continue to discuss how we can protect the unborn and help vulnerable mothers," said U.S. Senator Tommy Tuberville.
Several reproductive rights advocates across the state called for supporters to head to the streets.
The POWER House, an advocacy group in Montgomery is hosting a rally on Friday evening. Alabama Rally Against Injustice is calling for simultaneous rallies on Sunday in Montgomery, Birmingham, and Huntsville.
And the Yellowhammer Fund which helps people seeking abortion care in Alabama is planning a rally in Birmingham on Saturday.
"This is a devastating ruling that will have life-threatening impacts," said ACLU of Alabama Executive Director JaTaune Bosby. "Alabama lawmakers have been committed to stripping away healthcare for women and all pregnant people long before Roe was decided."
Bosby said the ACLU of Alabama will continue its lawsuit to reinstate access to abortion.
Members of the Alabama Democratic Party said the Supreme Court turned the clock back decades.
"Republican politicians will claim this is a win for "life" in a state with high infant mortality rates, a Black maternal mortality crisis, and countless other public health crises," the party wrote in a media release. "They refuse to expand Medicaid, providing free lifesaving healthcare access to Alabama families – or do anything else that actually sanctifies life for Alabamians."
Margaret Huang, president and CEO of the SPLC Action Fund, agreed.
"There have been significant moments in the Supreme Court's history when it has issued shameful decisions that deny equal protection under the law to an entire group of people, and today is one of those days," Huang said in a media release.
Amy Kennedy, Vice President of External Affairs at Planned Parenthood Southeast, said the ruling launched the nation "into chaos."
"Let me be clear: We will not back down. No judge, no politician, no ban should ever block your personal medical decisions or set the course for someone's health and life," Kennedy wrote in a media release.
The Gulf States Newsroom's Orlando Flores and WBHM's RIchard Banks contributed to this story.
Updates to include comments from Marshall and Collins.