Security measures for The World Games will muck up downtown but will not close it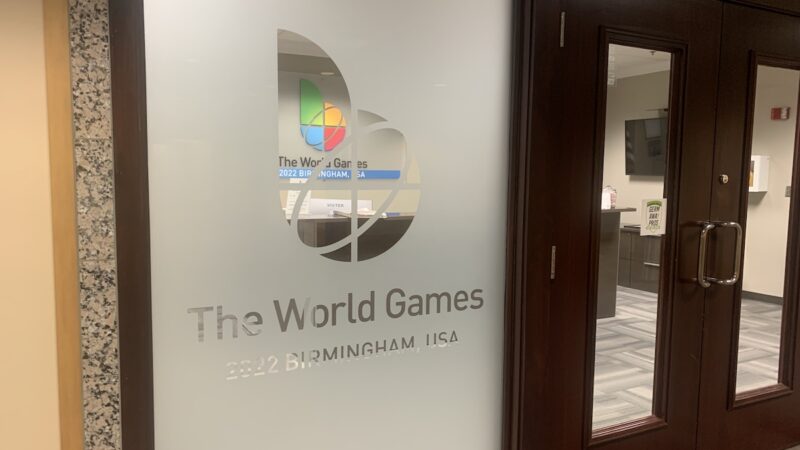 With all the activity scheduled in downtown Birmingham during The World Games, some have wondered whether they'll be able to get to government offices and other places they need to go.
The answer for the most part is yes, but it's going to take some planning.
For instance, the Jefferson County Courthouse on Richard Arrington Jr. Boulevard will be open during the Games, which take place July 7-17.
"People will be able to get to the courthouse and the courthouse will be open," Jefferson County Public Information Officer Helen Hays said. "It's just not going to be easy."
With security for The World Games, they're blocking off certain streets around downtown.
"There will be barriers, but pedestrians will be able to walk past those barriers," she said. "If you have business for the downtown courthouse, you'll just have to show your paperwork and they will let you through to come in and do business. But there won't be any parking on the street like there currently is now."
Across Linn Park at Birmingham City Hall, a spokesperson said the city will announce plans regarding access to its facilities – including city hall in general and city council meetings in particular – in coming days.
The downtown branch of the Birmingham Public Library, which is across Richard Arrington Jr. Boulevard from the courthouse, will be open during the Games. But one branch will be closed.
All World Games archery events will take place in Avondale Park between July 8 and July 15. During the competition, Avondale Regional Library will be closed to the public.
Downtown, Richard Arrington Jr. Boulevard is going to be a two-way street instead of the one way that it is now for traffic during the Games due to barricades. Likely, the only traffic going through that area will be athlete shuttles and maybe some other things related to the Games.
"But there are free shuttles that are with MAX transit system that'll be picking up from different locations around the city of Birmingham, like Legion Field," Hays said. "They will bring people down and drop them off at, I believe, a grassy lot about two blocks away. There are some ways to get down here via shuttles and you can probably park farther away from the courthouse and just walk to get here."
Residents also can perform a lot of their county business online, on the Jefferson County website. There are also satellite courthouses in Bessemer, Gardendale, Hoover and Center Point.
"We have all those satellite locations where people can transact business as well," Hays said. "Those will probably be easier to get to than downtown during that July 2 through the 17th period. That's what we're encouraging people to do, but we will be open. It's just downtown is not going to be easy to park and you are probably going to have to walk a couple of blocks."
Thursday, the commission took steps to meet during The World Games without them or citizens having to navigate blocked streets downtown.
Commissioners flipped their meetings in July, which included the one they quarterly conduct at the Bessemer Justice Center. They will hold their committee meeting on July 12 and their commission meeting on July 14 in Bessemer. The committee and commission meetings on July 26 and 28, respectively, will be at the courthouse in downtown Birmingham following the Games.
Hays said departments also are submitting plans for staffing.
"They may encourage some employees that can work remotely to work remotely. But, as with all things, part of what the county's business is in-person transactions," Hays said. "So we want to make sure we can still do that when we have to do that."
Vehicle inspections, for instance, can't be done online. Those will be done on a flat lot across the street from the courthouse.
But while the Games will yield some inconvenience during that 2-week period for some people, Hays takes a positive viewpoint.
"It's a very exciting time for the city and for the county because (of) the attention that The World Games is going to bring to us downtown," she said. "The new City Walk downtown is fabulous. That's going to be a focal point of attention and concerts. I really think, especially post-COVID, where so many businesses suffered and didn't see a lot of people downtown, it's just going to be an exciting time to see this event take place in their city and the county.
"It's not just the downtown locations where events are going to be," Hays continued. "There are going to be events held in all different locations. And there will be road closures associated with those events as well. But we mainly just wanted to inform people about downtown and manage those expectations for coming to the courthouse."
The Birmingham Park and Recreation Board hosts its meetings on the first and third Wednesdays of each month at Legion Field. Space has been reserved at the Birmingham Botanical Gardens in case that meeting needs to move because of heightened security for flag football at Legion Field as the Games begins July 7.
Birmingham's Department of Planning, Engineering and Permits will be open. Announcements of remote locations will take place soon.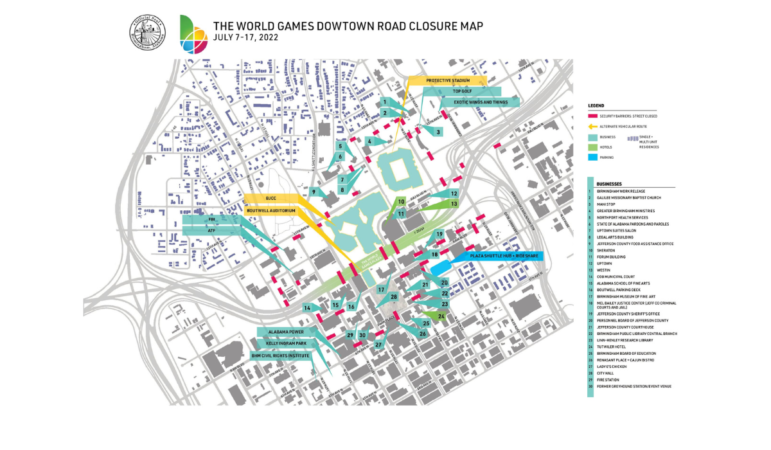 Click here to see the larger version of the road closure map for downtown Birmingham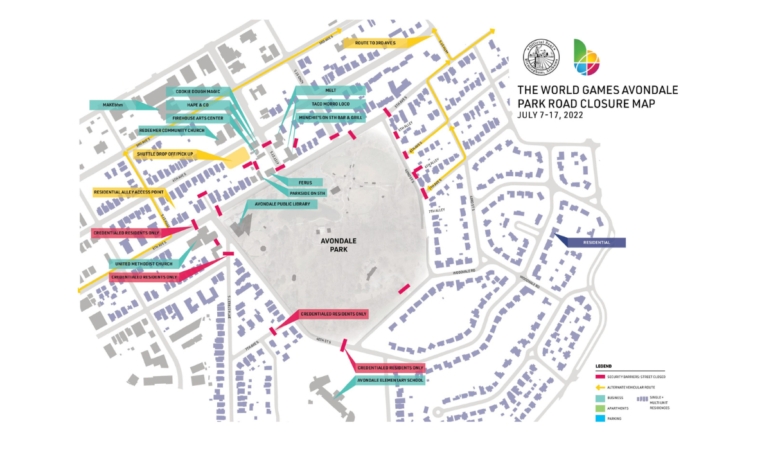 Click here

to see the larger version of the road closure map for Avondale Park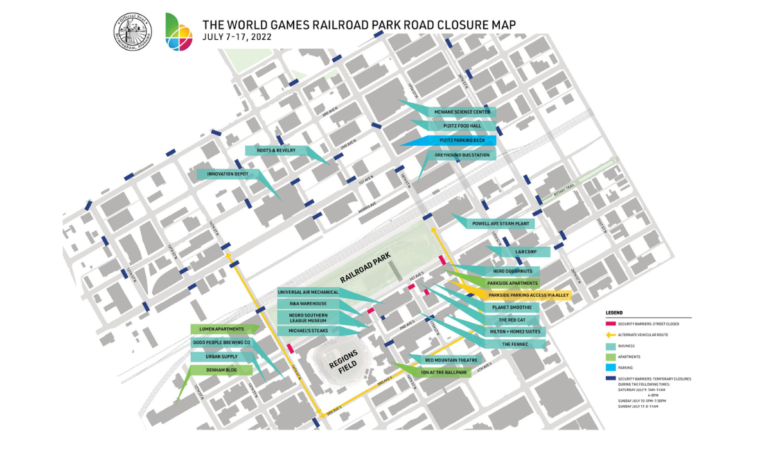 Click here

to see the larger version of the road closure map for Railroad Park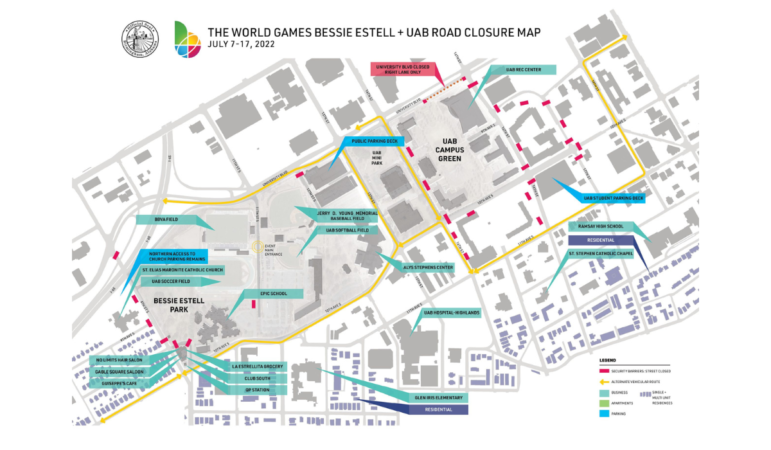 Click here

to see the larger version of the road closure map for Bessie Estell and UAB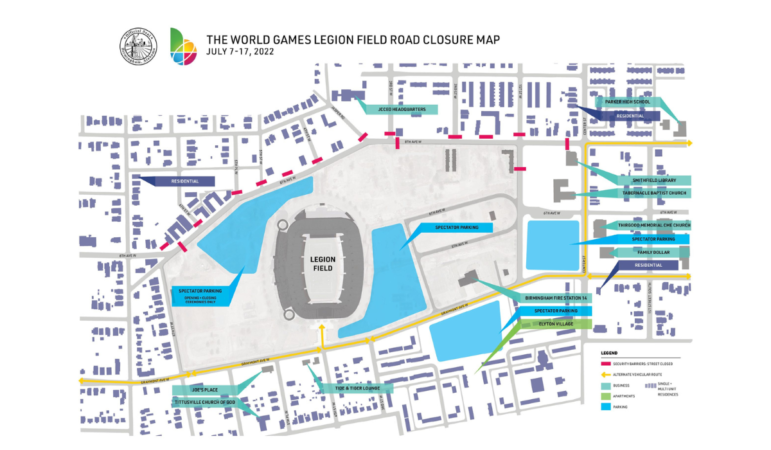 Click here

to see the larger version of the road closure map for Legion Field