Local health officials plan to increase monkeypox vaccinations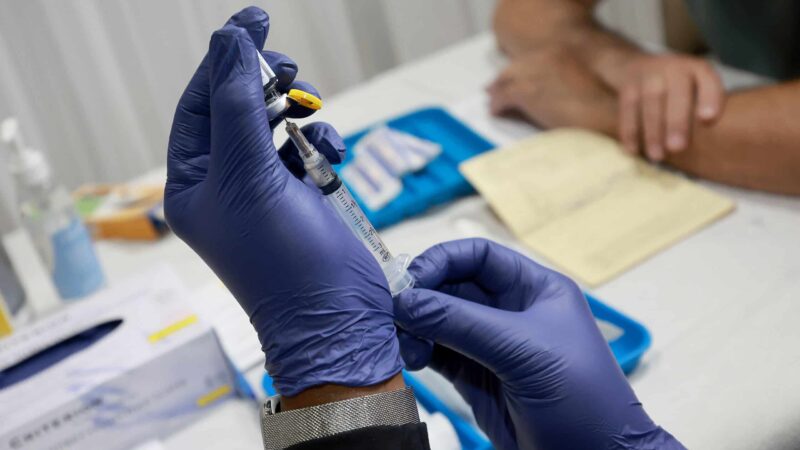 The Jefferson County Department of Health (JCDH) is beginning to "scale up" its immunization efforts against monkeypox, thanks to new guidance from the U.S. Food and Drug Administration (FDA).
By next week, the county said it will begin offering intradermal injections of the Jynneos vaccine, a method that was granted emergency use authorization Wednesday by the FDA. 
"Instead of putting it deep under the skin into the fat, it really goes fairly shallow into the skin," said Dr. Wesley Willeford, medical director of disease control at JCDH. "(The method) seems to provide a very good immune response based on some of the data that was submitted when the Jynneos vaccine was initially approved," Willeford said.
The change allows providers to stretch their vaccine supply five-fold, a critical need for health departments across the country that do not have enough doses to meet demand.
"We have a lot of people looking to get the vaccine," Willeford said. "The big rate limiting step that really was holding us back was the number of vaccines that Alabama and thus JCDH has received so far."
Willeford said JCDH has obtained about 150 doses of the Jynneos vaccine as of Thursday. 
That's out of a state allotment of 1,271 doses, according to Dr. Karen Landers, chief medical officer with the Alabama Department of Public Health (ADPH).
"​We don't have a lot of vaccine," Landers said, "but we're trying all we can to first of all, address the need, but secondly, ensure that we have equity among our rural counties as well as our urban population centers."
Landers said doses have been distributed to health departments in Mobile and Jefferson counties, along with other locations across the state.
She said ADPH supports moving to intradermal vaccination to immunize more people, but the department needs to review available data and ensure that medical providers can implement the change. 
"Some clinics might be able to make a more rapid shift than others," she said. "But we have to make sure that people have training to do intradermal because it's not something that younger health care providers have much experience (with)."
As of Friday morning, 27 cases of monkeypox have been reported in Alabama. Health officials have not disclosed the location of those cases, citing privacy concerns, but Landers said the virus is spreading "throughout the state."
Dr. Michael Saag, infectious disease specialist at the University of Alabama at Birmingham, said the state's response to the virus is "in flux" but "headed in the right direction."
He said testing capabilities have increased in recent weeks, but it's "pretty likely" that many cases have not yet been diagnosed.
"That's what has everybody a little concerned," Saag said. "Because that smoldering of transmission that might be occurring in the community is going to create more of a bump in cases once we get diagnostics up and running in a more robust way."
Saag said the virus is mostly spreading through close skin-to-skin contact, usually via sexual exposure. Most cases have been identified among men who have sex with men, but the virus is not a sexually transmitted disease and can infect anyone who is exposed to it.
"This virus doesn't care whether you're gay or straight or what type of sexual practice you have," Saag said. "It's just a question of what populations are hit. And right now, it appears that the overwhelming number of cases in the United States in particular, are among men who have sex with men."
He said the priority is to vaccinate people who fall in those high risk groups, specifically targeting people who know they have been exposed to the virus, which has a 10 to 14 day incubation period.
"If you give the vaccine, say on day four, you can stop the expression of symptoms," Saag said. "So we have that window."
State and local health officials said they are working on plans to better educate the public about monkeypox prevention and early detection.
They said testing is now widely available at routine medical clinics, typically with a 24 to 48 hour turnaround time for results.
Vaccination is currently only offered at county health departments and prioritized for people who know they have been exposed to monkeypox, those who work with the virus in laboratory settings and those who fall into high risk categories.
Officials with ADPH said they are still collecting data and do not know how many people have been vaccinated statewide. As of Thursday, officials with JCDH said they had distributed 70 doses.
To inquire about obtaining a monkeypox vaccine in Jefferson County, call 205-933-9110.