How a Birmingham art educator makes art feel accessible and inclusive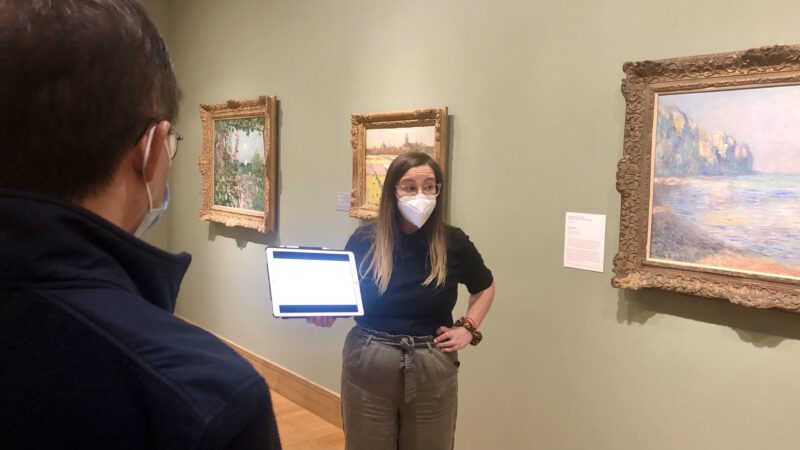 This story is part of an occasional series called Extra Credit which shares the stories of non-traditional educators in Birmingham.
While leading a tour at the Birmingham Museum of Art, Angie May drew the eyes of the group to a work from French impressionist Claude Monet. It's a painting of a French beach called Misty Morning at Pourville. There's a cliff in the distance and the scene is layered with distinct brushstrokes of blues and oranges. It's a painting that May said changed the game forever in art history. So, it may come as a surprise that she compares it to the 2004 hit teen film Mean Girls.
"Every time I look at this painting, all I see is that moment from Mean Girls like 'Don't let the haters stop you from doing your 'thang,'" May said on the tour.
She used the film and the Monet painting to talk about how impressionists continued to create new styles, despite harsh critics or "the haters."
May tries to infuse this innovative way of teaching art into every one of her initiatives as associate director of learning and engagement at the BMA.
"Every single bit of my job deals with how someone's going to take in information," she said.
"Don't let the haters stop you from doing your 'thang"
For six years, May has grown into her role by redefining what it means to visit an art museum. Whether that means hosting a Super Mario-themed art scavenger hunt or fusing art history with 2000s teen pop culture references — the 38-year-old makes art feel accessible for younger generations.
"It takes a lot to build, but it creates a whole new way to understand art that doesn't always have to be information-based," she said. "It can be interest-based and then you keep coming back."
"This is a space for you"
It's also part of her mission to make sure people with disabilities can enjoy the arts.
"There isn't anything out there that should ever prevent anyone from coming to the museum and having the most inclusive experience," she said.
One of the initiatives she's heading is a new touchable work of art for visually impaired visitors that'll be up this spring. It'll feature different brightly colored objects and wheelchair accessibility.
"Whether you can visually see art doesn't mean you don't experience it and that you don't need that in your life just as much as anyone else," she said. "So opening those pathways I think is incredibly important because our art is for everyone, and we're a free museum. We just want you here. This is a space for you."
She's also recording museum audio guides that break away from a traditional curator voice and instead include voices of people in the community as they experience the museum. Since the pandemic, she's put even more work into creating virtual museum tours and online interactive activities for schools.
"I see digital playing a bigger part in museums, never taking away from the art. That's why you're there," she said. "But finding the ways that digital interpretation contribute to the experience and enhance your experience with the actual work of art."
"I used to call museums the prison for art"
Despite her zeal for improving the museum visitor experience, working at a museum wasn't in her original career plan.
"I've always loved art, and I started studying Hinduism and Buddhism, and that led into art history. But I used to call museums the prison for art," May said.
By that, she meant she used to view art in museums as locked up behind glass and untouchable. She felt she never truly connected with art in her youth at museums.
"It wasn't until I started understanding that we have the power to change the visitor experience and to open up ways to understand it," she said. "Now I'm incredibly passionate about museums. It's my calling that I didn't know."
"I think of art as evidence of the human condition"
May's philosophy when teaching art is that every experience is valid and affects the way we view art. She said there's no wrong way to appreciate art and that's why it's her job to facilitate constructive discussions.
"I want people to start growing their own cultural competency so that they feel so empowered," she said. "I want or hope that when people leave our museum that they remember not just the art, but the feeling they had when they left it and how they wanted to return to it again."
She said art is more than colors on a canvas. It's a way for us to connect with people from the past and think about how we can influence the future.
"I think of art as evidence of the human condition," May said. "So it gives us insight into happiness, sadness, turmoil, anything that a human goes through. They put it into an object to capture it in time for you to see it 100 years later, and it still has a connection."
May is helping to make those connections relevant today and pushing down a few barriers in the process.
Kyra Miles is a Report for America corps member reporting on education for WBHM.
Do you know a non-traditional educator in your community worth featuring as part of the series Extra Credit? Email kyra@wbhm.org.
The Birmingham Museum of Art is a program sponsor on WBHM, but our news and business departments operate independently.