Fire department says landfill blaze that spread smoke more than 20 miles away is 'contained'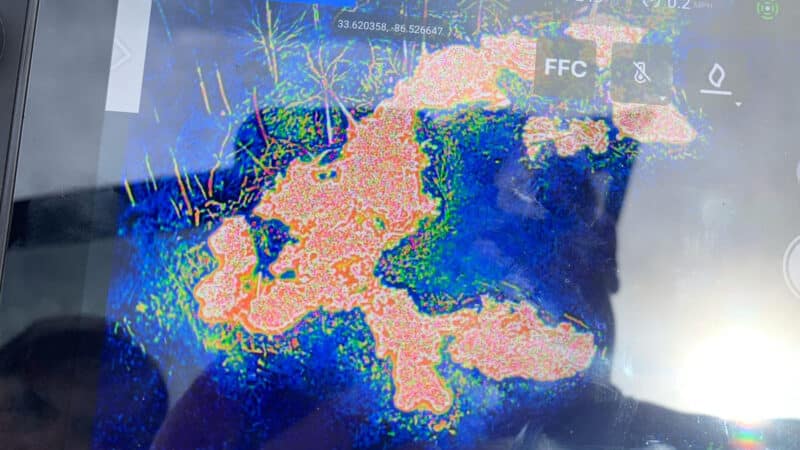 Residents of five homes in Moody that had been evacuated were given the "all clear" to return home as the Moody Fire Department determined that a landfill fire that has been burning largely underground has been contained.
The fire is burning at Blackjack Road from Carrington Lake Parkway to Annie Lee Road at a landfill that disposes of trees and other debris.
Persons living as far away as Birmingham's Crestwood neighborhood complained of smelling smoke and even having smoke invade their homes.
When material burns underground, there is a cavity and soil falls away.
"It can create a fissure or a hole and then we have smoke or steam coming up through that," Moody Fire Marshal James Mulkey said. "Then the smoke is going to come up into the air. You can smell this for miles."
The above-ground part of the fire has been plainly visible from several miles away.
The Alabama Forestry Commission is helping to battle the blaze. Neighboring Leeds Fire Department provided a drone with an infrared camera to determine where the underground portion of the fire was.
"We were able to take pictures, video of the area and compare them to the same kind of pictures that we did at the beginning of this," Mulkey said. "Utilizing that technology, we determined that to our best look it is contained inside the firebreak."
The site is a landfill where for years debris and trees have been pushed into a pile and layered with dirt.
"The effort is to allow it to decompose over time," Mulkey said. "As it decomposes, it generates fuel and allows some oxygen release. Depending on how loosely it's packed, how tightly it's packed, how much dirt it has around it, it does have the potential to draw in enough oxygen to catch fire. This is just an extremely rare type of fire.
"It's challenging because you can't get to it and because we don't know the layout of the debris underneath the ground," the fire marshal said. "We just have to kind of use the infrared technology and other things to determine which way it's going and which way it's going to move."
The infrared camera on the drone allows firefighters to follow the subterranean blaze and to determine the outer limit of the material that is burning underground.
"Alabama Forestry (Commission) put a bulldozer in and drove a firebreak around this and used a bulldozer to bring in a firebreak," Mulkey said. "That just takes it all the way down to mineral soil. That way fire doesn't transmit across that, with any luck. That's what we have now.
"This was a first for me," he continued. "I've been a firefighter for 33 years and this is the first time I've had to deal with underground fire like this."
But the end may be near.
"We're hoping," the fire marshal said. "We're not sure on the timeline of when the smoke is going to dissipate. But they can rest easy because we do still continue to keep a 24-hour watch on this. We have people patrolling that area on fire watch."