Applications close soon for flood damage relief in central Alabama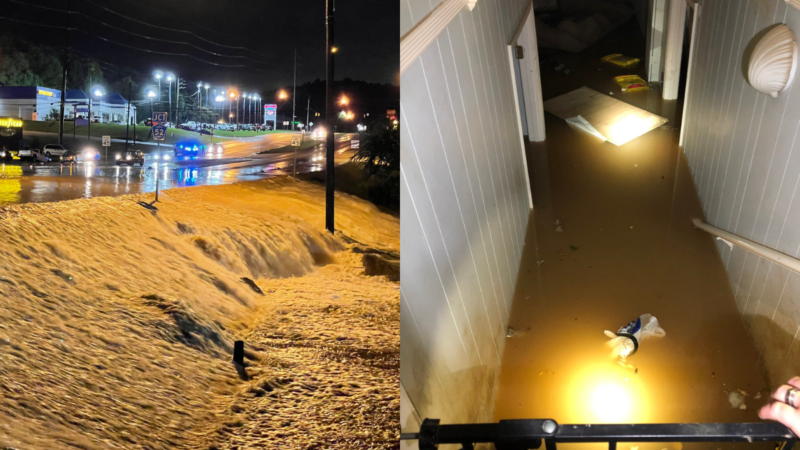 Flash floods swept through areas of central Alabama in October 2021. It destroyed homes, washed away vehicles, and killed four people across multiple counties.
Jefferson and Shelby counties experienced the brunt of the rainfall. As much as a dozen inches of rain fell in some spots.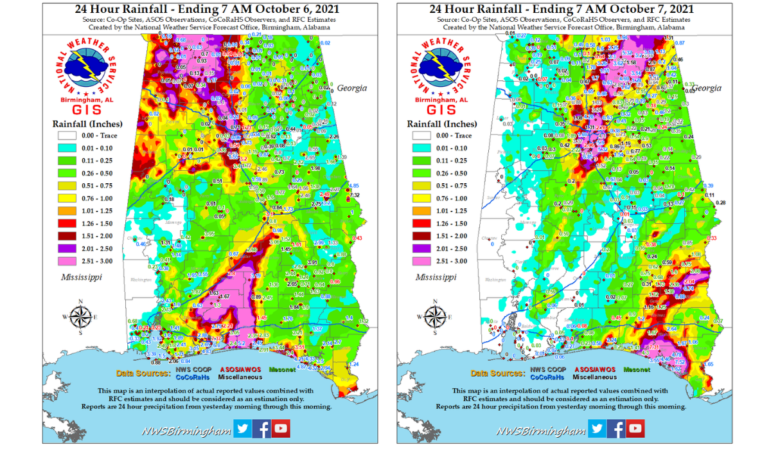 Since then, the federal government has approved more than $13.1 million in funds to help residents and businesses in Jefferson and Shelby counties. Of that count, the Federal Emergency Management Agency has approved $1.6 million in federal grants to more than 330 homeowners and renters in Jefferson and Shelby counties. The U.S. Small Business Administration has approved roughly $2.9 million in low-interest loans for local area businesses that were damaged.
This money can be spent on many items including temporary rental assistance, home repairs and even some medical expenses.
The deadline to apply for most of this federal assistance is Monday, Feb. 21. We've got a breakdown of what's available and how to apply:
Personal Insurance
If you have homeowners, renters, or car insurance, you should first file with them. Many of these federal assistance relief programs try to cover the cost of expenses and damages not covered by your insurance. Also, some of these federal programs require documentation that a claim has been filed with your insurance provider. This applies to residents who have insurance.
It's illegal to duplicate assistance from other sources, such as insurance. That's why if you have insurance, you should file with them first.
FEMA's Individual and Households Program
Deadline? Monday, Feb. 21, 2022
Who can apply?
Residents of Jefferson and Shelby counties who were affected by the severe storms and flooding on Oct. 6-7, 2021. This applies to homeowners and renters. Even if you have insurance, you should apply. FEMA can help pay for losses not covered by insurance.
You or a member of your household must be a U.S. citizen, non-U.S. citizen national, or qualified immigrant. Undocumented families only need one family member who has a social security number to apply. This can include a minor child.
How do I apply?
Visit DisasterAssistance.gov, use FEMA's mobile app, or call 800-621-3362 from 6 a.m. to 10 p.m. CT, seven days a week.
What documents do I have to have to apply?
A current phone number where you can be contacted
Your address at the time of the disaster and the address where you are now staying
Your Social Security number
A general list of damage and losses
Banking information, if you choose direct deposit
If you're insured, the policy number or the agent and/or the company name
What additional documents may FEMA ask for?
Proof of insurance coverage
Settlement or denial of insurance claims
Proof of identity
Proof of occupancy
Proof of ownership
Proof that the damaged property was your primary residence at the time of the disaster
If approved, what can I used the money for?
Temporary housing assitance, if your home was made unlivable by the flooding.
Lodging expenses, such as reimbursement for hotel expenses for applicants whose homes were unlivable after the disaster. **NOTE: Keep copies of your receipts
Essential home repairs to make it safe, sanitary, and livable
Home replacement assitance, if it's not already covered by another program or insurance
Repairs or replacements of essential, uninsured personal property damaged by the flooding
Repair or replacement of a disaster-damaged essential vehicle
Medical and dental assistance for uninsured medical and dental needs or losses caused by the flooding
Replacing clothing, occupational tools and educational materials
Moving and storage expenses related to the flooding
Funeral assistance related to a death attributed directly or indirectly to the disaster
Reimbursements of childcare and other serious disaster-related needs not covered by your insurance or other programs
What can the funds NOT be used for:
Travel
Entertainment
Regular living expenses
Any discretionary expenses not related to the disaster
Other important things to note:
If approved for FEMA assitance, you should keep your receipts for three years to show how you spent FEMA grants and document how disaster funds were used.
People receiving social security or other government payments will not have their benefits affected if they apply for FEMA disaster assistance. This includes programs like Medicare, Medicaid, Supplemental Nutrition Assistance Program (SNAP), or other federal welfare, social safety nets, and other entitlement programs.
Disaster assistance isn't taxable income.
FEMA will provide interpreters, real-time captioning, and information in alternate formats such as Braille, large-print, audio, and electronic versions, if needed.
If FEMA says you're not eligible, you may need to submit additional information to continue the application process.
A FEMA inspection may be required as part of the application process to determine whether your home is safe, accessible, or livable.
What if my family is undocumented?
You or a member of your household must be a U.S. citizen, non-U.S. citizen national, or qualified immigrant. Undocumented families only need one family member who has a Social Security number to apply. This can include a minor child. A qualified immigrant includes:
Legal permanent resident ("green card" holder)
An asylee, refugee, or an alien whose deportation is being withheld
Immigrant paroled into the U.S. for at least one year
Immigrant granted conditional entry (per law in effect prior to April 1, 1980)
Cuban/Haitian entrant
Certain immigrants subjected to extreme cruelty or who have been a victim of a severe form of human trafficking, including persons with a "T" or "U" visa.
U.S. Small Business Administration
Deadlines? Monday, Feb. 21, 2022 (physical damage) and Wednesday, Sept. 21, 2022 (economic injury)
What types of disaster loans are available?
Business Physical Disaster Loans: they are available to businesses to repair or replace disaster-damaged property owned by the business. Things like real estate, inventories, supplies, machinery and equipment. Businesses of any size are eligible including private and non-profit organizations.
Economic Injury Disaster Loans: available to pay for ordinary and necessary financial obligations that cannot be met as a direct result of the flooding. These loans are intended to assist through the disaster recovery period. Small businesses, small agricultural cooperatives, small businesses engaged in aquaculture, and most private, non-profit organizations of all sizes are eligible for these working capital loans.
Home Disaster Loans: available to homeowners or renters to repair or replace disaster-damaged real estate and personal property, including automobiles.
How can I apply?
You can apply online here or mail in an application to the U.S. Small Business Administration, Processing and Disbursement Center, 14925 Kingsport Road, Fort Worth, TX 76155.
For more information, you can also call SBA's Customer Service Center at (800) 659-2955 or email [email protected].
What are the credit requirements?
Credit History – Applicants must have a credit history acceptable to SBA
Repayment – Applicants must show the ability to repay all loans
Collateral – Collateral is required for physical loss loans over $25,000 and all Economic Injury Disaster Loans over $25,000. SBA takes real estate as collateral when it is available and will not decline a loan for lack of collateral, but it requires you to pledge what is available.
Editor's Note: This story has been updated to correct that the federal government has approved more than $13.1 million not $13.7 million.