WBHM 90.3 FM Named Station Of The Year By Alabama Broadcasters Association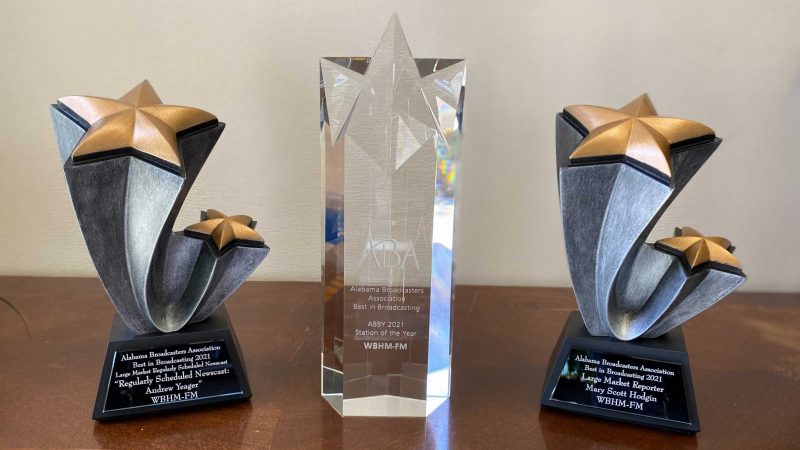 The Alabama Broadcasters Association named WBHM 90.3 FM Radio Station of the Year at its annual ABBY Awards ceremony Monday, March 29.
This is the first time WBHM has won this award. Additional ABA awards for WBHM included:
Large Market Regularly Scheduled Newscast: "Regularly Scheduled Newscast: Andrew Yeager"
Large Market Reporter: Mary Scott Hodgin
In a communication with WBHM, the ABA says judges "were impressed" with WBHM's efforts to educate the community on the coronavirus, the station's partnership with the University of Alabama at Birmingham to inform people arriving for COVID-19 testing, its "remarkable" effort to provide twice-daily COVID-19 newscasts sent out to radio stations statewide for two months and its coverage of the Black Lives Matter protests in Birmingham. A station must demonstrate overall excellence to be considered for the ABA Station of the Year award. Factors considered include programming, promotions, community relations and service, public affairs/public service programming, and station awards and recognition.
As COVID-19 testing ramped up, WBHM worked with UAB to ensure a recorded message — through a low-power FM transmitter on the hospital grounds — informed people navigating the hospital's first community COVID drive-through testing site. The service launched March 23, 2020; WBHM's program director provided step-by-step testing instructions through a low-power radio station established by the station for people to hear in their cars. The instructions played on a loop in English and in Spanish and helped ensure safety protocols were being followed.
"The implementation of this radio system was no minor operation, for it required specialized equipment, multiple site visits to assess for proper equipment placement and an effective system design to provide prime radio signal transmission," said Thomas Manthei, UAB's Radio Paging manager.
For two months at the start of the pandemic, WBHM's hosts tailored their daily morning and afternoon newscasts to bring the latest COVID-19 news of interest to nearly 50 other radio stations that reach as many as 3.5 million Alabamians. The stations were small, and many had little or no capacity for news reporting. Many people in Alabama's rural communities relied on these resource-strapped stations for news and information on the pandemic.
WBHM's small news staff was determined to continuously serve people through journalism and special programs on a range of topics related to the pandemic. For WBHM to provide twice-daily newscasts on a statewide level during the early crucial stages of the COVID-19 pandemic took an entire team effort and "speaks directly to our mission as public broadcasters," said Program Director Michael Krall.
"When WBHM received the request from the Alabama Broadcasters Association to provide important, potentially lifesaving information to Alabamians through our newscasts, it wasn't a matter of if we could make it happen; it was a matter of how we could make it happen," Krall said.
"This recognition is a tremendous honor," said WBHM News Director Gigi Douban.
"It was a trying year for our audience and for our staff; but through it all, WBHM stayed true to its mission of public service," Douban said. "Because there was so much uncertainty, we knew there was a huge need for trustworthy, fact-based information. We were committed to providing that in the most creative and engaging ways possible. I'm incredibly proud of the work our team did during a very challenging time."
Public Radio WBHM 90.3 FM is "NPR News for the Heart of Alabama" and a listener-supported service of UAB. More than a radio station, WBHM is an essential public resource that enlightens and enriches its audience and makes strong connections to its communities through journalism that is fair, credible, accurate and honest. Free from commercial and political influence, WBHM seeks to make Birmingham and Alabama a better place to live by educating, engaging and entertaining the people of the Birmingham Metro area and the state. WBHM is dedicated to the idea that an informed citizenry is vital to democracy and a thriving economy, and it celebrates diversity, innovation and lifelong learning.