Trash is piling up around some apartments in Birmingham. It is not just about the pandemic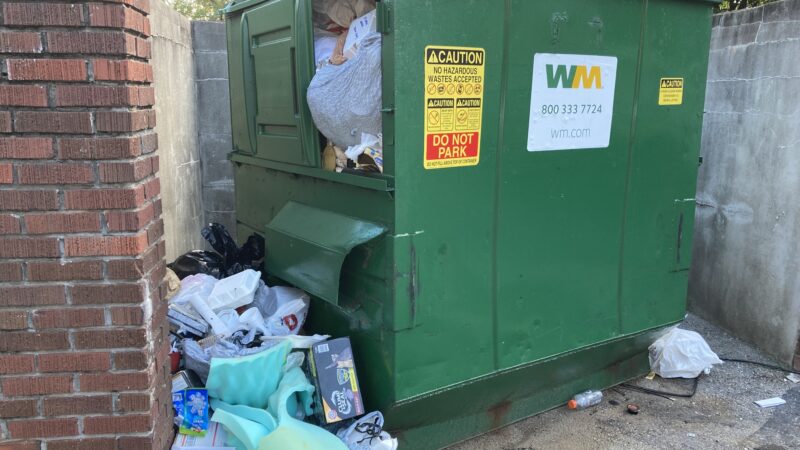 Alex Boykin, who lives at The Park at Hoover, said the trash service at his apartment rarely gets picked up, although he pays $25 a month for it.
"Trash is the worst! It's at a point where they didn't pick it up at all," Boykin said. "Folks were just putting their trash inside of the parking lot. We had three to four or five garbage cans and we got a whole building with trash."
It is reasonable to think the city is responsible for those piles of trash. In Birmingham, city garbage trucks come by twice a week to collect trash from homeowners. But for people who run a business or live in apartments, they have to take out their own trash or pay a fee to get it picked up regularly.
In the City of Birmingham, if you live in an apartment with four units or more, the property manager has to contract a trash vendor. In the City of Hoover, where Boykin lives, that applies to all apartment complexes, no matter the size.
Since the pandemic has started, that trash has been piling up.
Valet Living used to be the private trash collector at Boykin's apartment complex, but The Park at Hoover said they recently switched to Affinity Trash Service. However, he says the trash pickup still is not consistent. Affinity Trash told WBHM they are not aware of any issues.
This is also a problem for business owners.
Kesha Petty owns a daycare business on the eastside of Birmingham and uses the company Waste Management for her business. She said she didn't have a problem before the pandemic.
"They were always picking up before our business hours started. So before we would even get here in the morning, the trash would be already picked up. So that worked out really great," Petty said. "Now there's no set time and they may still come that same day, but it could be … right smack in the middle of business hours or nap hours when their kids are sleeping and we hear the big truck picking up. Or it could be after hours. So if anything [that] is frustrating."
Waste Management said that there is a labor shortage of drivers and technicians, but they are dedicated to taking care of their customers and communicating with them.
The fact garbage pickup is not a city service can be confusing or frustrating to residents or business owners, who simply want their trash hauled away. After all, they are paying an extra service fee. However, as people continue to feel the effects of the pandemic, this could be a long-lasting issue.