To Curb Gun Violence In Gulf States, Activists Are Taking A Closer Look At Policing Alternatives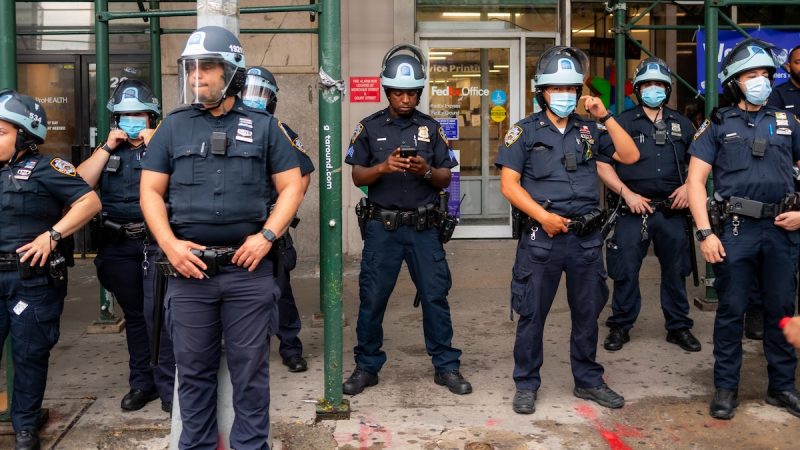 Over Memorial Day weekend, at least 26 shootings were reported in major cities across Mississippi, Louisiana, and Alabama. At least 10 people were killed and 17 others were injured. It was the latest example of rising homicides and gun violence across the Gulf states this year.
The persistent level of fatal shootings across the region often involves people who know each other and they don't get as much attention. This makes some community members feel forgotten.
"The biggest misconception is that the people that live in these communities are not human, that they're some type of inbred or animal or some type of barbaric human being," said Onoyemi Williams, an organizer for Faith in Action Alabama's Peacemakers Campaign, a grassroots group pushing gun violence intervention programs.
Williams has experienced over-policing and underfunding of social services in her own community of Birmingham for many years. That's partly why she does this work, to help people understand how those factors can perpetuate violence and distrust in law enforcement.
"When I share stories of what takes place in these communities and how the police respond to us and how they show up in our communities, folks are always like, 'What? Oh, that would never happen in my neighborhood,'" Williams said. "Well, it happens over here all the time."
Williams wants any change in policing in Birmingham to involve consulting overpoliced communities. Birmingham is working to allow its citizens to keep a closer eye on police brutality and misconduct by creating a civilian review board.
Violence Rises Across The Region
Birmingham is in the top five small cities with the highest rate of fatal shootings, along with Baton Rouge and New Orleans. Deaths from gun violence are on the rise in all three cities compared to this time last year. According to a report from the data project American Violence, between January and April, there were at least 145 fatal shootings across those three cities.
"New Orleans has led the nation in murder 13 of the last 28 years. They've been in the top five for murder almost probably every year of your life," said Jeff Asher, co-founder of DataLytics, a New Orleans-based consulting group with a focus on crime statistics.
Asher said there isn't one single reason fatal shootings have remained a problem in Louisiana, but economic, medical, and mental health stresses following a pandemic don't help. The violence is only expected to continue to increase over the summer as pandemic restrictions continue to lift.
"Perfect storm of factors combining, and then all of a sudden you throw in just tons more firearms than there were before," Asher said. "And you get this dramatic … historic increase in violence."
Public Wants Community Investment
Louisiana, Mississippi, and Alabama have high levels of gun ownership, poverty, housing instability, and other social problems that can contribute to higher rates of violence. But some activists believe addressing those issues doesn't mean policymakers need to invest more resources in law enforcement.
"What we are hearing from the folks who are leading these efforts in the communities that are really struggling with gun violence is that we need an investment in the community-based programs, many of which work in partnership with law enforcement," said Chelsea Parsons, the vice president of gun violence prevention policy at the Center for American Progress.
Nearly 80% of people in the South want to see investments in mental health, trauma, and addiction treatment services in an effort to improve public safety, according to a recent survey from Benenson Strategy Group. About 45% of people polled don't want law enforcement to have military-grade weapons.
"Eighty-one percent of most Americans support police funds going towards de-escalation techniques," said Shannon Currie, the vice president of Benenson Strategy Group. "And I think just despite conventional belief, police aren't considered really integral to public safety."
Currie said people surveyed were also interested in bystander training, to teach everyone how better to de-escalate a situation and reduce community violence. She was surprised to find that even when the data was broken out by political party, there were a lot of commonalities.
"Across the board, for the most part, everyone is aligned that there is a need to change the way that we are looking at policing in America," she said.
This story was produced by the Gulf States Newsroom, a collaboration between WBHM in Birmingham, Ala., Mississippi Public Broadcasting, WWNO in New Orleans and NPR.