Design the 2021 WBHM Pint Glass and Mug!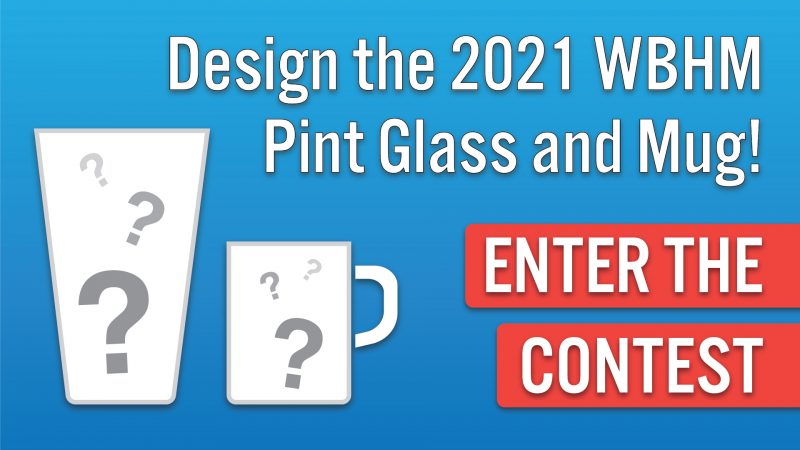 It's that time again! We are thrilled to continue our popular pint glass series by inviting Birmingham artists to submit their best designs for our next pint glass!
How do you "see" WBHM? What's your vision of public radio in the heart Alabama? Where does your imagination take you when you listen to public radio?
Enter The Design the 2021 WBHM Pint Glass and Mug Challenge and let us know! Just download the rules and guidelines, set your inner artist free, and submit your design by February 28, 2021! Entries will be narrowed to three finalists by WBHM's Friends Board and Junior Advisors, and YOU — our listeners — will get to vote for the winning design.
For some inspiration, let's look at previous designs from over the years:
Think you've got a winning idea for our next pint glass and mug? Let's find out!
RULES AND REGULATIONS:
One entry per person, ages 18 and above. Entries must be received by WBHM no later than February 28, 2021. Design must be submitted on the official WBHM Design the Spring 2021 Pint Glass and Mug drawing template available on page 2 or at wbhm.org. Submissions will not be returned. One winner will be chosen. Designs that do not follow rules and guidelines outlined on this document and at www.wbhm.org will not be considered. WBHM reserves the right to alter the selected image as necessary to achieve the best final product, including, but not limited to, digitizing the artwork, color adjustment, and sizing. WBHM will work with the artist where possible to achieve the final product. Any artwork that is submitted may be used for other marketing and promotional purposes. Any entries submitted by mail will not be returned.