Parents Urge Vestavia Hills School District To Require Masks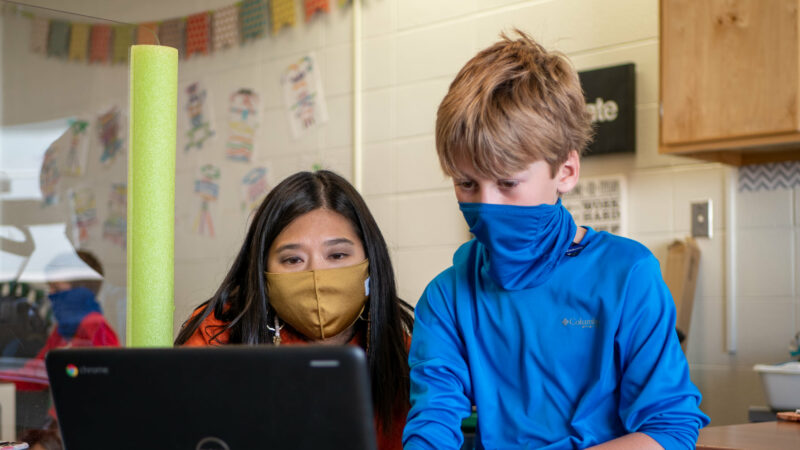 With the current surge in COVID-19 cases in Alabama, many school districts in Jefferson County have updated their health and safety policies and now require masks for students and faculty.
But in Vestavia Hills, the school board decided to only recommend masks for students, not require them — a decision that has become a real flashpoint for parents.
Over 1,900 parents have signed a petition, demanding the school district to require masks for its 7,000 students and 870 staff members. Katie Dudley, who has two children in a Vestavia Hills elementary school, started the petition.
"If you're making a decision based on possible harm, the easiest decision to make would be to wear a mask," Dudley said.
In addition to the mask recommendation, Vestavia Hills board members said that elementary school students could have the option to learn remotely, but parents only had 48 hours to decide. It was too little too late for Karl Julian. He has three children in the district and said he felt manipulated.
"It's just politics, and it's at the expense of public health and my kids' health," Julian said. "So it's really disappointing and frustrating."
The Vestavia Hills school board's decision to not require masks goes against guidance from public health agencies. Both the Centers for Disease Control and Prevention and the Alabama Department of Public Health have recently recommended universal masking in classrooms.
No Public Comment Allowed
In a Facebook group advocating for "safe schools," other parents in the Birmingham region have shared their concerns about a lack of transparency from the school board in their decision-making.
The board announced the masking policy to parents in an email last week. But at a meeting this week, parents and community members were not allowed to give public comment regarding the decision.
"I'm seriously considering that if universal masking for elementary is not required until they at least have the ability to be vaccinated, then we'll find an alternative arrangement," Julian said. "Which is really gut wrenching because the whole reason we're here is the school system."
But parents like Kiera McNichols don't have many other options. She's a registered nurse, and her children are not able to learn remotely this year.
"We know that there is a pandemic, and we know that we are currently in an outbreak," McNichols said. "And we know that face masks are the number one thing that can save children from getting not just COVID, but other respiratory illnesses."
McNichols said she knows first-hand the severity of COVID-19. She said she doesn't understand why the school board doesn't seem to take that into account.
In an email to parents, Vestavia Hills City Schools Superintendent Todd Freeman said that he acknowledges families' "perspectives, concerns and suggestions for this school year." But Freeman said that he wanted to emphasize the responsibility of parents to check their children for symptoms of COVID-19 and to make their own health decisions.
The Vestavia Hills district has adopted a safety model centered around four habits to promote health. They include parents checking their children for symptoms at home; recommended face masks; washing hands; and practicing good respiratory hygiene.
The district also recommends COVID-19 vaccination for all students who are eligible.
Kyra Miles is a Report for America Corps Member reporting on education for WBHM.