'Oh My God!' Alabama Running Out Of ICU Beds, And The Christmas Rush Hasn't Even Begun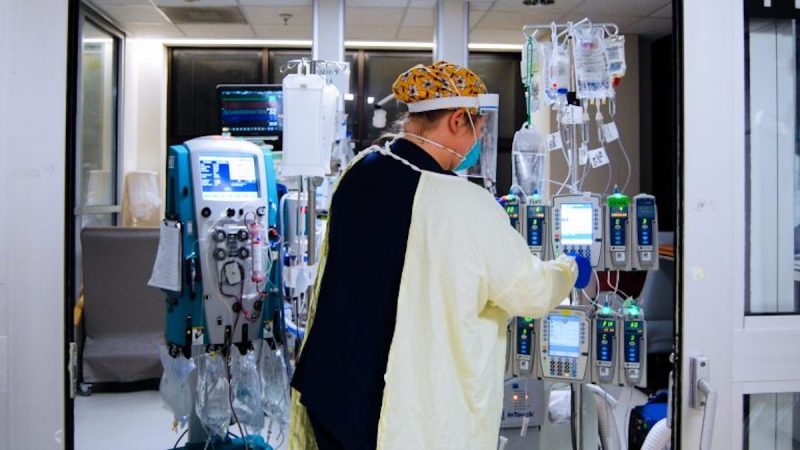 Dr. Don Williamson, president and CEO of the Alabama Hospital Association, spoke Monday while he was scrolling through a spreadsheet with the latest data from member hospitals. When he got to the section showing how many intensive care unit beds were still available for use, Williamson's reaction was telling.
"Yesterday we had 118 available ICU beds," he said. "Today, we have — oh my God! — we have only 5% of available ICU beds, 89. That's the second-lowest ever."
That number is a red flag that tells Williamson and other public health officials across the state that the COVID-19 pandemic is reaching a crisis point, and the situation is likely to get worse during the next couple of weeks. Hospitals still are dealing with the influx of patients who contracted the coronavirus over the end of the Thanksgiving period or in early December. The anticipated rush from Christmas and New Year's is yet to come, and that could place tremendous pressure on a health care system that is already perilously close to a breaking point.
"My greatest problem is to get my head around the reality that what I'm seeing now has nothing to do with Christmas," Williamson said. "You can predict that roughly 10 to 12 days after somebody gets infected, about 12% of that group is going to be hospitalized. We're not at 12 days yet back to Christmas. … We won't deal with that surge until next week."
Some of the key data points have been difficult to follow over the Christmas and New Year's holiday period because the reporting of tests, new cases and deaths has been spotty as those who compile those numbers take time off. That's put extra focus on one metric that is updated multiple times per day: the number of hospital beds occupied by COVID patients.
On Monday afternoon, that number breached the 3,000 mark for the first time, with 3,064 beds occupied. That's an increase of 179 inpatients in a single day, the largest such jump during the pandemic, and an increase of 27.5% since Christmas Day.
Of the three categories of resources used to determine the greatest need — "space, staff and stuff," as Williamson calls them — it's neither space nor stuff that's the biggest problem. It's staff. The number of health care workers available to care for patients is shrinking as they have become exhausted or fallen victim to the virus themselves.
"We've got some hospitals with more ICU patients than ICU beds, which tells me they are converting some other beds to intensive care," Williamson said. But when it comes to staffing, "There isn't a solution other than you continue to stretch the system as far as you can. We already have traveling nurses, we're already working staff extended hours, and we are already increasing the number of COVID patients that a nurse can take care of."
Rerouting Patients Who Need Care
The increasing number of COVID hospitalizations also is affecting non-emergency patients with other medical problems, such as those who need cancer treatments or hip replacements. Already many Alabama hospitals are diverting cases elsewhere, sometimes to Georgia or Florida.
"It's patients who need more acute care than their local hospital (can provide). They are getting routed to other larger hospitals, and increasingly we're having to do it out of state because the normal hospital they would be referred to is filled with COVID patients or doesn't have any additional ICU beds or staff to manage them," Williamson said. "Even rural hospitals are having patients diverted to them who would normally go to large urban hospitals."
State health officials made plans earlier in the pandemic for possible alternate care sites, including expanding into temporary facilities at hospitals.
"If it was a space issue, then that solves the problem. But it's not. It's a staffing issue." Williamson said. "We went through this exercise early on, looking at alternate care sites, and we looked at the idea of setting up field hospitals."
Williamson added that it was still preferable to add more patients to a nurse's load in a hospital instead of a field unit, because in the hospital there's access to a pharmacy and other equipment that might be needed for treatment.
Some relief might be in sight, Williamson said, if hospitals begin to use more monoclonal antibody therapy, which the federal Food and Drug Administration approved in November to treat those suffering from COVID symptoms. Additionally, increasing the number of health care workers receiving the newly approved vaccines would sharply reduce infections among those workers and keep them in action.
Alabama now is one of the worst states in terms of positivity rates, the percentage of COVID tests administered that yield positive results. According to the Johns Hopkins University Coronavirus Resource Center as of Monday, Alabama was second in the nation in the 7-day positivity rate with 47.4% of those tested deemed positive. Only Idaho, with 54.4%, was higher.
As for why the state consistently ranks among the worst in many COVID metrics, Williamson reiterated points that state health officials have mentioned over and over since the pandemic began in March.
"We've done a particularly poor job of following recommendations to reduce transmission. We haven't worn our masks. We've been determined to continue to have group gatherings, whether those are family or other large gatherings. We haven't maintained six feet of social distancing. We've not done the simple things that would have prevented this," Williamson said.
"For reasons I may never understand, we've had the misfortune of having a pandemic in an environment where science got politicized, and politics and science almost never go well together. … We have now sowed the wind, and now we will reap the whirlwind."