Next Phase of COVID-19 Vaccinations In Jefferson County Could Start Next Week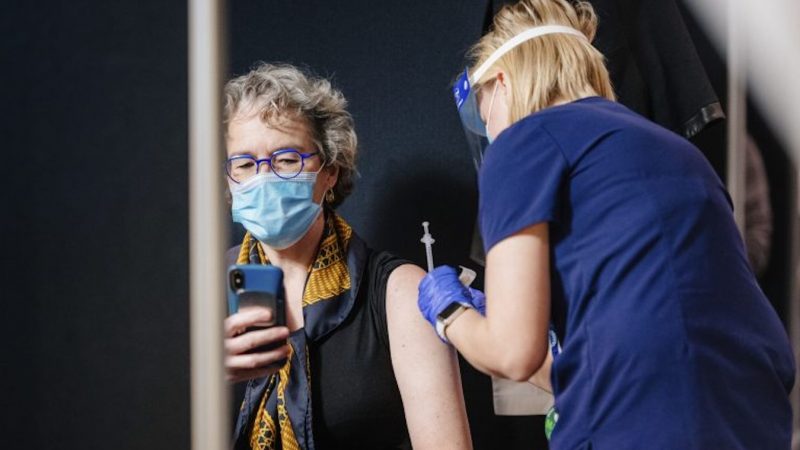 Jefferson County health officials say efforts to vaccinate people who are most at risk for catching the COVID-19 virus are moving along, and those in the next phase of the process may start to get their shots as early as next week.
In a press conference Monday afternoon, Jefferson County Health Officer Dr. Mark Wilson said that people in what the Centers for Disease Control and Prevention refers to as phase 1-a — hospital workers in high-risk environments, emergency medical service personnel and those working or living in long-term care facilities — are moving through the process.
Next in line are people in phase 1-b, which includes anyone aged 75 or older plus additional front-line essential workers such as law enforcement and firefighters.
If all goes as planned, Wilson said, the county could start putting people in phase 1-b on a list for vaccinations as early as Jan. 19.
The Jefferson County Emergency Management Agency set up a call center last week to give people information about how to be vaccinated. On Friday, the agency added a way to get much of that information on their website at jeffcoema.org.
Since then, EMA Director Jim Coker said, about 13,500 users have clicked on the green button located on the home page, while about 3,500 have called the help line at 205-858-221. It's open weekdays from 8 a.m. to 5 p.m.
"When we open at 8 a.m., the phones start ringing immediately and they don't stop until 5 p.m.," Coker said.
Currently, the website and workers answering the help line are taking names and contact information so callers can be reached when the vaccinations will take place, along with answering questions about the process. "The main purpose of the call center was just to make sure that no one who currently qualifies for the vaccine falls through the cracks," Wilson said.
A similar statewide call center also has been established, which people outside Jefferson County should use. It is open from 8 a.m. to 5 p.m. seven days a week. The number is 855-566-5333.
Most of the vaccinations so far have taken place either at JCDH offices or at hospitals, but Wilson said the department is working toward expanding sites.
"As we move forward, we're quickly moving toward setting up some vaccination sites in other locations in the county … to make sure there is equitable access across the entire county," he said. "other health care providers and pharmacies will be receiving vaccine in the near future to help us provide additional access points."
Supplies of the vaccine are limited, Wilson said, urging people to be patient. "We have a lot of people to vaccinate. It's a big undertaking with lots of logistics.
The vaccines are being allocated to states, and the government is in charge of distributing them to areas according to need.
COVID Spread Continues
Meanwhile, the number of hospitalized COVID patients in Jefferson County continues near all-time highs. As of Monday, 632 people occupied COVID beds across the county, with 139 on ventilators and 221 in intensive care units. Because of those high numbers, JCDH Deputy Director Dr. David Hicks encouraged residents to avoid gatherings, as most transmissions of the virus take place within groups of people.
"The rates of positivity are the highest they have been since this pandemic (started)," Hicks said, adding that continued testing still is needed because there are many asymptomatic carriers of COVID in the general population. "It's going to take a while, months, to get enough people vaccinated to get to the 'herd immunity' to get out of this pandemic."
The two vaccines being used each require two separate shots. The Pfizer vaccine requires a minimum of three weeks between the first and second doses, while the Moderna product requires four weeks.
"There's still a chance until you get that full immunity protection that you can still contract COVID-19," Hick said. "If you get vaccinated, it still takes a few weeks to build up immune system protection. … So we're still going to be wearing masks for a while until we get enough people vaccinated."
Testing locations are listed on the county health department website.