Mo Brooks Sets Up U.S. Senate Campaign Committee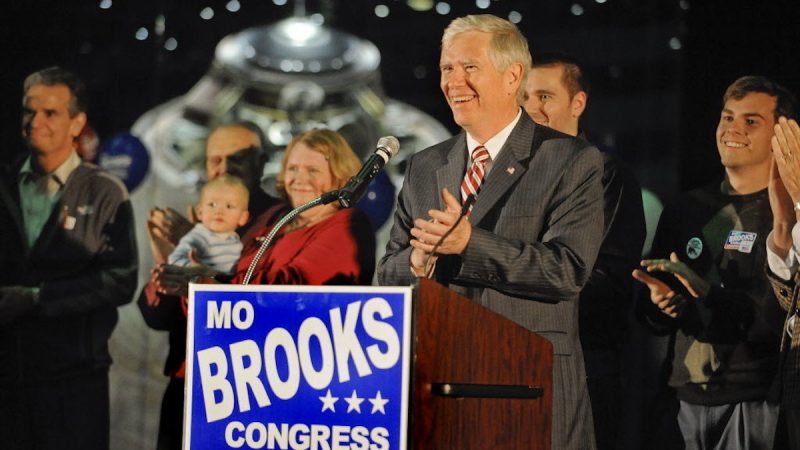 U.S. Rep. Mo Brooks of Huntsville filed notice with the Federal Election Commission on Sunday that he will be a candidate for the Republican nomination for the U.S. Senate seat of retiring Sen. Richard Shelby.
Brooks is expected to announce his candidacy Monday at a rally at the Bullet and Barrel indoor shooting range in Huntsville. In a tweet earlier this week, he said he will be joined at the event by Stephen Miller, controversial former senior adviser and speechwriter for former President Donald Trump.
In a filing with the FEC dated Sunday, the north Alabama congressman set up the Mo Brooks for Senate committee.
A staunch supporter of Trump, Brooks, 66, is known for his inflammatory rhetoric, including remarks he made at a rally in Washington shortly before a crowd of Trump supporters invaded the U.S. Capitol on Jan. 6.
"Today is the day American patriots start taking down names and kicking ass," Brooks told the group protesting the certification of Joe Biden as president. "Are you willing to do what it takes to fight for America? Louder! Will you fight for America?"
Since then, he has continued to question the legitimacy of Biden's election and attacked the president and other Democrats as socialists. In tweets and speeches, Brooks has criticized Democrats for their immigration policies and accused them of stoking a "war on whites" and attempting to take away the rights of Americans to own firearms.
He has drawn criticism for statements he made during the Jan. 6 rally, and Rep. Eric Swalwell of California, who was a House manager in the impeachment of Trump, has filed a lawsuit accusing Brooks, Trump, Donald Trump Jr. and Rudy Giuliani of inciting the riot that followed the Washington rally
"False, scurrilous Socialist attacks against me will NOT stop my fight for America! NO SURRENDER!" Brooks tweeted later.
Brooks is in his sixth term representing Alabama's 5th Congressional District, which stretches across the Tennessee Valley from Mississippi to Georgia. He served in the Alabama House of Representatives from 1982 to 1990; as Madison County district attorney in 1991-92; and as a Madison County commissioner from 1996 to 2010, when he was elected to Congress.
Shelby, 86, has used his role as chairman of the influential Senate Appropriations Committee to bring millions of dollars to Alabama over the years. He was elected as a Democrat to the House of Representatives in 1978 and to the Senate in 1986. He switched to the GOP one day after the 1994 elections.
Speculation over who will seek the GOP nomination in next year's primary has included a long list of names, besides Brooks.
Among those mentioned in a preview earlier this year by BirminghamWatch are Katie Boyd Britt, president and CEO of the Business Council of Alabama, and speculated to be a favorite of Shelby; Alabama Secretary of State John Merrill; 6th District U.S. Rep. Gary Palmer of Hoover; 4th District Congressman Robert Aderholt of Haleyville; state Attorney General Steve Marshall, former U.S. Rep. Bradley Byrne of Mobile, who ran unsuccessfully for the GOP Senate nomination last year in a primary won by Sen. Tommy Tuberville; and Lt. Gov. Will Ainsworth.
Alabama's 2022 primary elections are scheduled for May 24, but there has been discussion in the Legislature of moving them to a later date. Some lawmakers have said the state may need more time to adopt a congressional redistricting plan because results of the 2020 census are running late.