Legislative Wrap-Up: Gambling, Medical Marijuana, No-Excuse Absentee Voting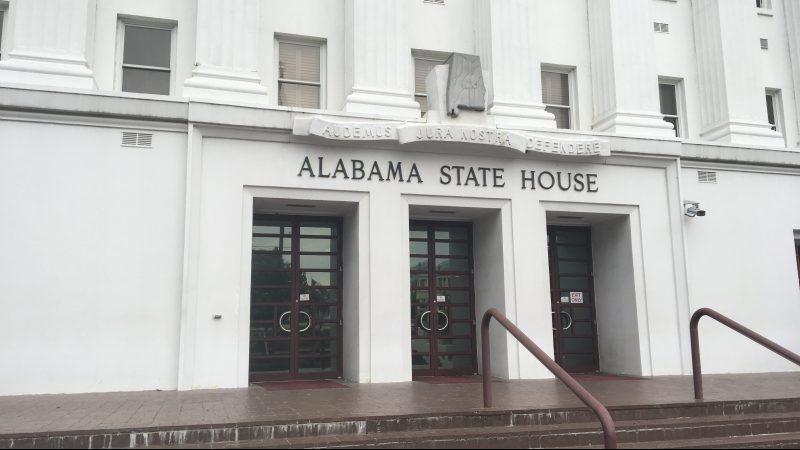 Alabama lawmakers this week agreed to delay a vote on a statewide gambling bill pending more negotiations. But a number of other bills advanced. One would make it a crime for transgender minors to receive medical therapies. Another could make permanent those temporarily-relaxed rules for absentee voting adopted during the pandemic. Here are this week's highlights from the legislature with Don Dailey, host of Alabama Public Television's Capitol Journal.
Gambling
The bill initially would have added a lottery and five casinos, but the bill's sponsor, Republican Sen. Del Marsh, said he planned to delay a vote while he negotiates the final details. Among them is a provision that would increase the number of casino sites statewide from eight to 10.
"He said a lot of questions have arisen since he introduced the bill," Dailey said. "It's a pretty huge, pretty transformative piece of legislation." According to Dailey, Marsh wants to be sure those concerns are addressed.
Marsh said he was confident he had the votes needed in the Senate for the legislation to pass. He'll work to earn the support of House members, who have historically been less willing to support a gambling measure.
Lawmakers could vote on the bill the week of March 8.
Gov. Kay Ivey weighed in earlier this week. "She has said that she likes what she's heard so far, but that's as far as she's been willing to go on this," Dailey said.
Ivey has made it clear she isn't an outright champion of gambling, but that it should be left to state residents to decide. Any legislation that's passed on gambling would eventually be put to Alabama voters for the final say.
Medical Marijuana
A medical marijuana bill cleared the state Senate. The measure would allow people with qualifying medical conditions to buy marijuana from licensed dispensaries. Among the 17 medical conditions outlined in the bill are cancer, epilepsy, menopause, chronic pain and anxiety.
Senators passed the bill after less than 15 minutes of debate. Lawmakers say that's for a few reasons.
"'A — a lot of lawmakers came into the session that day having made up their minds on how they would vote and B — the fact that it was the identical bill from last year, including all of the floor amendments from last year and all of the committee amendments from last year," Dailey said.
The bill isn't a done deal yet. It has to make it through the House now where it's expected to get a fair bit of pushback.
"It's run into trouble there the last couple of years and it sparked some heated debate on both sides of the political aisle," Dailey said.
Transgender Youth
The bill would criminalize medical therapies for transgender youth, including puberty blockers and hormone therapy. Doctors who treat transgender minors with these therapies could face felony charges.
A House committee approved the measure on an 11 to 3 vote. It'll move to the full House. The bill's sponsor is Rep. Wes Allen of Troy.
"Allen says that he thinks minors are too young to make permanent decisions about their bodies," Dailey said. "He recognizes gender dysphoria as an issue, but he says body-altering decisions should be left to adults and not to children."
Parents and advocates of transgender children gave emotional testimony before the committee, saying the bill could prevent medical care for vulnerable youth at higher risk of suicide.
Alabama is one of at least eight states where Republican lawmakers are pushing similar measure.
No-Excuse Absentee Voting
Alabama, like many states during the pandemic, eased its rules around absentee voting. But one Democratic lawmaker has proposed legislation that would make some of those changes permanent — specifically not requiring an excuse to vote absentee.
The bill's sponsor, Rep. Laura Hall of Huntsville, said no-excuse absentee voting worked well during the pandemic and drew more people into the electoral process. She argued it was time to make it permanent.
Alabama Democrats have prioritized election reform and voting rights. Hall has an important ally in Secretary of State John Merrill, who expressed support for the bill.
Rioters
This bill would impose harsher penalties on rioters, making it a felony to knowingly participate in a riot that turned violent or destructive. The bill's sponsor Rep. Allen Treadaway said he wants to put more teeth into existing laws. The legislation sprung from Treadaway's experience as assistant police chief during Birmingham's Black Lives Matter protests.
"He has said that a lot of the people who caused a lot of the destruction carried out a lot of the violence in the Birmingham rioting were outsiders who came in prepared to do damage and to do harm," Dailey said. "He wants to put a lot more teeth in the existing laws surrounding rioting and he wants to create certain new crimes."
Some of the bill's highlights according to the Associated Press:
Under the bill, a person arrested for participating in a riot, blocking traffic during a protest or assaulting a first responder would have to wait 48 hours in jail before being eligible for bail. Treadaway said that is to give time to defuse the situation.

The bill would create the new felony crime of aggravated riot for knowingly participating in a riot that causes property damage or harm to a person. A person convicted of the crime, which would be a class C felony, would face a mandatory minimum sentence of six months in prison.

The bill would also create the crime of assault against a first responder, making it a felony to injure a first responder during a riot or to spit or throw bodily fluids on a first responder. Repeat offenses of obstructing traffic with sit-ins and marches would also become a felony.

It would also prohibit giving state money to local governments that defund their police department.
The bill is drawing criticisms from some, including Black lawmakers, who say it goes too far.